Hi everyone! I hope you've had a fabulous Wednesday - just think, halfway to the weekend! I decided that it was completely necessary to make a post addressing the Pinterest addiction that I (and I know you do, too!) have. I could seriously sit on the computer and endlessly pin things all day long without even flinching. Honestly, what was I doing before I pinned my life away?! Here's my pinterest if you want to take a look! My boards are in alphabetical order and all have a pretty cover picture (OCD, I know) but it's more than a hobby, it's a lifestyle.
Since I obviously have a serious addiction and take pride in the things I pin, I decided to go through everything I've pinned in the last week - and let me tell you, that's A LOT of pins - and pick out the top 10 things pinned to share with you all!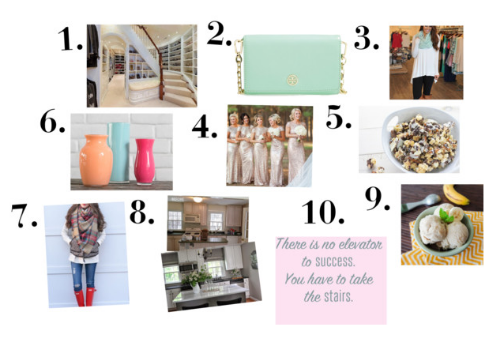 1. I have a whole board dedicated to what my dream closet looks like. Two floors, built-in shelving, seating, a vanity space, a beautiful chandelier, glass jewelery casing, the list goes on and on! I drool over these kinds of pictures on Pinterest and you can too starting on my "Dream Closets" board!

2. Ahh, the Tory Burch Robinson cross-body! One of my favorites by Tory - I got this for Christmas and I cannot wait for Spring to roll around so I can use this bag! Normally I'm a fan of gigantic totes but it's always fun to change it up a bit!

3. I pinned this outfit to my Fashion board basically to get ideas for myself; this is pretty similar to my every day outfits during this time of year!

4. Okay, so I'm pretty sure there's no girl on Pinterest who doesn't have a wedding board... I'm obsessed with dresses like these for bridesmaids, so classy! I basically have my wedding planned out down to the T already! Pinterest is seriously a bride-to-be's go to spot, there is thousands of pins from fellow pinners who are in the same shoes as you, so seriously use it to your advantage!

5. Let me just tell you, this is one of the best desserts I've ever made! It's so simple and so much fun to have once in a while. The best part is it's salty and sweet all in one! Here's the recipe if you want to try it!

6. I am SO excited to do this DIY project for my room makeover (which I will be posting lots about soon)! These are enamel painted glass vases that are perfect for shelving decor! You simply pour enamel paint on the inside of the vase and voilà! The best part is they look so shiny and expensive - meanwhile they're super easy and cheap! I'm so excited to make these, I've been buying different sized vases from Home Goods every time I go and I'll post a tutorial/DIY post on them once I make them!

7. Blanket scarves! My favorite staple for winter time outfits, they're so super comfy and so beautiful too! I pinned this because I love the look it's paired with and I love the colors for this time of year! You can find these kinds of scarves all over, my favorite is one I got from Express in December. Here and here are similar ones to this one/the one I have!

8. My most frequently pinned category is interior design before/after pictures. If I'm home all day, I marathon Property Brothers, Love It or List It and Fixer Upper all day long while pinning these! I just love seeing the transformations of an old, out dated space into a brand new space that's modern and has someone's personal twist to it. This particular before/after is a kitchen remodel I pinned yesterday - and honestly it's one of the prettiest I've ever seen! Nothing (to me) is better than re-purposing old cabinets into ones that look like new! White kitchens are clean pallets!

9. This looks like ice cream, right? Well it's...not! But it tastes just like it is. I've been trying to eat healthier (as if that'll last!) lately and when I came across this pin I was SO excited. It tastes and looks like ice cream, but it's only one ingredient - bananas! I was super skeptical at first, but once I tried it my jaw dropped. Here's the recipe - it doesn't take much! Definitely a must try!

10. Last but definitely not least, inspirational little quotes! I have an entire board dedicated to these, and sometimes I like to take one and post it on Instagram! I've actually been using this one to help motivate myself in school, work and looking toward the future. It's always good to have a board like this for days where you need some inspiration!

I love to follow people on Pinterest, especially since I've been finding my home feed to be lagging! You can follow me on Pinterest here - and comment with your profile, I would love to follow you! I hope you enjoyed my top 10 pins of the week - happy pinning! XOXO