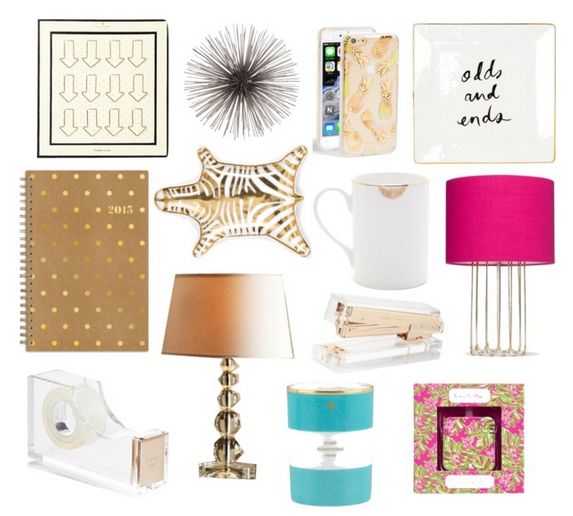 Paper clips | Starburst decor | Pineapple iPhone case | Odds and Ends dish | 2015 Planner | Zebra dish | Mug | Pink & gold lamp | Tape dispenser | Crystal table lamp | Stapler | Turquoise & gold candle | Backup iPhone battery
Today I decided to round up some of my favorite products that dress up a desk/office space! I tried to stick with a gold theme because gold accents on a desk seem to make the space so much more chic and dressed up. While office supplies like paper clips and a cute stapler are always fun to have, as a lover of everything for the home, a lamp like this one or a candle like this are such fun finds!! Mix office supplies with beautiful decor pieces and you can create one chic working space!
A backup and portable phone charger is one of my favorite things to carry around and a cute one like this Lilly Pulitzer battery is adorable!
And let me just say, a planner like this one is absolutely necessary on a desk! There is so many cute planners out there and I'm a huge planner supporter - if I didn't write everything down and plan things out, I'm not sure how I would ever get things done!
Do you have any decor pieces on your desk that you love? I would love to hear about them! XOXO
Bloglovin|Facebook|Pinterest