TGIF! I could not be happier that it's Friday. At the beginning of every season, I like to shop online to see what kinds of things I want to wear for Spring. It's hard to find super cute shirts that are this cheap but I picked 10 tops to share with you guys that are so perfect for Spring time and they are all under $20! I hope you like them as much as I do!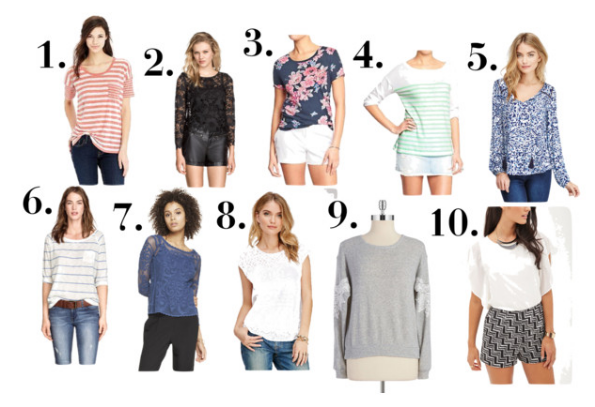 1. Old Navy Boyfriend Tee $16.94 $15
2. H&M Lace Top $29.95 $20
3. Old Navy Knit Floral Tee $12.94 $11
4. Old Navy Boat-neck Top $14.94 $14
5. Forever 21 Peasant Top $19.90
6. H&M Jersey Top $17.95
7. Express Lace Top $49.90 $19.99
8. Forever 21 Baroque Lace Top $17.90
9. Lord and Taylor Accented Lace Pullover $58 $18.84
10. Forever 21 Woven Tee $15.80
Here's some sales going on now to check out!
Lord and Taylor 20% off almost everything
Express Mystery Offer
Forever 21 21% off one item with e-mail signup (plus 30% off sale items with code EXTRA30)
H&M 20% off with e-mail signup!
Old Navy 30% off EVERYTHING! With code PREVIEW
Happy Friday and happy shopping!!! XOXO