Happy Hump Day! Halfway till the weekend, hang in there! Today is one of my days off and I figured it was time to start facing the facts...Spring officially begins Friday which means it's time for some Spring cleaning and organization! Since my bedroom is already getting a makeover this has been a process for months but sunny days and warmer (yes, 40's and 50's feels warm!) weather has given me some motivation! Here's some of my top cleaning and organizing tips to keep in mind when doing your Spring cleaning!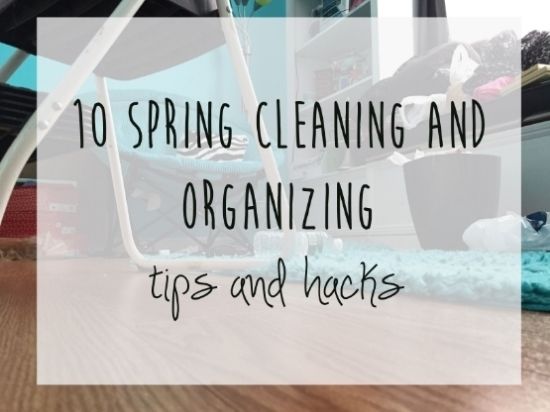 1. If you haven't worn it in a year, lets be honest...you aren't going to! There's some great charities who take clothes for great causes like Salvation Army and Big Brother Big Sister who love to collect gently used clothing - you can even most likely get a tax deduction!
2. Buy fun hangers to make your closet prettier! Different types of hangers like these come in handy too when hanging pants, scarves and clothes that wrinkle easily!
3. If you have the room, displaying your shoes instead of storing them makes you enjoy keeping a closet clean and tidy. Tip: get some packing paper (even regular printer paper can work!) and crinkle it up and place in your shoes that need to keep their form - I find this extremely helpful especially with flats and sandals (like the Tory Miller) that lose shape if laid flat! If you don't have the room to do this, this article has some crazy cool ideas on how you can store shoes while saving space!
4. Tip #3 goes for purses too - I stuff ALL of my purses with packing paper and they keep their shape perfectly!
5. If you have a lot of jewelry that constantly gets tangled and your earring backs go missing on the daily, then you need a jewelry armoire! Seriously, mine changed my life! These armoires make for wonderful organization and they look pretty, too. If you don't have room for a standing armoire, try a hanging one like this one!
6. If you have a candle obsession like me then you probably know about the candle deal that Bath and Body Works almost always has! For me, it's super important to switch out my winter candles to spring ones for me to actually feel like spring has sprung! Best part is, they just came out with their new Hawaii scent line which, let me tell you, is INSANELY amazing! While there, check out their wall flowers too! They are amazing for bedrooms and bathrooms! They even have a deal going on right now for $1 shipping on a $25 purchase with code OAHUFUN!
7. This is my favorite time of year because everything fun is on its way, but you can also feel like you just got a new mattress for free! Flip your mattress over while spring cleaning and I guarantee you'll start sleeping better!
8. I'll admit it, I'm a makeup hoarder. Which is exactly why I use this time of year to completely clean out my makeup bins! Some things last forever while some well...they just need to go! It also helps so that you know what you need next time you go to CVS/Sephora!
9. Clean windows = more sunshine! I scrub clean my windows every spring and while Windex does the job, you can barely tell there's even glass separating you from the sunshine when you use this mixture: mix 1 part white vinegar and 1 part hot water in an empty spray bottle, grab a sponge and scrub brush and get started! Tedious, but so worth it!
10. I got this next idea from my little sister but it actually makes cleaning SO much fun! Create a timelapse video on your phone and watch it when you're done!
You can also check out my Pinterest board on cleaning tips!
XOXO