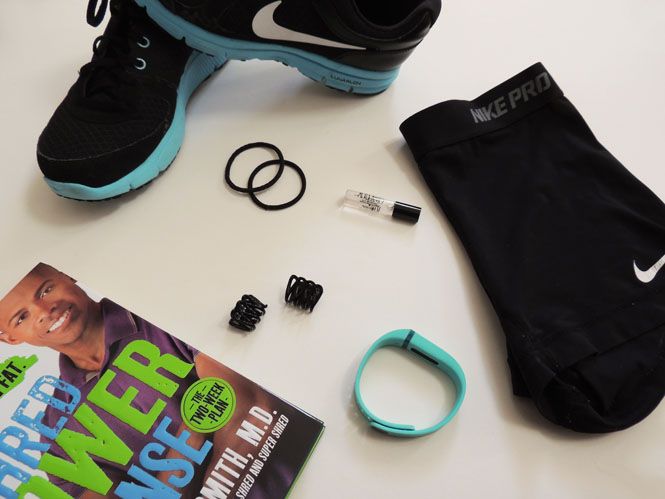 Working out and getting fit is one of the most popular New Years resolutions, but for me, I've made getting fit something that I've been committed to since last October. Since then, I've found a ton of great workout gear that are essential for getting a good workout in - and also for looking cute while you do it! Some of my favorite things to buy are active wear pieces because they're so cute, comfy and can sometimes even double as everyday errand-running outfits too. (like, you know, Home Goods trips!)
Compression leggings, workout tanks and cute Nike's are things I can never get enough of and things that you can never have too many of, too! Here's some of my favorite workout essentials: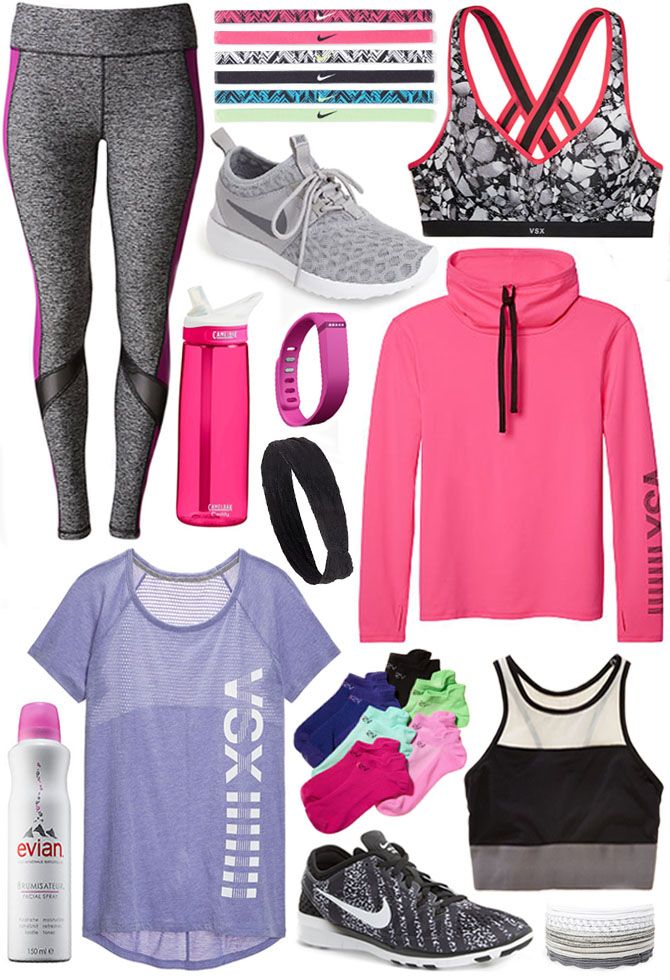 Gray Compression Leggings// Nike Sport Headbands// Patterned Sports Bra// Gray Nike Sneakers// Pink Camelbak Water Bottle// FitBit Flex// Headwrap// VSX Hoodie// Evian Water Mineral Spray// VSX Mesh Tee// Colorful Sport Socks// Black & White Nikes// Black Sports Bra// Crease Free Hair Ties
The new Express EXP Core active wear line has SUCH cute pieces! I can't get enough of the compression pants like these watercolor printed ones and cute tank tops to go with them. The entire line is so great - everything is really comfortable and looks so great on too! The fleece hoodies like this one are great for a comfy day's outfit or for running in the winter too, it's super warm and very easy to workout in.
Sports bras come in so many colors and patterns - I love strappy ones like this EXP Core one and all of the ones from the VSX line that have fun patterns and designs. Wearing a shirt that your body can breathe in when working out is important too, like this cute paneled one. Call me crazy but picking out a cute workout outfit that I can be seen out in is so much fun!
A workout essential that I can NOT live without is my FitBit Flex activity tracker. It's been a life saver and has helped me with my workouts more than I ever could have imagined! I love switching up the colored bands depending on what outfit I'm wearing and can even continue to track my activity and steps that I take when I'm not working out by making it look like a cute bracelet with Tory Burch bands like this one. Since I love FitBit so much, I've been using the whole line of products including the FitBit Scale and the newest of the FitBit line - the FitBit Charge is a newer way to track activity. P.S. for anyone who watches The Amazing Race, it never fails to amaze me just how many steps the teams take during each leg when they track their steps!
So many stores offer workout gear that is practical yet stylish at the same time. Target, Lulu Lemon, Anthropologie, Nordstrom and now Express are some of my absolute favorite stores to shop at for active wear and active gear. Why not work out now when you can do it in style?! ; )
Workout and Fitness Tips:
Believe it or not, my little sister has been able to somewhat be a personal trainer for me since she's a competitive gymnast. She works so hard every single day and now that the gymnastics season has begun for both club and for her varsity team at school, she works out for approximately 4-5 hours a day! How insane?! I guess that's why she has abs and I don't! Anyway, she's given me so many great workouts that go alongside eating healthier to help shed the pounds. Here's some of my favorite tips I've come across:
1. Always warm up before working out! Whether you're doing leg day, arm day, ab day, a mix or anything else, warming up before hand is so important for your muscles and so that you don't get hurt.
2. During each workout, try and raise the bar a little bit. If you do a couple more sets/reps during each workout, your stamina will improve and you'll be able to workout for longer periods of time and do more intense workouts.
3. Drink water!! Seriously - before, during, after - this is one of the most important things. It may seem obvious, but the more water you drink the better off you are. Luckily for me, all I'll drink is water and I hate soda so I find myself drinking anywhere from 7-10 water bottles
a day
.
4. Find a time that works best for you. Whether it's just the time that fits best in your schedule or a time that you find you have the most energy in a day, picking a time and trying to stick to it will help with your workouts. For me, runs in the early morning have been most beneficial.
5. Two things are crucial for a great workout: a good playlist and a yummy breakfast! I've created a few workout playlists with my favorite upbeat songs. This is something my sister told me to do - when she's at gymnastics and the girls are conditioning, they often play upbeat music to get them pumped up and ready to condition. Something I love to are smoothies, so drinking cleansing smoothies is something I've been trying to do more of since they're so good for you and so helpful in creating more energy that lasts the whole day!
Have you been trying to workout more? What routine works best for you?
XOXO
Bloglovin|Facebook|Pinterest|Instagram