It seems crazy even to me that I would need hair extensions since I have fairly long hair, but I'm so glad that I was able to try these Irresistible Me extensions! I was skeptical at first and had never heard of this brand but now that I've tried them, I love them and they're such great quality too.
Once I realized that extensions can be used for more than adding length, I immediately said "count me in". I always am trying to have more voluminous hair and it seems like the only time that happens is when 1.) I get my hair cut/done at the salon or 2.) I spend 3-4 hours on it and am going somewhere fancy or special. I've tried tons of products and since I have fairly long hair that is also pretty full and heavy, it always seems too flat for my liking. Let me tell you - these extensions are perfect for adding volume! Especially if you tease them, I've found them to be so amazing for making me look like I put a lot of effort into my hair on any given day.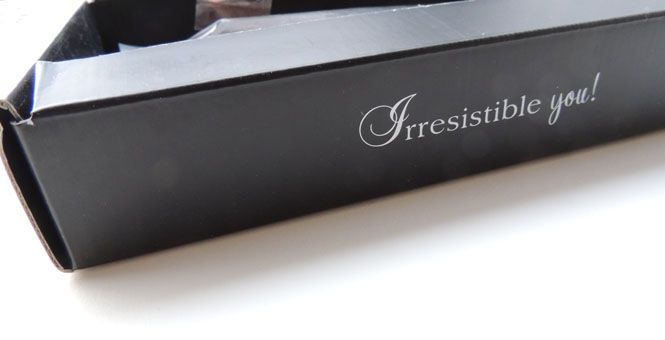 Picking the color/shade of brown was the hardest; I was almost positive that I wasn't going to find a color that matched my hair exactly because I sort of have a balayage look in my hair. I ended up choosing the Signature Weft; medium brown #4 in the 24 inch length and look at just how perfectly it matches my hair:
You can't even tell which hair is mine and which is the extension!
I chose the Signature Weft extension because they are made for volume. While they also add a tiny bit of length for me, adding this much volume to my hair in such a short amount of time is ideal for being able to get ready quickly.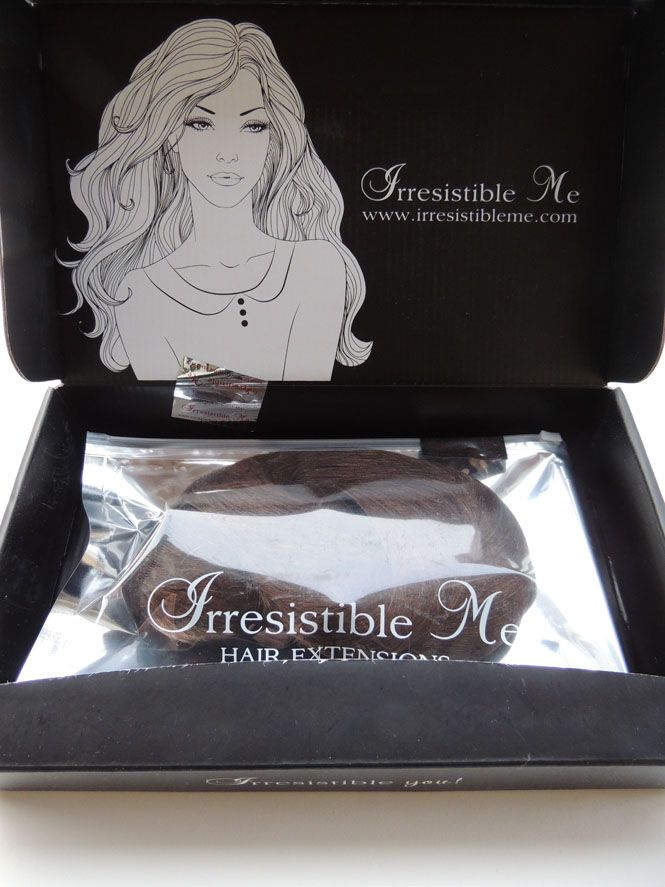 This specific weft is made with 4 layers of the Irresistible Me natural Remy hair and it adds so much bounce and looks so natural! The extra volume is all from the Remy hair - not from a bulging clip-in hair clip like some extensions cause.
Like I said, I have never used extensions before. A handful of my friends did in high school, but some of them didn't do a good job putting them in (to put it nicely...) and since I always have had fairly long hair, I never even thought to try them myself. Since I've been around some not-so high quality extensions before, I assumed that that was how all extensions were. When I took these out of their pouch upon receiving them, I wish I had a picture of what my face looked like! I could not believe how soft and natural they felt! I wish you could feel the quality of these through the screen (it's 2016, why isn't that a thing?!) because they are so soft and so natural.
These smaller, single pieces can be worn with the large set or alone depending on what look you're going for. When I started playing around with the extensions in my hair, I tried putting these pieces toward the front of my face so that I had added volume shaping my face shape. I also think they'll be great to use when wearing my hair up in a loose ponytail so that my hair doesn't stay slick-back to my head and I have more of a loose look.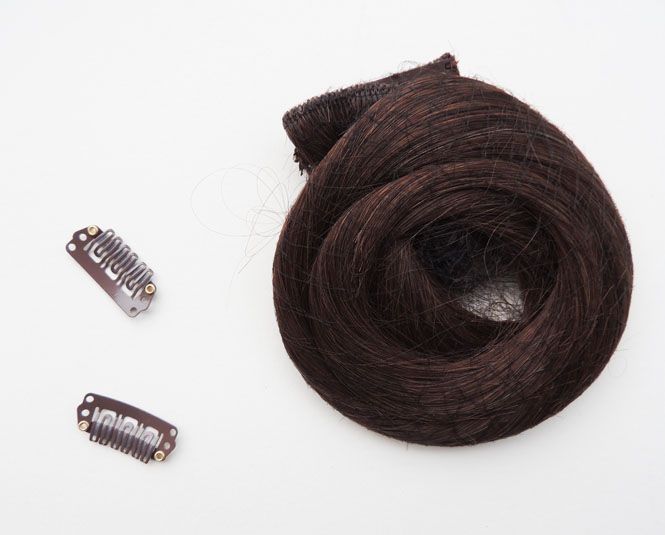 Since this is all natural Remy hair, they can be styled (yay)! I have both straightened and curled my extensions so far and it hasn't been any different than styling my actual hair would be. Since hair extensions don't get the natural oil to them that our hair gets from the scalp, it's super important to take extra care when styling the extensions with heat. I haven't washed them yet and haven't needed to - but once you start to see your extensions lose their shine, it's then a good time to (carefully) wash them. I've read many places and know from friends that washing these extensions as little as possible is best to keep them in tip top shape! With your actual hair and hair extensions alike, you should always be using a heat protector spray of some sort. Here is the heat spray that I use almost every day! It smells amazing, works great and it's been perfect for my extensions too. If you'd like to read more about the best ways to care for Irresistible Me extensions, you can find all of that in-depth information here!!
Styling these extensions is so much easier than I had anticipated. I've seen extensions look really great on people (like some of my favorite bloggers!) and I've also seen them look really bad on some people... With enough practice and the right care, extensions can look really beautiful and totally natural. I've found that styling them works best once they're already set in place in my hair - especially with curls - so that the curls can form together with my natural hair. I also have done a lot of reading on extensions in hopes of keeping them in the best condition possible and the best thing you can do for your extensions is use a great conditioner when washing them! Using conditioner will make them appear new again and silky smooth.
I'm going to a wedding this upcoming weekend and I'll be wearing my new extensions! I cannot wait to wear them out for the first time and you can definitely look forward to some before and after shots of my extensions all styled and in place!
If you are considering trying hair extensions or are a long time user and need a new pair, I highly recommend Irresistible Me. There are so many great extensions to choose from and the customer service is so great and helpful too if you have any questions! They also have so many hair tools and hair care products to choose from as well. Irresistible Me is super affordable and they also have a coupon for first time customers to receive 20% off your first order with code GET20OFF!
XOXO
Bloglovin|Facebook|Pinterest|Instagram