I'm so honored to say that Jess at A Spoonful of Delight nominated me for a Liebster Award! Her blog is wonderful and it's so exciting to have been nominated! This award is an award that gets passed around the blogging community to those who have fewer than 200 followers (new bloggers) to help expand the blogging friendships and community! Jess gave me some super fun questions to answer - read on to find out what they are!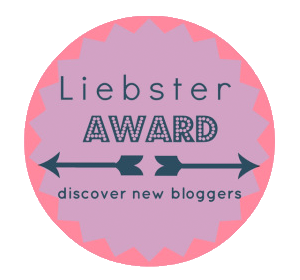 1.
What inspires you to blog?
: Knowing that people enjoy and read my posts is such an amazing feeling - I love posting about things I'm passionate about and making friends in this awesome world of blogging makes it even more fun!
2.
List 3 words that make you happy
: Appreciation, bliss, bright
3.
Tea or coffee? Do you take cream and/or sugar?
: I cannot get into drinking coffee at ALL...and am not much of a tea drinker, but if I do, it's a passion tea from Starbucks with two pumps of sweetener!
4.
What's your favorite candy bar?
: Definitely Hershey's!
5.
If you could be a character from a book or movie, who would you be?
: I would love to be Rachel from
Friends
, I know that's a TV show but I love her life in the show!
6.
Cats or dogs?
: I don't have either but dogs!
7.
How do you deal with writer's block?
: I brainstorm ideas for blog posts all the time and write them down in a note on my phone. The best ideas usually come at the most random of times too! But when there is a time that I have writers block, I focus my blogging time on meeting new bloggers and looking to them for some inspiration! Polyvore is also a go-to for me - I can always make a round-up post or favorite outfit post with that site!
8.
Tell us an interesting fact about yourself…something people would be surprised to know about you!
: I have a huge love for gymnastics!! My little sister is a very competitive gymnast and I live my dream of being a gymnast through her. It's been a huge part of my whole family's life ever since she started competing 8 years ago - and now I take every chance I can get to watch both her do what she loves and professional gymnastics as well. Lets go Gators!!
9.
What one song will you always jam out to?
: Absolutely anything by OneRepublic! They are and always will be my favorite band and I can never get enough of any of their songs! One in particular though is Good Life! I also am ridiculously obsessed with Drunk in Love by Beyonce!
10.
If you could make a dinner reservation with one famous person, who would it be?
: Ryan Tedder, no questions asked!
Now I get to nominate bloggers for this award!
I nominate
Megan
at
Megan Kris
,
Ashley
at
The Yellow Petunia
,
Elle
at
Elle's Quations
,
Sorana
at
Sorananistor
,
Lizzie
at
The Garland Girl
and
Nina
at
Law Of Fashion
!
To accept this award:
Answer all of the questions given to you and comment on this post with a link to your answers so I can read them and see your post! Also, be sure to link back to the person that nominated you in your post and nominate 5-10 other bloggers for the award to keep the chain going!
Here's the questions I'm challenging you guys to:
1. How did you come up with your blog name?
2. What's something you never leave home without?
3. What is your favorite part of blogging?
4. Is there something you wish you could change about your blog?
5. What is your guiltiest pleasure?
6. What is a normal day for you like?
7. How often do you try and blog?
8. What has been the most rewarding part of your blogging experience?
9. What is your favorite memory?
10. How would you spend your ideal/dream day?
Have fun and thank you again to Jess for the nomination! This award is so much fun!
XOXO
Bloglovin|Facebook|Pinterest