We're getting settled into April and you may know that that means...baseball is back! I'm probably one of the biggest, most die hard New York Yankee fans you'll ever meet (safe to say so after watching the 19 inning, 7 hour game last night!). I grew up that way and now it's one of my favorite things to watch/games to attend! Going into the Bronx and getting to go to many games throughout each season always has me feeling very blessed and is no doubt my favorite spring/summer (and hopefully early Fall) activity!
In honor of Opening Week, I decided to put together some of my favorite details that I incorporate into my outfits when going to the stadium!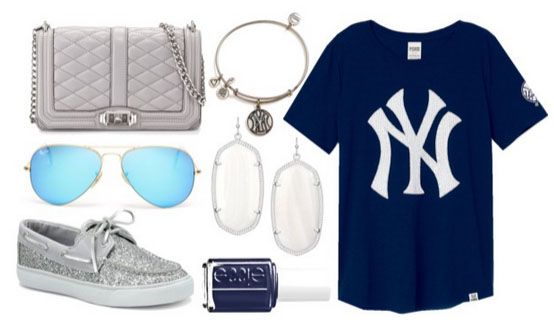 Rebecca Minkoff Crossbody // NYY Alex & Ani // NYY bling baseball tee // Sunnies // Kendra Scott earrings // Similar Sperry's // Essie "Style Cartel"
Be sure to read on for even more of my favorite game day accessories!
Do any of you guys love baseball games as much as I do?! I would love to see some of your favorite game day outfit details!
XOXO
Bloglovin|Facebook|Pinterest