After enjoying this absolutely gorgeous 70 degree weather all day, I wanted to share one of my favorite color combinations for this Spring. I've been completely obsessed with cobalt ever since coming across this amazing Kate Spade tote last month. Ever since buying that bag, I've been completely into anything cobalt! Add white to this amazing shade and I am one happy camper!
I put together some of my favorite pieces incorporating white and cobalt - I hope you love them as much as I do!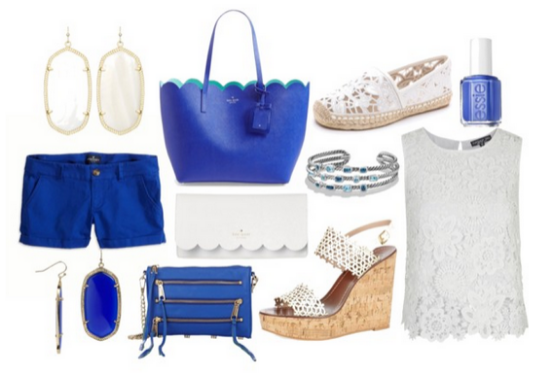 Kendra Scott earrings // Kate Spade tote // Tory Burch Espadrilles // Essie "Butler Please" // Cobalt shorts // Kate Spade wallet // David Yurman cuff // Kendra Scott earrings // Rebecca Minkoff crossbody // Tory Burch wedges // Lace tank top
Cobalt and white together have literally become my staple outfit inspirations this whole season. Nothing says spring like a pretty white lace top like this one paired with an adorable pair of cobalt crops like these!
I love having a bright color and more neutral color with accessories that pop. Since it's finally warm out and I can loose the coats and show off some cute clothes, I've found myself wearing a lot of this color combo!
With the semester coming to a quick end, I'm gearing up for Summer and have some exciting posts lined up for you guys - including my brand new bathroom makeover! I want to leave you guys with some more of my favorite cobalt and white pieces, take a look and I would love to hear what you think - and if there's any color combo you're currently obsessing over!
XOXO
Bloglovin|Facebook|Pinterest