Tiered stands were originally made to display cakes, cupcakes, desserts and other foods for parties. Over the past few months in the midst of redecorating, I wanted to have a better way to display my nicer bottled perfumes. Rather than displaying them boringly on a shelf or throwing them on my dresser I found a way more exciting and beautiful way to display these perfume bottles!
Here's my perfume display: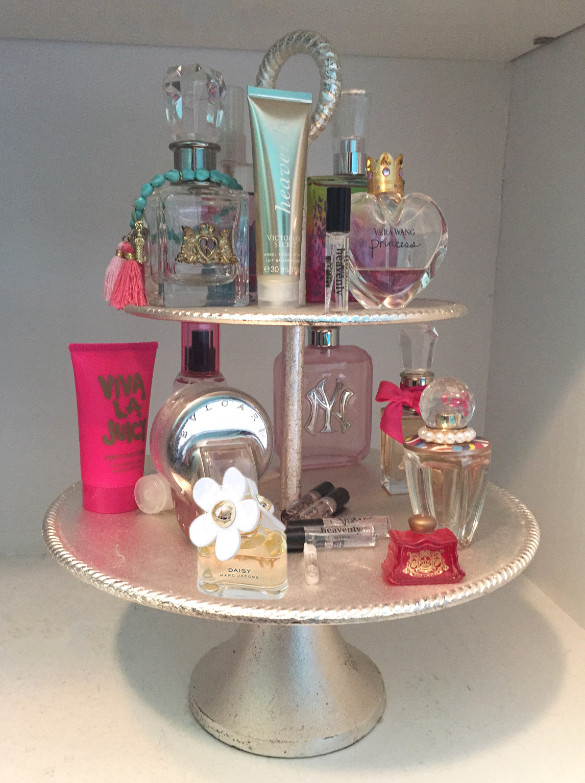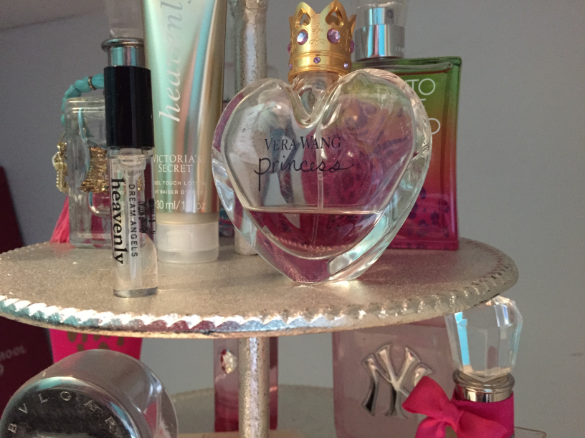 There's so many different types of trays - color, material, size, finish, etc. and choosing your tiered tray really depends on what you're looking for. These trays are also usually a bit pricey and it took me a while to pick the perfect one because I didn't want to get a cheap looking one (which seemed to be the only affordable choices) but also didn't want to spend a fortune on a tray like this. I endlessly searched for months until finding the one I purchased on Joss and Main. Granted it was a bit more than I was looking to pay, but I'm SO happy with it and it was definitely worth the money! My mom also made me realize that this is something I'll likely have for a while - and when in my own home, it's a piece that I can use for other intentions also (like displaying food for parties as it's really meant for!)
These trays have so many purposes - perfume display, jewelry display, seasonal decoration or displaying party food! I absolutely love the idea of using a tiered tray for different purposes and I think having one of these is a piece that you'll not only have for a long time but has many uses!
Tips for your perfume display:
Get rid of older perfumes:
after a while, most perfumes tend to not have the same scent anymore. If a perfume has gone bad/expired, it must have been one you didn't use that much while it was still good so it's one to get rid of
Only display your favorite bottles:
some of my favorite scents (like
winter candy apple
and all of the Bath and Body Works scents) don't come in fancy or glass bottles, so I tend to keep them in my bathroom or in a drawer and not on my display tray.
Use perfume as decor:
I have my perfume tray on a bookshelf in my built-ins and it makes the shelf look full, decorated and it's a nice piece to have displayed. Displays for perfume also look pretty in a bathroom on a tray similar too
I highly recommend always checking your nearest Home Goods for a tiered tray! Whether you're looking for silver, gold or a patterned tray; they always have a large selection both in the kitchenware section and the bath section that will be great for displaying perfumes!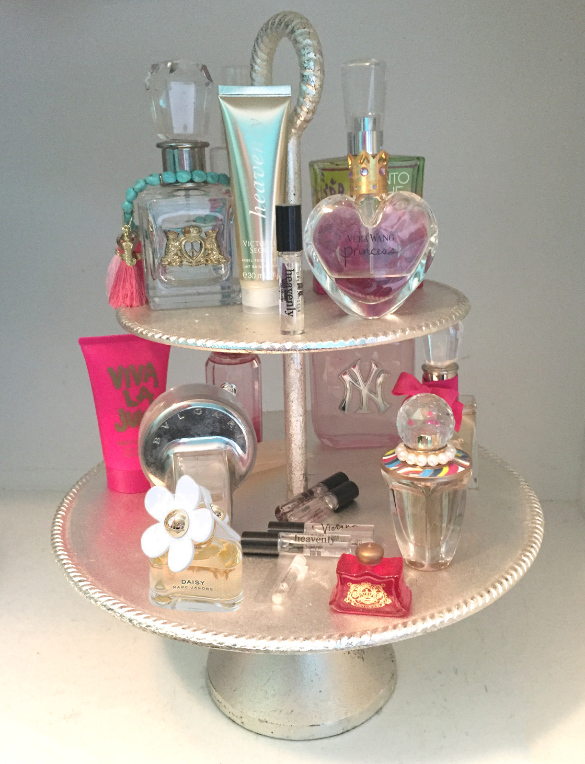 Here's some more of my favorite tiered trays:
Do you display your perfume or store it away?
XOXO
Bloglovin|Facebook|Pinterest|Instagram