Happy Thursday everyone! With Mother's Day being this Sunday, I've been on the hunt for the past week or so on what to get my mom. It's super hard because her birthday is just three weeks after Mother's Day, so I decided to get a pretty basket and fill it with things that way she has smaller (but more) things to open. For the basket I got her two pretty shirts, perfume, a framed picture of her children, a gift card to a foot spa, a nice set of wine glasses and a couple stacking bracelets. When I realized I wanted to have another item for the basket, I thought it would be a good idea to find an awesome DIY project!
To come up with some exciting DIY projects I teamed up with Chantal from Painted Tea Cup who runs an amazing blog all about essential oils which have been proven time and time again to seriously improve your overall well-being! Chantal is such a sweetheart and I'm so happy we were able to team up to bring you this awesome post! Be sure to check out Painted Tea Cup and definitely consider trying essential oils!!
P.S. here's some more ways to meet Chantal on social media: Facebook + Pinterest
My Mother's Day DIY gifts:
DIY quick and easy bath bombs
There is no better way to end a long day or enjoy a night to yourself than taking a bath with an amazing scented bath bomb filled bath!
1. Get your ingredients together: Bath bombs come in tons of variations – different shapes, colors, smells, etc. so depending on your favorites, your recipes to make your own will vary a bit, but here's my favorite recipe that I tried:
8 oz. of baking soda
4 oz. corn starch
4 oz. fine Epsom salt
4 oz. of citric acid
2 tsp. of almond oil (or any essential oil that you may like!)
1 tsp. of water
3-6 drops of food coloring of your choice
You can use any kind of mold that you may have to make these bath bombs – ice cube trays, muffin tins, circle mold, etc. One of my favorite tricks to make these is using plastic Easter eggs!
My favorite types of scents to include are lavender, grapefruit or citrus.
2. Combine the dry ingredients in a bowl and stir – corn starch, Epsom salt, baking soda and citric acid
3. Combine the wet ingredients in a bowl and stir – water, oil/scent, almond oil, food coloring
4. Mix dry and wet ingredients together until it starts to thicken together
5. Separate the mixture and pour into the mold you chose. Be sure to pack it in tightly for best results!
6. Let the bath bombs dry completely. This will probably take 10 minutes until you can remove the bombs from the mold. Be super careful taking them out since they're still fragile! It's best to place them on wax paper on a soft surface (so they don't roll) and leave them for a day if possible.
You can wrap these adorable bath bombs up and I guarantee the special woman/women in your life will love them!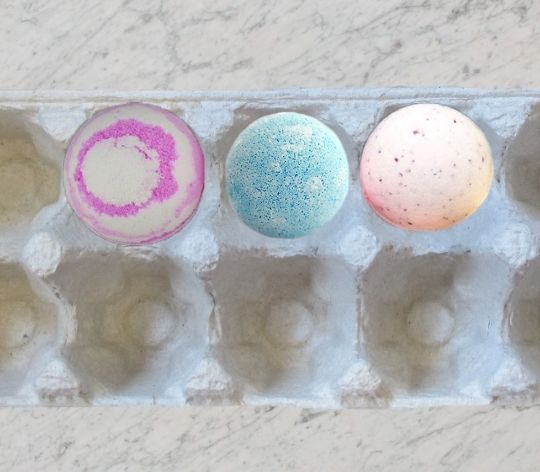 Homemade Air Fresheners
I always have a pretty scented air freshener opened at home – especially during this time of year! They can give such a fresh feel to any room and they're fun to collect too! I usually buy mine, but I thought making some especially for Mother's Day would be an awesome DIY gift idea!
What you'll need:
Baking soda
Mini mason jar(s) depending on what size you want yours to be, I use mini mason jars (can be found at Michael's!)
Any scented essential oil of your choice (8-12 drops)
Decorative paper
Ribbon
Scent label
1. Fill your jar about halfway with baking soda and add 8-12 drops of your choice of essential oil
2. Lightly mix together (it can be shaken up every few days to revive the scent
3. You can then wrap the jar with ribbon, a scent label, gift tag, etc of your choice!
This DIY is super simple and goes such a long way! I love making these especially since they can be customized so much!
(via The Chew)
DIY Tiered Tray
I absolutely LOVE tiered trays for more than dessert/food displays. I have one in my room for perfume, one in my bathroom, one in the kitchen, and I think they make a great DIY project! I wish I learned this DIY before buying the one in my bedroom – because these trays do not come cheap! On the other hand, making one yourself is super inexpensive and can look so gorgeous!
Here's what you'll need:
2 or 3 crystal/colored candle stick holders – (can be bought in the dollar store/Michael's)
Metal trays or glass dishes
Paint color of your choice
Super glue
1. Paint the trays/plates and let them dry fully – depending on the color you chose will determine how many coats will cover it fully, but I've found that two coats usually works!
2. Glue the candle sticks in between the plates
Voila! You're done! I love this idea – think about where you can have who you're giving this gift to put it in their home. That way you can consider room colors and paint the trays in a color that matches! So super easy and so much fun to make!
DIY gifts made by Chantal:
DIY Essential Oil Lip Scrub
This is one of my must haves, I make and use it frequently. This scrub is great for those with chapped lips but also for people who want to keep their lips feels soft — mom will love it!
What you need:
Brown Sugar
Extra Virgin Olive Oil
Essential oil of your choice
A glass container with a lid - I found mine at Dollarama for $1
Combine 3 tablespoons of brown sugar with 2 tablespoons of olive oil. Stir and add 2-3 drops of an essential oil of your choice. I chose to use wild orange but you could also use another citrus oil, lavender peppermint, or frankincense. Stir one more time and voila, you are done!
DIY Essential Oil Bath Salts
What you'll need:
Epsom salts
A glass container with an air tight lid (mason jar, spaghetti sauce jar, etc.)
Mixing Bowl
Essential Oil of your choice
First, pour the Epsom salt into the jar - now you know how much will fit in the jar! Dump the salt from the jar and into a mixing bowl. Add 8-10 drops of your favorite essential oil in the bowl. I chose lavender (relaxation) but you could also choose a citrus oil (uplifting/detoxifying), a calming blend (relaxation), Wintergreen or a soothing blend for pain. Mix the Epsom salts and oil together. Stir thoroughly making sure there are no clumps. Now pour the salts in the jar and voila, mom is ready to have an essential oil infused bath!
Note:
the jar I made should be enough for about 2 baths.
Here's two bonus DIY gifts you could also make that are super fun!
Check out this cute essential oil poem to add in with mom's gift here!
Need one last essential oil DIY Mother's Day gift idea? Check out my DIY Essential Oil Car Diffuser here!
I hope these DIY's give you some inspiration if you're looking for a last minute gift you can make! We had so much fun creating these for you - special thanks to Chantal for teaming up to create this awesome post!!
XOXO
Bloglovin|Facebook|Pinterest|Instagram