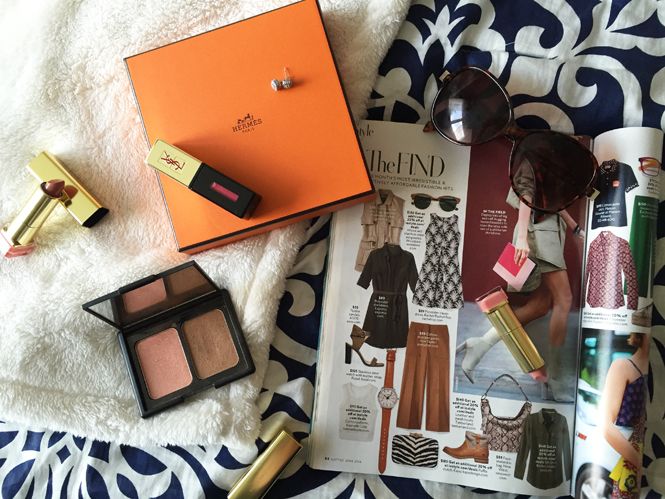 This is my first save vs. splurge post, and I really don't know why I didn't make one sooner! These are so fun - I love finding designer dupes and it never fails to amaze me how many dupes are available for super expensive items. Some things are definitely worth the splurge, because it's no secret that higher quality items (that, yes, cost more) will last longer. That being said, there's still tons of ways to save! Since we're in late summer now (how in the world did that happen?!?!) I wanted to round up some great summer finds, and share their "cheaper twins" as I like to call them! There's definitely things you should splurge on, and what's wrong with treating yourself every once in a while? ; ) Each trend usually has a ton of different priced options and I'm so excited about the dupes I found for some of my summer favorites:
Rebecca Minkoff Rockstud Gladiators ($85) vs. Valentino Rockstud Gladiators ($945)
Elf Blush/Bronzer Duo ($3.64) vs. NARS Blush/Bronzer Duo ($24)
BP Bucket Tote ($55) vs. Tory Burch Bucket Tote ($425)
Bauble Bar Tassel Earrings ($38) vs. Oscar de la Renta Earrings ($395)
MAC 'Coral Bliss' Lipstick ($17) vs. Tom Ford Lipstick ($55)
BP Cat Eye Sunnies ($12) vs. Jimmy Choo Cat Eye Sunnies ($400)
Diamond Hoops ($60) vs. Diamond Hoops ($2,900)
Tassel Sundress ($23.99) vs. Tassel Sundress ($157)
Tory Burch Sandals ($167.50) vs. Chloe Sandals ($755)
Looking at these makes me so happy - I'm not sure if it's because some of these are nearly identical or what, but isn't it exciting?! I think by far my favorite dupe has to be these Rebecca Minkoff sandals which are SO insanely similar to the $945 Valentino Rockstud Gladiator sandals. One day, I'll own ALL the Valentino in the world but until then, Rebecca Minkoff definitely created the perfect dupe!
Sunglasses are pretty easy to find dupes for; I tend to buy a few cheaper pairs in the summer because I hate worrying about loosing them on vacation or at the beach. Having a couple of nicer pairs of sunnies can be worth the price but it's amazing how similar some of these are - like these $12 BP sunnies - yes, $12!!! - that are nearly identical to these $400 Jimmy Choo sunnies. The same goes for diamond earrings; I love wearing them, but I'm always worried about loosing them and since I wear earrings everywhere I go, having a cheaper pair to wear is great. These hoops are my favorite, they're light and they really do look real! Diamonds are undoubtedly a girls best friend, so having a real and more expensive staple pair that you'll have forever makes sense but for every day wear, I definitely gravitate toward the dupes!
Can we talk about this ELF palette for a minute?! It's literally less than $5, gives long lasting wear, looks natural AND it's almost identical to the NARS blush/bronzer palette! I can't believe what an awesome dupe this one is, I use my ELF duo palette nearly every day and I'm so glad I didn't splurge on the NARS one because even though I do love the brand, I love ELF just as much and they have awesome beauty products!
What are your favorite dupes?
XOXO