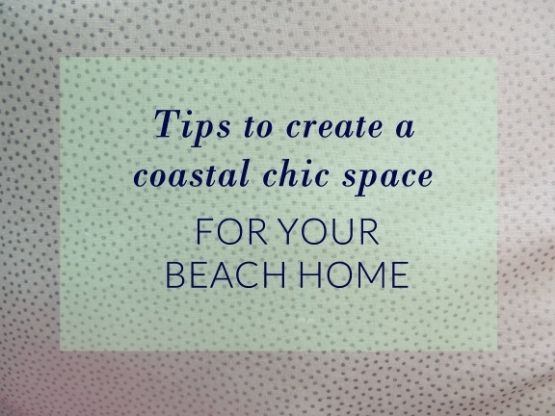 Since summer is in full swing as we reach mid July and spending endless days on the beach, there is nothing better than a breezy seaside escape. As I'm off to the beach for the day, I'm realizing just how perfect a chic and coastal look is for a home! Whether you're steps from the beach or hours away and just want a beachy look for your home - there's ways to give your home this elegant and nautical look with some simple tips!
I wish I could live here at the beach with this elegant feel all year round! Although, living in New York makes that pretty difficult in the winter months but I do grasp onto every bit of Summer that I can every year. When I think of coastal decor, I think of fresh colors and textures; whites, light blues and natural textures all give off an easy living, airy and bright vibe.
Here's some gorgeous pieces to add to your fresh, elegant and coastal look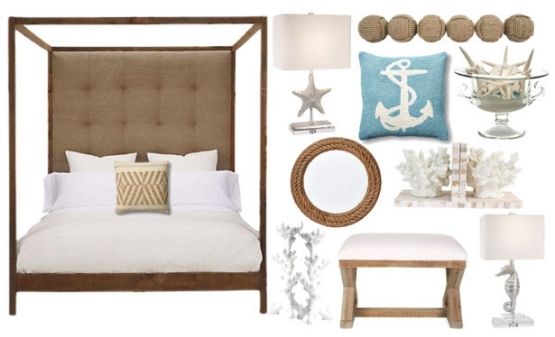 Woven canopy bed// Chevron woven pillow// Starfish table lamp// Nautical rope sphere decor// Turquoise anchor pillow// Seashell and sand decor// Nautical rope wall mirror// Coral bookends// Coral candlesticks// Rustic Ottoman// Seahorse table lamp
White and Airy:
some people consider keeping decor and furniture white to be boring, plain and something that hasn't been given much thought, but this is far from true! Most especially in a coastal themed home or room, white is a very important color! White is refreshing and clean - so keep your furniture or furnishings, kitchen cabinets, and pretty much anything else you can think of - a clean and fresh white. Pairing white with warm, wood accents in the flooring and some navy colored decor can make for a gorgeous nautical yet sophisticated theme!
Classic Nautical Decor:
the timeless nautical theme is my vision of perfection for a coastal themed home. Navy, roping and white will give off the coastal feel... while adding pops of turquoise (my FAV color!) gives a room vibrant pops of unexpected color. Shimmery turquoise accents resemble the water, so you and your guests alike won't be able to take their eyes off of these gorgeous accessories!
Fifty Shades of Blue:
after adding your pops of turquoise decor, go crazy with different shades of blue throughout the room(s)! This is the absolute perfect color to use in a beach home and this is easy to do since there are so many gorgeous shades - ranging from sky blue to a deep navy, you can't go wrong with balancing hues of blue! Pairing these blues with white and wood textures will also give the room depth and an extra seaside feel.
Woven, wicker details:
nothing says beachside like wicker and woven furnishings! While this isn't ideal for every room, wicker furniture on a beach home's balcony or in a sun room with bright colored throw pillows will give a space an extra beachy feel! You can also try implementing things such as blinds, rugs and table decor with a woven texture.
Dress it up:
the best part about coastal living with a nautical theme is that every room can look different while still giving off a beachy vibe. If you have a super casual and nautical themed living room, try dressing the bedroom of your beach home up a bit! Use things such as coral, starfish and seashells as decor to dress up a room making it more elegant! You can also add antique bottles
like these
for an extra chic feel!
Unfinished wood:
using elements of unfinished wood and shiplap is such an elegant look for a coastal home. Aged and distressed wood is natural and a perfect element to add in decor, furniture and finishings also. I also love the way a textured wood coffee table or headboard looks!
Subtle Stripes:
is it just me, or do navy and white stripes remind you of Vineyard Vines, days at the beach and endless summer nights?! There is nothing more nautical than navy and white striped decor. Throw pillows, rugs, blankets, coffee mugs, upholstery; you name it and you can likely find it in a navy striped pattern! If you're feeling super bold, try an accent wall with striped wallpaper!
Beach homes should feel sophisticated, have a cottage/inn feel - yet elegant all at the same time. Using these tips will help get you to that shabby chic and beachy look and will keep you feeling like it's summer all year long - even if it can't be where you live!
P.S. I highly recommend checking your local Home Goods especially this time of year for nautical home decor! My Home Goods has aisles upon aisles of gorgeous coastal accessories!
XOXO
Bloglovin|Facebook|Pinterest|Instagram