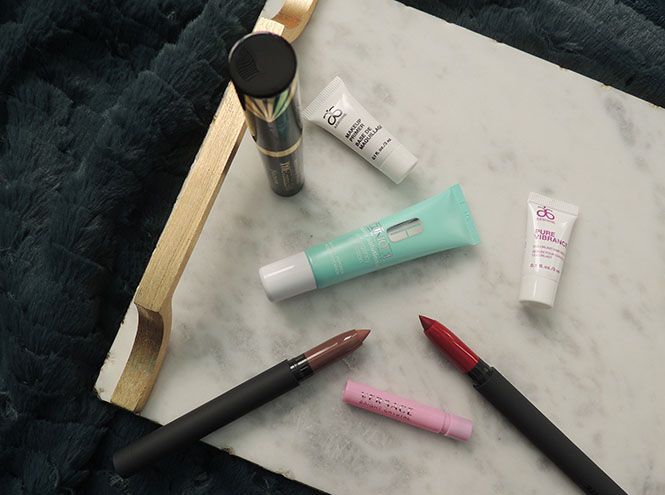 December AND the cold weather are here so I'm always looking to try new skincare products that'll help my skin all season long. We had our first official snowfall last night and it's really starting to look *and* feel like winter now! I've been trying lots of products lately and makeup products too - I'm sharing my favorites that I've tried and things I'll be using all month (and probably longer!) long. From matte lip crayons to blush to cleansing creams, here's my favorites:
BITE Beauty Matte Cremé Lip Crayons:
these gorgeous colored lip crayons were in the latest
VoxBox from Influenster
. Every time I get to try new BITE Beauty lippies I fall more and more in love with the brand! I tried a few of the matte lipsticks this past spring, and they've been so amazing that I've started a BITE lip collection, ha! The colors are all so pretty and each product is better than the next. These three shades are Glacé, Red Velvet and Brandy. Since trying them, I bought another in
Framboise
which is the prettiest pink/purple shade.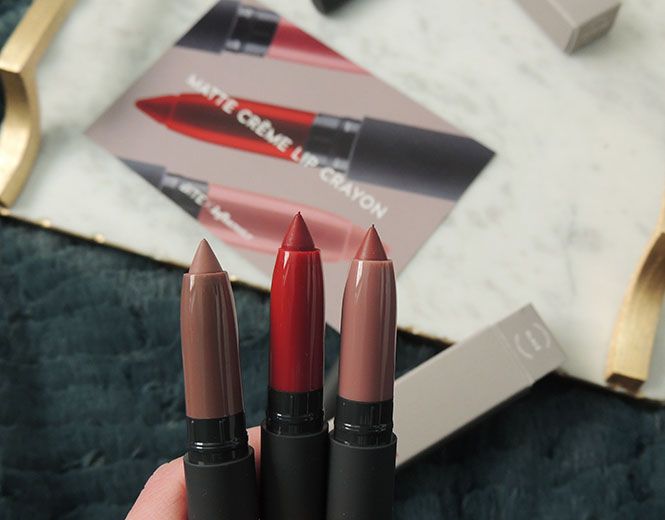 It lasts all day long and although it's matte, it doesn't appear as drying on your lips. They're super creamy and SO pigmented! I tried pairing the Glacé with a shinier gloss and it looked just as pretty. You can buy these lip crayons
at Sephora
- I suggest going in-store and seeing the colors in person for the full effect!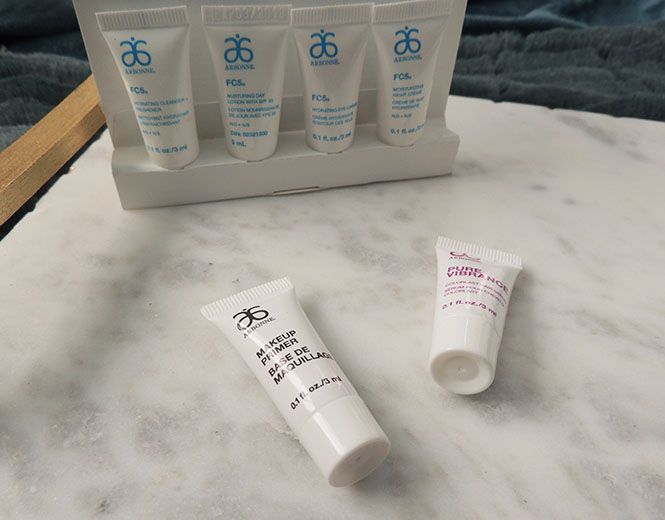 Arbonne Face Products:
I've always heard really positive things about Arbonne and I've read up a ton on their products. The makeup primer has become my #1 - it's the perfect base and I've seen such a difference in how long my makeup lasts since I started using it! I'm also falling in love with the moisturizing night creme, it makes my skin feel so silky smooth. I've been using this after exfoliating and it makes my skin feel so clean. These FC5 formulas are made with fresh fruit cells and
Moisture Fresh
Complex that helps your skin most especially in the harsh winter weather.
Clinique Acne Treatment:
I've always been SO fortunate with extremely clear skin (I think it's all the water I drink!) but of course every now and then I get the occasional blemish. I swear by
this acne treatment
solution - I've been using it for a few months now and it helps so quickly! Whenever I need it, I put a little dab right onto the blemish and it dries it out basically overnight. It's a drying solution, so be sure to only put it on the spots you need. I always put it on after moisturizing and in the morning I moisturize too to make sure this doesn't dry my skin too much. I typically use this at night - you'll definitely see results in the morning.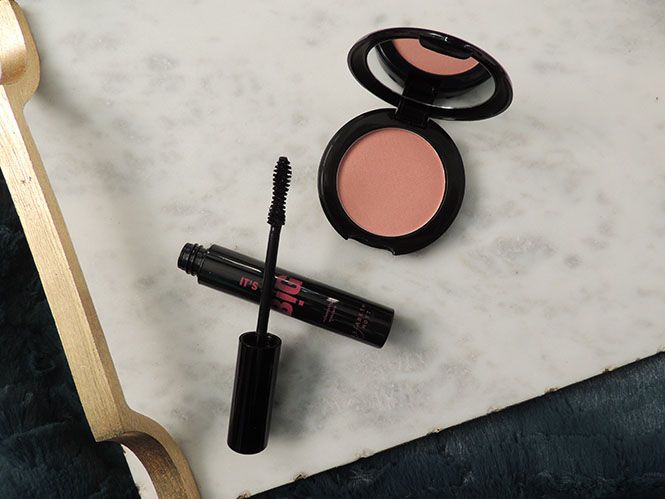 Elizabeth Mott Blush & Mascara:
The
Show Me Your Cheeks blush
is the prettiest pink shade. It gives a lot of color but subtly enough that it looks natural and pretty which I love! It has a little shimmery touch to it and it looks so pretty on your skin. The
It's So Big volumizing mascara
has THE best mascara brush I've ever used. Usually I like the simpler application brushes but this brush is exactly what makes the mascara be so volumizing. I usually use two layers and I'm good to go all day with this - I love the trio option they have available of this mascara - it makes for a perfect stocking stuffer!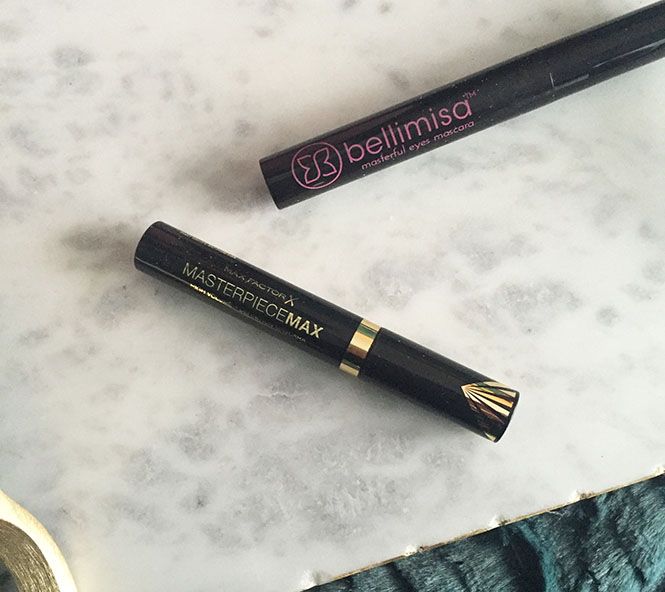 Max Factor Mascara:
So by now 99% of you know of my eye lash issue - getting them to stay curled is like fighting a battle! Honestly, I can't believe it but I've found a mascara that keeps my lashes curled ALL. DAY. LONG. I curl my lashes and use a primer and then apply
the mascara
and they just stay curled. It's seriously amazing because I thought nothing would work for me! It's
available at Target
and it's by far one of the best products I've ever gotten to try.
Bellimisa Mascara:
I posted
about this mascara
last month and not only do I love it but my mom does too! She has sensitive skin when it comes to makeup and this mascara is one of the only brands that doesn't make her eyes tear. It's made with the most high quality, natural and chemical free products - and has no synthetic scent (like some mascaras do). It's water resistant, lasts all day and has Vitamin E and peptides in it too! My favorite part is that when you take it off at night, it doesn't pull on your lashes or make them feel heavy. You can
grab yours here
- I highly suggest it! I was so excited for Bellimisa to let me try this and now it's one of my favorites. What's also SO cool about this brand is that you can purchase the products on a monthly or bi-monthly basis as a subscription for just $16. You can even add in the other Bellimisa products (facial cleansing sponge, natural fiber brow gel and hydrating silk remover) when you choose the monthly subscription service.
Bellimisa is offering my readers $2 off the monthly subscription service with code
BBLOGGER
so you can get the subscription for $14 per month! I'm gifting the subscription to a few friends this season - it's such a great gift!
What's on your beauty favs list this month?
XOXO