If you shop a LOT, and you like saving money a LOT - you *need* to sign up for Ebates. This isn't sponsored in any way - I've just totally and quickly become so obsessed with using it! About a month ago after seeing a ton of commercials and ads for Ebates, I decided to sign up and see if it was 1. legit and 2. really worked. The commercials always make it seem like it's too good to be true - literally making money to shop - but let me freakin' tell you, it works!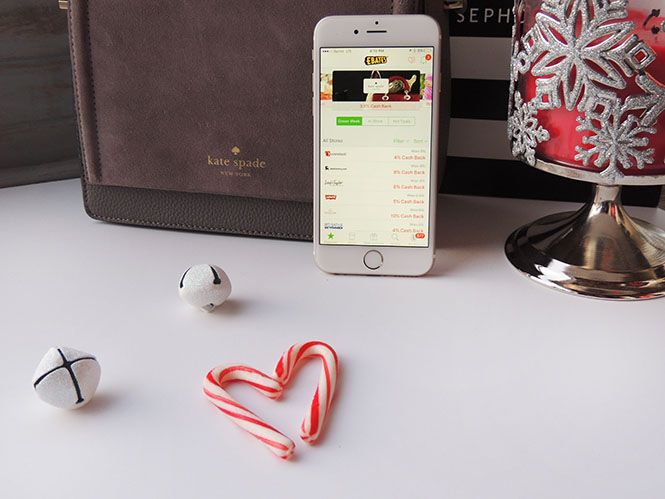 Ebates is so simple to use - it started by only working for online purchases, but now there's easy ways to use it in-store too. It's literally as simple as shopping through Ebates' website at any store (they have thousands of stores, and where ever you're shopping is almost guaranteed to be included on that list!) and making a purchase. Each store as a different cash back rate and these rates change almost daily. With every purchase, you make a percentage back. Some stores may only be giving 1-2% cash back at any given time; so at first I was completely skeptical. I figured I'd only be making a couple of cents and it'd take forever to make anything worth while... And I'm SO happy to say I couldn't of been more wrong!
In just a month, I've made $120 cash back on a handful of purchases that I'd be making anyway. When you sign up, you simply install the Ebates button on which ever browser you're using and then make sure you "activate Ebates" during each online shopping trip. The percentage of cash back you get varies - some stores' percentages change daily, some change every few days. There's even "double cash back" days where stores double the percentage. For a little perspective, I spent $160 on a Nordstrom order last week and I got $9.80 back. There's *seriously* nothing more fun than placing an order then opening the Ebates app and waiting for your balance to go up! It's kind of addicting!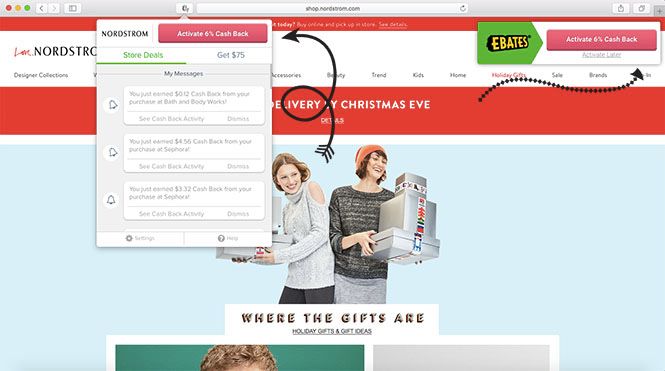 If you're using Safari, the Ebates button you install is on the left upper side of your browser. On Firefox, it's over to the right. When you go to a website, the Ebates button appears (seen on the right) and you can activate your shopping trip. Once you do that, you're good to go. Clicking the Ebates button will either show your latest cash back bonuses or if you're mid-shopping, you can click it and see if the store has any coupons to apply to your order. This thing does EVERYTHING. It's so good and I really can't believe after all of these years, I just started using it a month ago...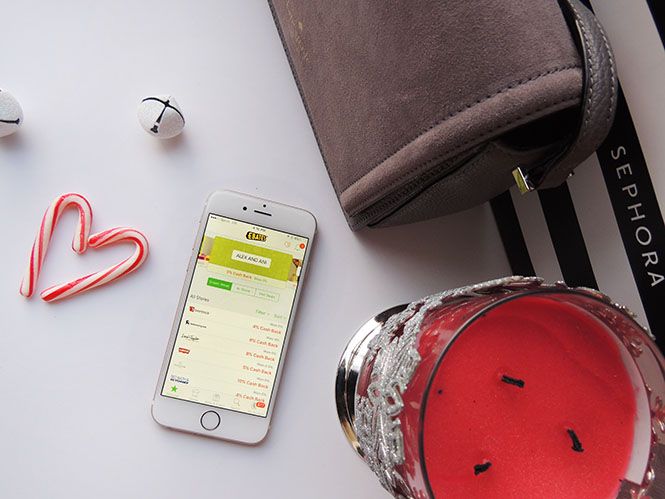 Recently, Ebates added an in-store feature. By linking your debit or credit card(s), you can link a cash back offer to the card you're planning to use and then get cash back for in-store purchases too. The stores that give cash back differ whether you're going in-store or online, so it's important to check that out first too.
To add a card and link it to an offer, open the app - my account - my wallet - and then add as many cards as you want. I added the cards I use the most so that they're stored; and make sure you don't skip the "agree" to the terms step after reading them. Then on the main page of the app (under "featured"), you can switch over to in-store. Click that tab, and scroll through the stores to link whichever you'll be shopping at. It couldn't be more simple!
You can choose to get paid via PayPal or check and then get paid each month based on your earnings. If you shop, you NEED this app! It's literally making money back on purchases you're already making. This time of year is even better to use it because you're likely doing double the shopping. I'm not sure who the genius is that created this, and I'm also not sure why I didn't use it sooner. But now I got my mom using it, my sister, cousin and my best friend and they say the same thing!
If you sign up, use my referral link because we'll BOTH make $10! I used a friend's referral link when I signed up and I started out with $10 in my account literally just for signing up. I'm sharing this with you guys because I couldn't keep something this amazing to myself; it honestly couldn't be easier to make extra cash back. And you're literally not doing any extra work!
Now you can enjoy shopping even more - there's something so satisfying about making money back on a purchase! ;)
Happy shopping!
XOXO
This post is NOT sponsored; the only link included is a referral link for Ebates. This means if you sign up for Ebates, I'll make $10 - but you do, too! It's a win-win!