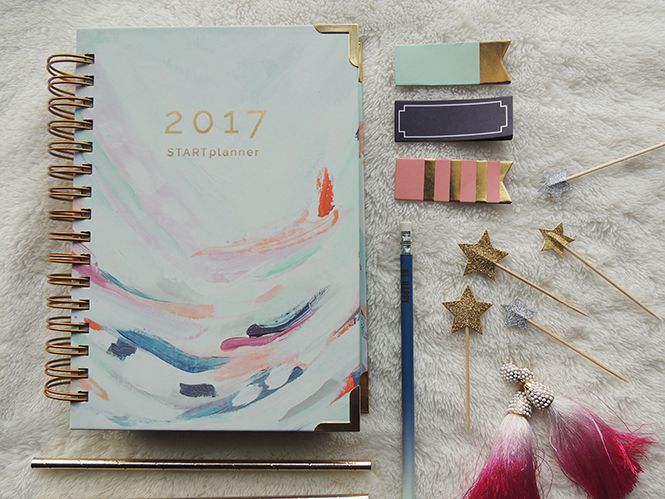 Happy New Year!! I cannot believe it's finally here, but we're in 2017! Am I the only one who found it *so* incredibly satisfying that the new year started on a Sunday?! It made the OCD in me so happy, ha! The holidays went so fast but it was such a magical few weeks and so relaxing, so now I'm so excited and ready to get back to work and doing some goal crushing. ;) There's something about the fresh start of a brand new year that gets everyone motivated, but usually that motivation fades and we give up on a lot of our goals. I'm guilty as charged - it's no secret that I've set goals for myself that I never completed but now, being a blogger and in the world where goals truly matter for your business, I realize that it was because the goals I was setting for myself were completely unrealistic. The timing didn't add up and nothing made any "real" sense. Now I have a better sense of goal setting and I definitely feel less overwhelmed and much more excited about reaching and achieving my goals.
That being said, my word for 2017 is committed. I've come up with a few words and sayings that I love and want to live by this year but committed is my "one word". I'm committed to building up my blog/brand more successfully; committed to getting healthier; committed to myself and achieving my goals and committed to BEING committed. It works all around - both personally and business wise! I chose committed because it was one of the words that kept floating around my brain during the past few weeks and after making a detailed list of my main goals for the year, I realized that since I am so committed to checking them all off, it was the perfect pick.
I know that I'll keep adding things in terms of what I'm committed to and for, but that's sort of the exciting part! Speaking of - I'm definitely working to become committed to being a more organized person. I'm sort of a planner by nature, but with so many aspects of running a blog and business, you *really* need to organize yourself, big time. The whole week between Christmas and New Years was sort of a blur (which according to Twitter I wasn't the only one - phew!!) and I may or may not have only left my house a handful of times... But I DID use it to plan things out and organize myself. From my couch as I caught up on the shows on my DVR, obviously. ;)
4 tips to keep you organized this year:
Use a planner.
Guys, my planner is like my best friend. Seriously I carry it everywhere with me, treat it like a baby and spend a ton of money on making it pretty (like, too much money. As in $70 on stickers, supplies, washi tape, etc in Michael's today.. yeah). Some people work better with visuals and that is SO me. I need to see things to make more sense of them. I also have an online calendar (via Google Calendar) that I plan things out on. Planning things out is my #1 and although it isn't for everyone, I think it's worth a try! ;) If you are a planner addict like me, I have a REALLY
fun planner giveaway happening on Instagram
right now!
Declutter. Everything.
Is there really any better feeling than decluttering, throwing and giving things away and having a clean space? I clean weekly and try to deep clean monthly but we all know that that doesn't always happen. The first week of January (and usually into the second and third week too) I go on these cleaning rampages and it's such a good feeling! If you have yet to deep clean this year (I know in the whole day that's been 2017 thus far ;), try it - it's an amazing feeling.
Make realistic goals.
Like I mentioned,
making goals
is extremely important - but even more important is making a list of goals that are realistic and
can
be achieved. There's no better self-organizational method than having a clear idea of what you want to achieve short and long term. I have so many ideas of what I want this year to look like, and because I made lists of my goals I can see them being achieved and it's a really, really awesome feeling.
Start a money saving challenge.
This is the first year I'm doing a 52 week money saving challenge, and I'm SO excited!! There's a ton of different ways to do this but essentially, you save a set amount of money each week and have a jar of savings by the end of the year. I personally see this as a way to better organize my spending habits (AKA shopping too much, as if that'll change!) and budget each month more effectively. I'm excited to see how this goes!
I teamed up with START Planner to give away one of their awesome planners for 2017 on Instagram! Follow the two simple steps to enter on this image:
What's your word for 2017?
XOXO