Happy Tuesday and more importantly - happy JUNE!! It's been a couple super rainy days in New York so I've been stuck inside! But I've been shopping to find the last finishing touches to my bedroom makeover and I realized how awesome it is to have a vibrant touch to any room! No matter what color scheme or look you're going for, I think having some pieces that really pop in a room make it inviting and bring a space together. Going vibrant, bright and bold for a room is important to be done right, especially if you're going bold with your paint choice!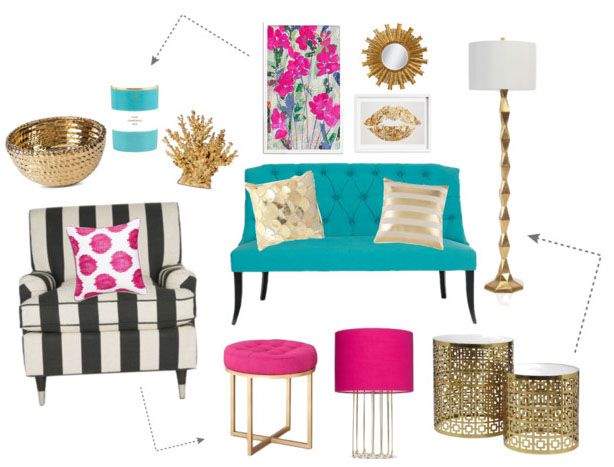 Gold decorative bowl// Kate Spade candle// Gold coral decor// Floral wall art// Sunburst mirror// Golden kiss wall art// Pink ikat pillow// Black/white striped accent chair// Turquoise sofa// Gold scale pillow// Gold striped pillow// Gold floor lamp// Pink/gold ottoman// Pink/gold lamp// Gold side tables
BLack, gold, pink and turquoise is one of my absolute favorite color combinations! Taking vibrant colors like these and mixing them with a more subtle color (like black) goes together like PB&J in my opinion!!
Here's some ways to decorate a room while adding some bold choices:
1.
Stick to a scheme:
While I've seen rooms that have a broad color scheme and look GORGEOUS, I prefer rooms that have a set scheme with a small handful of matching colors.
2.
Going bold on your walls:
If you have a vibrant/bold color on your walls, I bet it looks awesome! If you aren't as comfortable doing a whole room with one bright color, try doing an accent wall! It makes the room pop perfectly, just not as risky as a whole room. If you go bold on the wall(s), try more subtle accents and decor.
3.
Light up a room using the floor:
If you're starting from scratch, consider going graphic with your flooring! I love a herringbone patterned floor like
this one
especially for a bathroom. It gives depth and pattern - without making too much of a "bright" statement! Or for a bedroom or living room, try a brightly patterned area rug
like this one
!
4.
Vibrant patterns in a small way:
I think a great way to somewhat-subtly make a statement is to DIY a bookshelf to look
similar to this
! Making a statement while keeping it understated all at the same time!
5.
Go bold with bedding:
If you're looking to make a statement in your bedroom, a great way to do so is getting a brightly patterned bed set within your color scheme! Chevron, ikat, stripes and paisley prints are all great ways to go.
6.
All in the textiles:
As you can see above in my current dream living room, I'm all about the wall art and patterned pillows!! Having a bright (or even neutral) colored sofa, mixed with a patterned accent chair and some gorgeous textured and patterned throw pillows makes me SO happy! Bright wall art also can make a room pop - especially a floral design that matches your color scheme to a T! But for real - how gorgeous do those details look together?!
7.
Last but not least, lamps:
While it's important to have lamps for ample lighting in any given room, these are also some of the most important decorative items too! Try a patterned lamp shade for some real POP! I especially love a bold colored shade
like this one
.
I love vibrant colors and patterns, especially lately. Here's some of my favorite vibrant products to dress and fill up any room!
Lamps:
Area rugs:
Furniture:
Wall Art:
Throw pillows:
XOXO
Bloglovin|Facebook|Pinterest|Instagram