With summer officially starting this Sunday comes an entire new wishlist of items I'm eying and wanting to get! There's so many new things I'm dying to try and especially for summertime - I want makeup that looks airy, a good SPF moisturizer, sunnies for all my outfits and a closet full of summer sandals!
I also find it helpful to make a wishlist throughout the year of things I'm loving so that when my mom asks me every September, "what do you want for your birthday?" I don't look at her like a lost dog! Seriously this happens to me every year; I love things all year long and once my birthday rolls around I'm clueless! I've been making an effort to change that this year, which is why I've been so obsessed with making wishlists!
For this season I've been finding a mix of beauty, fashion and skincare products I'm dying to try! Here's what I've been eying nonstop: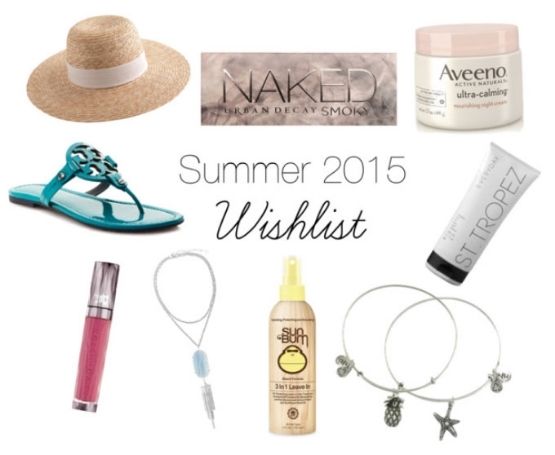 Floppy hat:
I've been iffy about getting one of these this season - but apparently I have a good hat head! So I think I need one of these! I love this trend and now I'm on the hunt for the perfect floppy straw hat! These can be pretty pricey, like
this gorgeous floppy hat
but there are lots of options that honestly look exactly like the more expensive ones! I've found a couple I liked, but none that I
love
yet - so the hunt continues!
Naked Smoky Palette:
words cannot describe just how excited I am for July 8th!! The next palette in the Naked collection is officially being released and you can bet that I'll be at my Sephora bright and early to get my hands on this gem! The Naked collection is by far worth every cent. I love all the colors and there's SO many tutorials and beauty bloggers and vloggers that give tips on using these palettes!
Naked 2
has been my favorite out of all three for the past year or two but I have a feeling that this new palette is going to take the cake!
Aveeno Ultra Calming night cream:
I found this product while scrolling through new arrivals on Ulta's website and after reading the description I knew it was a must try! Although I do protect my face with SPF moisturizer during the summer, sunburn is usually inevitable (for me anyway). Sunburn leads to dry skin and dry skin leads to bad complexion - so this nighttime moisturizer seems perfect! I've been looking for a product like this that would rejuvenate my summer skin overnight so I can't wait to try this.
Tory Burch Miller in Electric Eel:
by far my favorite summer sandals! These come in every color and pattern you could possibly think of and I'm always itching to buy more! This turquoise color though is calling my name! My favorite color on my favorite shoe?! I definitely recommend these sandals because they can be worn every day or even can be dressed up. These teal millers are at the top of my wishlist this season!
St. Tropez:
this brand has some of the best beauty and skin products I have ever used! This
gradual self tanner
doesn't turn you orange and doesn't get streaky which is hard to come by! I've tried my fair share of self tanners aside from tanning beds and spray tans and I've never quite liked one as much as the St. Tropez tanner! This has been on my wishlist and I just purchased it to use and I love it. I normally don't use self tanner during the Summer since I love laying in the sun, but at the beginning of the season when I'm not yet tan, this is a must use!
Urban Decay lip gloss:
I recently found out that Urban Decay makes lip gloss and I am dying to get my hands on one of these! It comes in so many
colors
- I'm dying to try it in
Failbait
!
Kendra Scott Rayne pendant:
this necklace is absolutely gorgeous and I love so much that the pendant matches Kendra's
Danielle earrings
. I definitely want to get this necklace for the summer especially!
Sun Bum sea spray:
I first saw this collection in Aerie and recently saw it in Nordstrom as well! My hair is naturally curly and in the summer it's almost impossible to manage. I also use this time of year to give my hair a break from product and heat - since I'm mostly by the pool or out anyway where I can have my hair up or pulled back. The entire
Sun Bum
collection definitely seems worth a try! They have SPF facial products, sunscreen and hair products - which is what I'm most wanting to try for an every day beach wave look!
Alex & Ani:
these bangles are some of my favorite jewelry to wear all summer long! The two I most want to add to my collection now are the
pineapple bangle
and the
starfish bangle
! They both are so summery and I definitely want to add these two into my collection to wear for the summer! I don't usually wear jewelry to the beach but these bangles are some I will wear because they aren't annoying on my wrist and are super fun!
What's on your summer wishlist this season?!
XOXO
Bloglovin|Facebook|Pinterest|Instagram