Happy Monday everyone! Today I'm happy to continue my guest post series with Kate from Kate Moving Forward! Kate and I met and after some talking decided to guest post on each others blogs and I couldn't have been more excited About this! You can read my post on Kate's blog about child friendly decor here!!
Hey there! I'm Kate and I blog about my imperfectly healthy life over at KateMovingForward. On my site you'll find recipes, healthy living tips, motivation, my own weight loss journey and my little family's adventures in West Michigan. My readers love my practical and "real" approach to healthy living and I think you will too!
It's finally summer! If you are like me you have great plans that hopefully involve some type of water: the beach, the lake, the ocean, the pool. The cool colors of the water inspired these beautiful choices of workout gear. There is something for everyone in these picks and I personally think that working out in cute gear you makes you faster and stronger!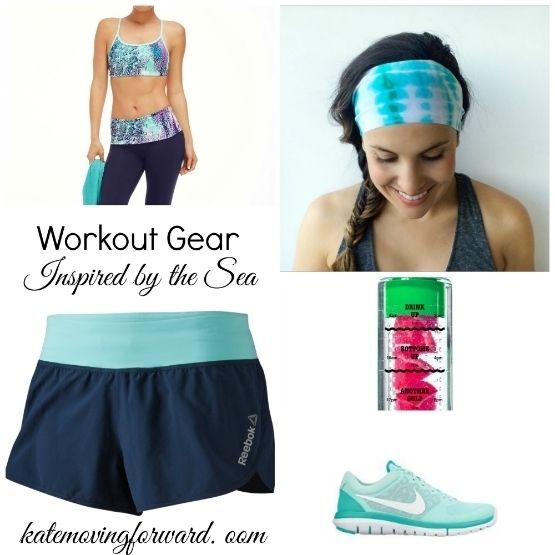 So go get your sweat on--and then jump in the pool!
Thanks for letting me share today! If you want to follow me on Facebook, Pinterest, Instagram or Twitter I'd love to have you!
How cute are Kate's summertime workout gear picks?! I couldn't agree more that looking cute while you work out definitely makes it all the better! I've been trying to kick my butt into gear and get into better shape so I'll definitely be looking into styling my workout gear like Kate said! Thanks so much to Kate for guest posting today and I hope you enjoyed this post!
Here's some of my picks for workout gear:
XOXO
Bloglovin|Facebook|Pinterest|Instagram