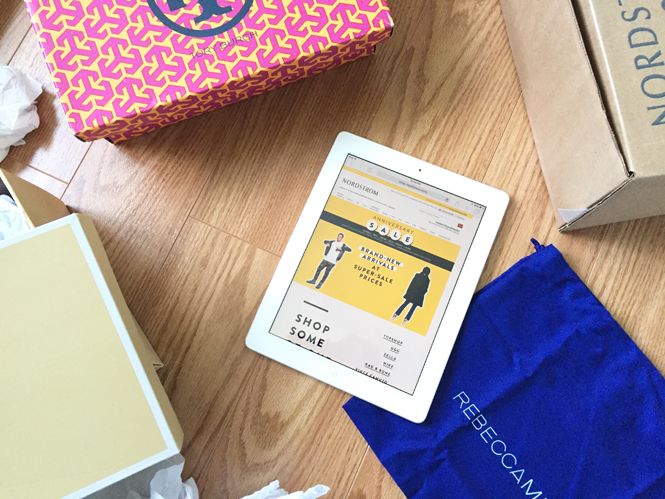 If you haven't had a chance to shop the Nordstrom Anniversary Sale during it's early access days, you're now in luck! The perfect start to a Friday if you ask me! The sale is now opened to the public and everything has been restocked. It's also a great time to try and get your hands on anything you may have missed out on during the early access period! My orders are starting to roll in and I can't wait to share the fun things I've bought for the home, for the rest of the summer and for the fall. The best part is realizing how much you saved on designer items and ones that you may not have let yourself splurge on if they weren't on sale. If you're a card holder or part of the reward system, you can gain 3x the amount of reward points! It's actually a great way to shop because you'll start earning Nordstrom Notes. I've gotten a couple of notes during this sale, and I'm so excited because I have close to $200 in "notes" now to put toward my next purchase!
I also have to share just how amazing the Nordstrom customer service is... A few days ago, I found an area rug I absolutely loved and it strangely didn't have a size with it; I was going to the Nordstrom I shop at that day and they didn't have it in the store, so I used their live chat and long story short, the rep told me she would contact me if she could find out what size the rug was. To my surprise, I got a phone call today from the exact representative I spoke to telling me the size! I've always known how good the customer service was (I wrote a Fund. of Management final paper on it my junior year of undergrad and got an A+ ; ) let me know if you'd like to read it!!), but not this good.
Anyway, back to shopping - it's the start of the weekend and everyone deserves to treat themselves when there's a sale as awesome as this one! Let's dive into the best of the sale: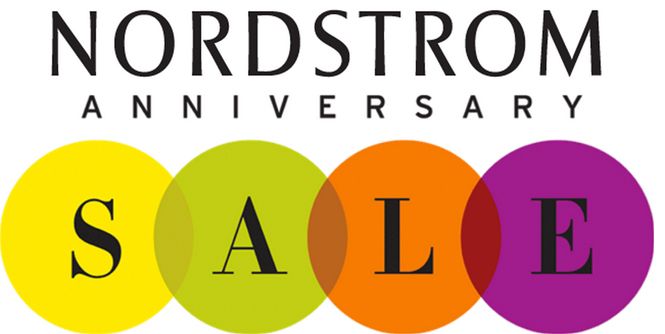 My top 2 shopping tips for this sale: plan ahead and think about more than what YOU like!
Planning ahead:
this is a great time to stock up on some new and really popular pieces. It's also a great time to see what's going to be popular for the upcoming seasons and grab some things for the rest of the summer! If you know what you want to go after for the most part, you'll be less likely to over spend (maybe I should take my own advice...) The sale is great for getting some staple wardrobe pieces too and the perfect time to invest in some more expensive pieces that'll be in your wardrobe for years and years (like
this Michele watch
or a
Burberry coat
).
Grab some gifts:
more than shopping for yourself and staple pieces for your family, think about any gifts you may be needing in the near future! It may be way too early to think about Christmas and the holidays (unless you're on the Christmas in July train!) but for birthdays coming up also; some of these designer items aren't going to be discounted this much or even at all come the holidays, so grab some things now while they're on sale!
Although there are pages and pages of swoon worthy items to go through, it can be overwhelming; and if you're shopping in-store, there's a million (and likely really unorganized and messy) racks of great finds to try and go through. Items have been and will continue to go fast, so make sure you shop your favorites quickly! Even if you aren't sure about something online, order it so you aren't regretting it later! If you don't love it as much as you'd hoped or if the sizing is off, you can SO easily return it with Nordstrom's awesome returns policy. Next to free shipping, you have free returns for 6 months! I often order two sizes if I think I'll be between sizes, and return which ever doesn't fit so that I'm sure I'll get my selection without worrying about sell outs.
Let's start with the items that have the best sale prices based on their original, post-sale pricing:
*
affiliate links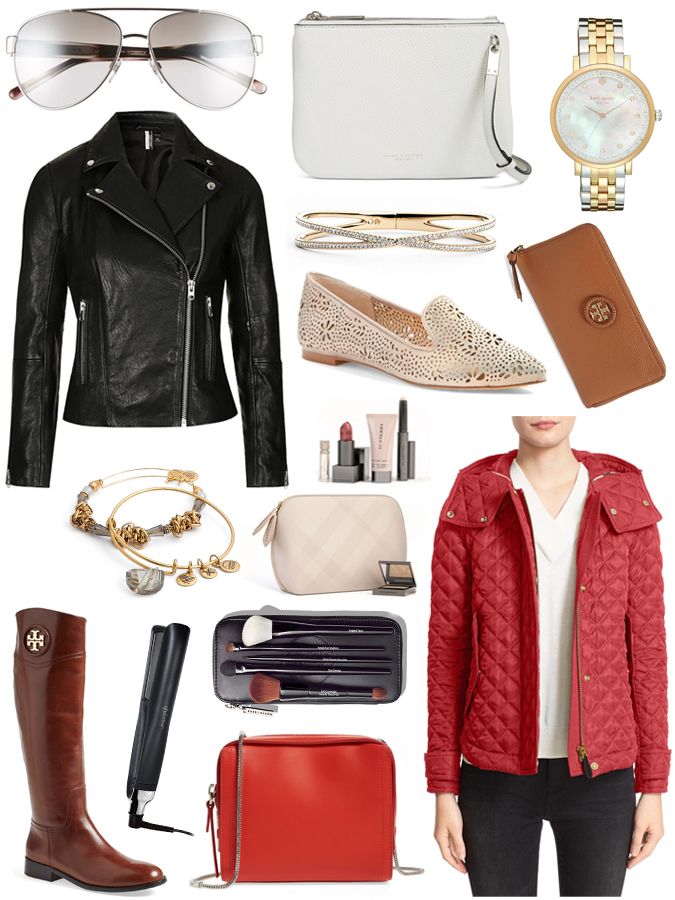 Burberry Sunnies (33% off) // Marc Jacobs Crossbody (33% off) // Kate Spade Watch (33% off) // Leather Jacket (33% off) // Criss Cross Bangle (34% off) // Perforated Flats (36% off) // Tory Burch Wallet (34% off) // Alex & Ani Duo (43% off) // Burberry Beauty Set (32% off) // Tory Burch Boots (43% off) // ghd Straightener (30% off) // Bobbi Brown Brush Set (47% off) // Philip Lim Crossbody (50% off!!!) // Burberry Coat (33% off)
Things that will likely sell out super quickly:
Rebecca Minkoff Crossbody // Black Booties // Kendra Scott Earrings // Candle Trio // Michael Kors Watch // Black Tote (under $50!) // Kendra Scott Cuff // Vneck Tee (SO many colors!) // Colorblock Sweater // Sunnies // Tory Burch Hobo // Laura Mercier Palette
Still on my wishlist:
Hard to believe there's anything left to still wish for after the damage I've done but there are! ; )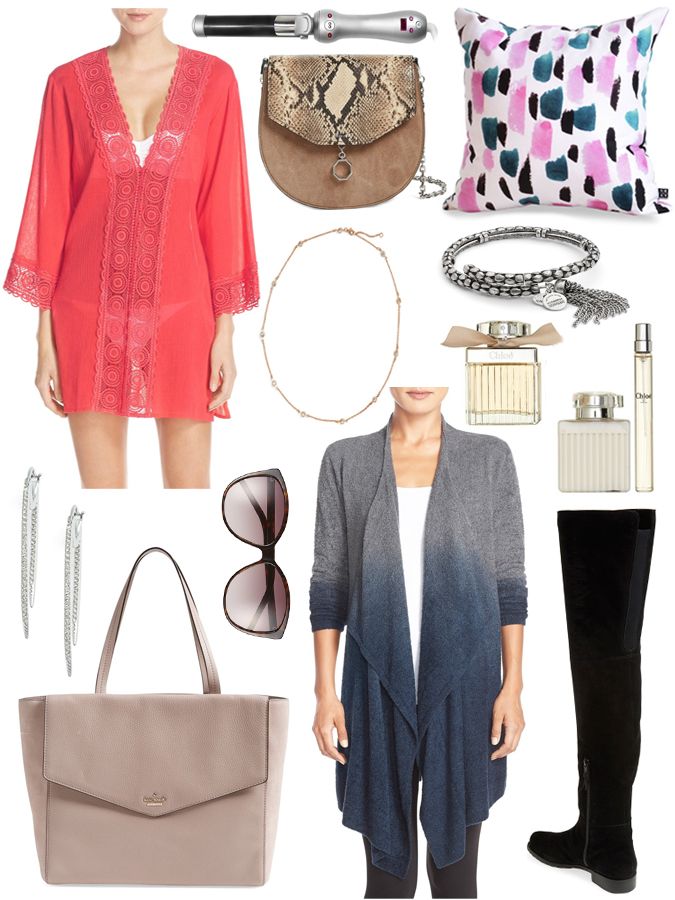 Swim Coverup // Curling Iron // Crossbody // Decorative Pillow // Bezel Necklace // Alex & Ani // Earrings // Kate Spade Tote // Sunnies // Ombre Sweater // Chloe Perfume Set // Stuart Weitzman Boots
These Stuart Wetizman boots are #1 still on my wishlist! I haven't pulled the trigger yet but they're back in stock now and they're SO adorable. I love over the knee boots and you really can't beat the Stuart Weitzman quality! They're almost 40% off and I haven't seen these boots or any of his similar pairs on this great of a sale EVER! I also fond this adorable Kate Spade tote that comes in two colors; I can't decide if I should grab it or wait! I like to buy a new black tote each season that I know I'll keep for a long time, but I'm iffy still.
How cozy does this ombre sweater look?! I saw Carly from General Hospital (any other GH fans?!) wearing it all winter last year and I've wanted a similar one since - I love the colors of this one!
I'm having way too much fun with this sale! If you're starting your Anniversary Sale shopping today, good luck! I'd love to hear what you're loving from this sale! : )
In case you missed any of my previous #NSale posts, you can check them out here:
Early Access Favorites
NSale Home Decor Picks
XOXO