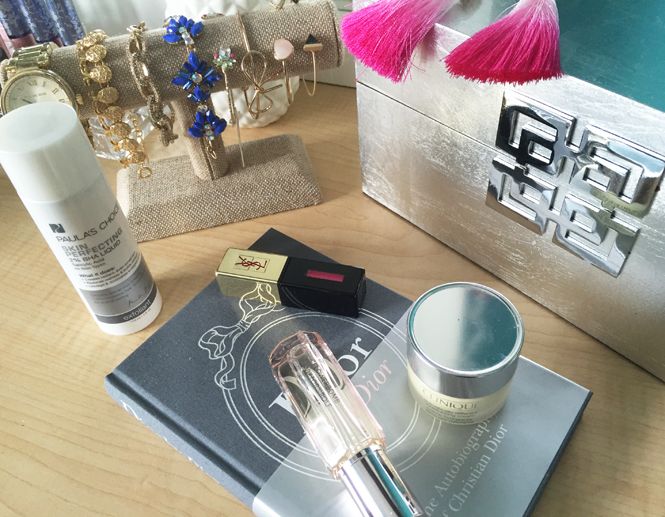 How is everyone's bank accounts feeling two weeks into the #NSale?! Mine's screaming at me currently... But the sale is SO good! I've shared my early access favorites, home decor must haves and second round favorites/shopping tips; and now I'm rounding up my beauty favorites from this awesome sale. I had mentioned here that this sale was also a great time to get a head start on birthday/holiday gifts since everything is priced so great, and a lot of that comes from the beauty department! Whether you're in need of a new curling iron or your best friend's birthday is coming up, the beauty sale likely has what you're looking for.
*
affiliate links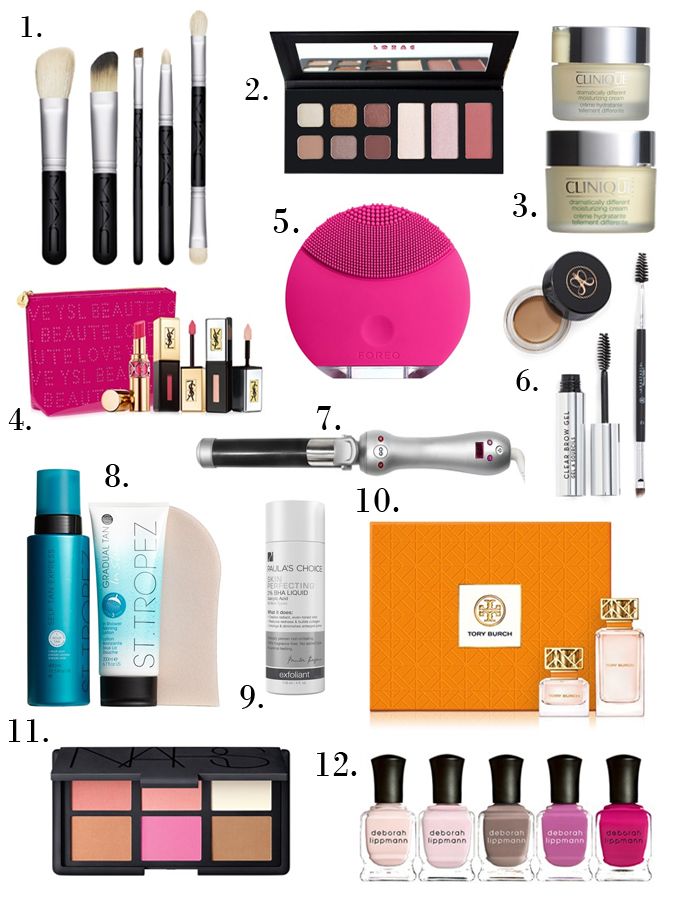 1 // 2 // 3 // 4 // 5 // 6 // 7 // 8 // 9 // 10 // 11 // 12
1. Mac Brushes:
not only is this a great gift idea for any makeup lover in your life, it's great if you need some new brushes too! This set comes with 5 different brushes and there's really no better brush than ones made by MAC if you ask me, they're my favorite and they last so long.
2. LORAC Eye/Cheek Palette:
I recently started using LORAC products and I love their glosses, so when I saw the sample palette in the store I tried a few colors and I fell in love. Sadly it was already out of stock (other than the test palette) so I hurried home and ordered it - at such a great price who could resist?! I love that it doubles as an eye and cheek palette, it's especially great for travel having a two-in-one!
3. Clinique Moisturizer:
you've likely heard
me talk about this moisturizer before
and it's quickly become my favorite and the moisturizer I've been using for the past two months! I use this twice a day; when I first wake up after washing my face and at night right before bed. It has no scent, is incredibly light and feels SO good on your skin. I definitely see and feel a difference in my skin and it's helped prevent any peeling too from the sun. I've been in the sun a LOT this summer and even with sun screen, I still tend to get burned occasionally. I highly recommend this stuff and the best part is this is a duo - you get the larger jar and the smaller jar for almost half off the original cost of both! Such a great deal and I'm stocking up!
4. YSL Lip Kit:
the perfect gift idea, the perfect time to stock up on new YSL shades, the perfect price! This set is such a great deal and who wouldn't love to get this as a gift?! It comes with 3 different YSL lip shades (one lipstick and two gloss lip stains) and they're so pretty and perfect for year round wear.
5. FOREO Luna:
this is the mini FOREO and I love this thing. It's easy to travel with because it's so small - I use it twice a day and it's by far my favorite cleansing device I've tried. It leaves your skin feeling so clean and fresh and it's great to help get rid of blemishes too. The price?! I mean...
6. ABH Brow Set:
friends, grab this one FAST! This is a crazy good deal and out of all of the brow products I've tried, I love the Anastasia ones the most. Great gift idea too!
7. Beach Wave Styling Iron:
I love buying new curling irons in different sizes, like LOVE. It's ridiculous how crowded the drawer is in my bathroom that I use for hair products.. I don't know where I'll put it, but I'm convinced I need to try this one. I purchased this as a gift for my friends birthday next month too - it's the perfect barrel size for beachy waves!
8. St. Tropez Self Tanner Kit:
I rave about St. Tropez a LOT and honestly, it's the only tanning product brand that hasn't 1. turned me orange 2. worked and 3. lasts. This set comes with the glove, tanning mousse and in-shower tan. This stuff is how I keep my tan all year round! Highly recommend - and it's nearly 50% off for all 3 products?! Yes please, time to stock up!
9. Paula's Choice Exfoliant:
the Paula's Choice line is amazing and you can read all about how much I love her products
here
! But this exfoliant is my favorite, and I was so excited when I saw it was a part of this sale. You can get 2 full sized bottles for only $39 and it's SO worth it. This is part of my every day night time skin routine, and it's worth every penny. It lasts a long time too so getting two bottles for this price is so exciting! If you need a new skin care product to reduce redness or help cleanse your pores, this is your best bet.
10. Tory Burch Perfume Set:
this is the perfect gift idea! I bought two - one for a birthday present and one for a Christmas present (yep, early on my game this year because with this price who isn't!?)
11. NARS Cheek Palette:
I cannot WAIT to get this in the mail! I was skeptical in ordering it at first, but I've been reading reviews and it's making me excited to get this. I've recently become obsessed with blush, bronzers and highlighters and getting different looks from different palettes is so fun to try! Such a great value for this too, and you really can't go wrong with NARS.
12. Deborah Lippmann Nail Polish Set:
I've only tried one Deborah Lippmann polish before, but I loved it and from what I remember it's pretty much in-line with Essie polishes. These shades are so beautiful and this set is such a great gift idea! You may want to pick one up for yourself too because once you see these shades in person you'll be wanting it! ; )
What are your favorite beauty products from the Nordstrom Sale?
XOXO