The 4th of July is one of my favorite holidays ever and I get so excited about it every year. Barbecues, watching baseball, splashing around the pool and fireworks - and of course remembering out country's birthday! There's so many fun things about the entire day and best of all, so many fun outfit ideas for every event you could possibly think of. Wearing stars and stripes is the most festive you could be and there are SO many fun pieces to put together this season! Since the 4th of July falls on a Monday this year, the weekend is nice and long and the luckily, the weather's going to be hot and sunny the entire weekend. It also means you have a few extra days to get to the mall and buy a fun and festive outfit! Whether you're relaxing by the pool, going to a party or a laid back BBQ, here's all of the best outfits for the 4th of July:
For the BBQ's:
Starry Tank Top // Tory Burch Crossbody // MAC 'Ruby Woo' // Red Fringe Sandals // Criss Cross Ring // RayBans // Red & Blue Bracelets // Denim Shorts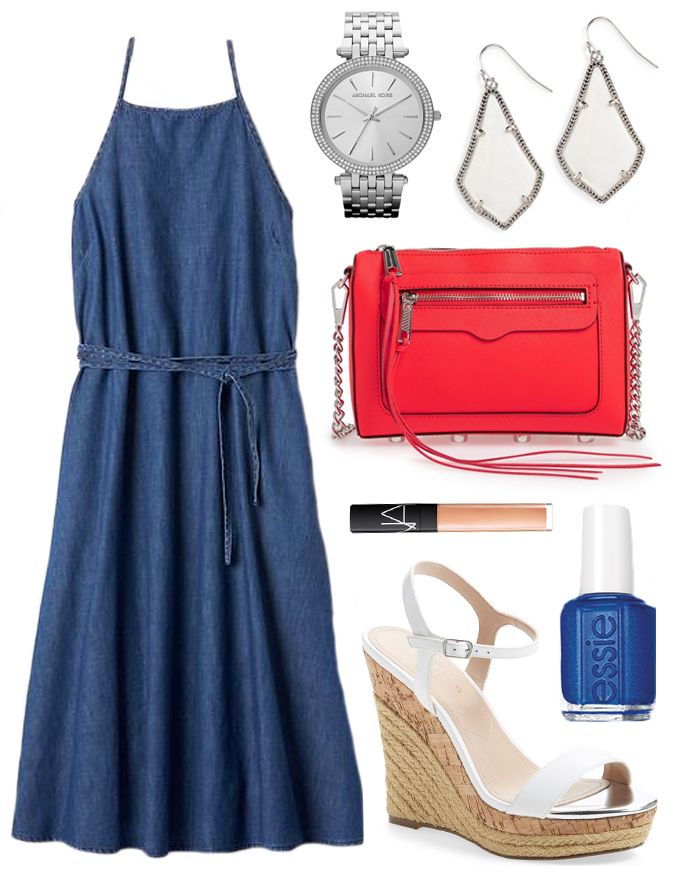 Chambray Dress // Michael Kors Watch // Kendra Scott Earrings // Rebecca Minkoff Crossbody // NARS 'Hot Sand' // White Wedges // Essie 'Loot the Booty'
MAC 'By Special Order' // Off the Shoulder Chambray Top // Bracelet // Rebecca Minkoff Crossbody // Tory Burch Miller Sandals // Kendra Scott Necklace // Sunnies // White Denim Shorts
Striped Tee // White Tassel Earrings // White Converse // Striped Sunnies // Denim Shorts
For the pool/beach:
Sunnies // Earrings // Navy Lace Romper // Red Striped Bikini // Americana Beach Tote
For the dressier parties:
Red Vince Camuto Heels // Kendra Scott Earrings // RayBans // Kate Spade Tote // Striped Dress
Floppy Hat // Ankle Strap Heels // Essie 'Peak of Chic' // Kate Spade Bow Crossbody // Kendra Scott Bracelet // Navy Tank // White Lace Skirt
For the fireworks:
Tory Burch Wristlet // Essie 'Allure' // Star Print Tank // Striped Jogger Pants // Tory Burch Sandals // Bracelets
Which look is your favorite? I hope everyone has a safe, happy and fun 4th of July weekend!!
XOXO