Happy Monday everyone! I'm so excited to finally share my first ever guest post with you guys! I was contacted a few weeks ago by Remi and am happy to say that she put a wonderful post together! I love graphic t-shirts for casual days and to wear around the house - and after learning from Remi how it can so easily be done yourself and to your exact liking, I can't wait to try this idea! Read on to find out more!
Design your own graphic tees
Ever since the 1950's graphic t-shirts were sliding their way into the fashion trends. They created a boom in the 60's when they were first used as a statement backing. And then an idea was born: a t-shirt as a medium for expressing oneself through art, popular-culture references, slogans, etc. The trend arose again in the last few years, and this spring/summer it is a must have. Maybe because of their trendiness, in many of boutiques they are pretty expensive. It is, in the end, just a regular t-shirt with a print that means nothing to you. So, how to find the perfect graphic tee to make you look and feel fabulous? It's quite simple actually, do it yourself!
It's ok to be picky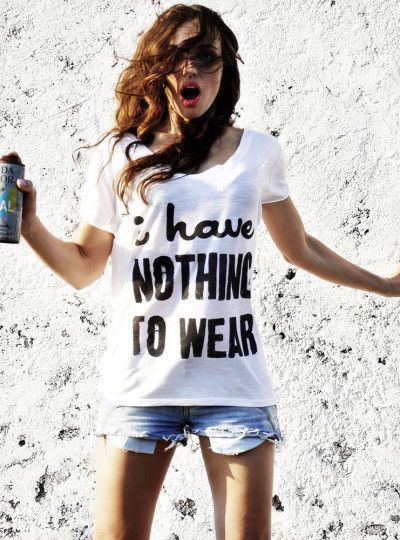 You are the one who will wear that sign or picture plastered across your chest, so choose carefully. It is, after all, the reason why you've decide to design your own tee, rather than buy one with some caption that you consider nonsense or inappropriate. You shouldn't submit blindly to fashion trends. Why should a sign printed on millions of shirts, and warn by millions of girls apply to you?
It's personal!
The first step in designing your own graphic tee is to find an appropriate image or caption for you. When thinking about options, remember that the most important thing about graphic t-shirt is to express yourself. Think about your likes and dislikes, maybe some TV show, movie, band, song lyrics, or simply an image you consider interesting.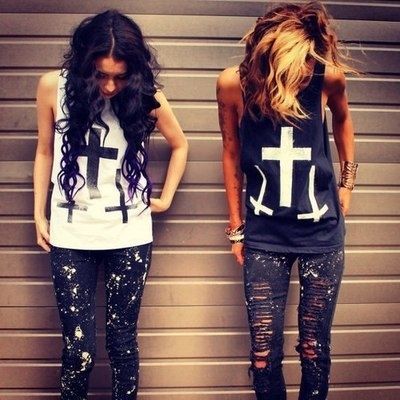 It's a match!
DIY projects can be very fun. You can make a whole experience with it. Make a "girls night in" and DIY matching graphic tees with friends. Speaking of matching, if you need more than a couple shirts, and you really don't have enough time (it is a fun experience, but when making more than few it can be time consuming), you can leave it to professionals. There are a lot of companies that deal with promotional clothing that will gladly help you with that, and it ends up being equally as cheap when you make it in bulk.
It's a piece of cake!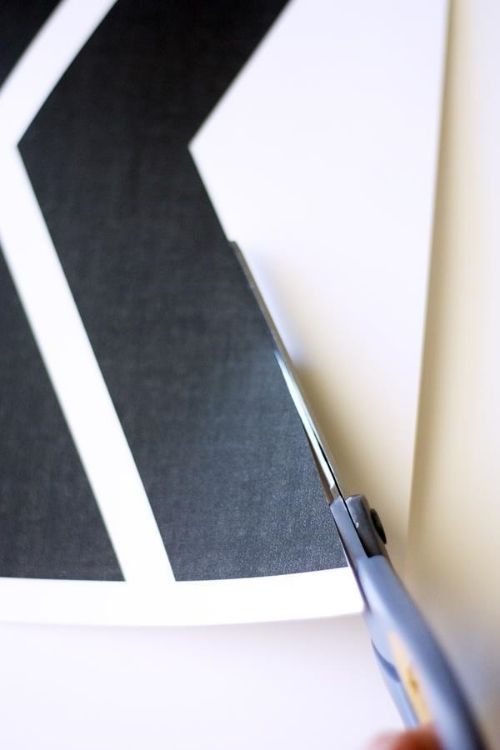 source
If you still decide to do it yourself, all you'll need is a regular shirt (you can buy a new one, dig out an old one from your closet, or even steal one from your boyfriend), a pair of scissors, iron-on transfer paper, cardboard, an iron and an ironing board. Print the chosen design to your transfer paper and follow the instruction on its package. This is by far the easiest, cleanest, most precise and definitely my favorite way of making tees. I've made so many of them this way and the awesome thing is that you can design it any way you like. I've made tees with inspiring quotes and even tees with my favorite instagram pictures. How cool is it to be able to wear some of your favorite memories and be your own artist. Just always make sure to buy the right kind of transfer paper so you don't mess up your design, as there are different ones for light and dark coloured shirts.
It's a fashion OH YES!
A graphic tee is the right answer to every one of yours: "I have nothing to wear!" There are a million ways how to wear it. Combine it with high-wasted shorts for a knock-out look, or wear it underneath a blazer with a pair of jeans. Rock on in a maxi skirt, graphic tee and a leather jacket. Accessorize with belts, bracelets and fedora hats. The great thing is that there are almost no rules.
Experiment, enjoy, and have fun with it!
-Remi
Isn't this DIY amazing?! Be sure to check out that YouTube video - it's a huge help! Again, I love graphic tee's and there's so many sayings, etc. that I love and would love to have on a shirt! Especially with the warmer days coming up, this is perfect!
Here's some graphic tee's that I love for you guys to check out also!
I want to thank Remi again SO much for this awesome guest post she put together for you all to read! I'm so excited to have started this guest post series. If anyone wants to collaborate with me and create a guest post for my blog, I would love to hear about it so shoot me an e-mail or a comment below!
Be sure to follow Remi on social media!
Twitter // Facebook // Google +
XOXO
Bloglovin|Facebook|Pinterest