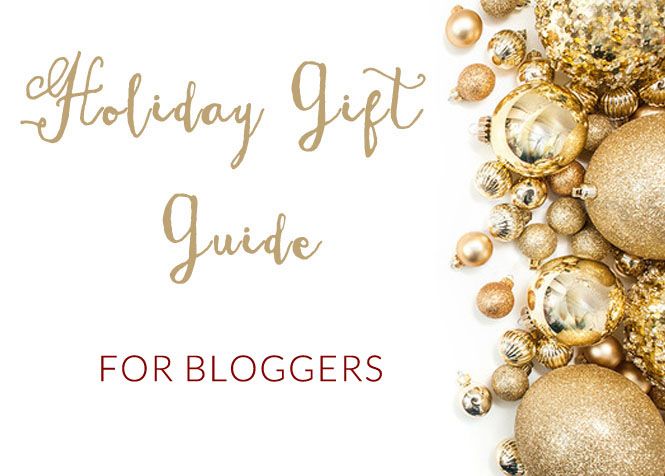 *
This post may contain affiliate links.
This is my first holiday season as a blogger and when I was making my Christmas list this year, it amazed me how many things were on my list that would benefit my blog. I think that all bloggers would agree that our blogs are like our babies and for a lot of us, our businesses. When I was creating my gift guide series this year, a guide for bloggers was at the top of my list. I never thought that a notebook set or nice set of pens would be on my Christmas list, but hey, stranger things have happened!
Whether you're a blogger, have a friend who is a blogger, or are a family member or friend of a blogger, here is a list of the best gifts to get them. I can speak from experience in saying that I would be overjoyed receiving any and ALL of these products:
2016 Desk Calendar// Marc Jacobs Fragrance Spray// Kate Spade Ballpoint Pen// Gold Sparkly iPad Cover// Bow Paper Clips// Kate Spade Card Case// Lilly Pulitzer Agenda// Kate Spade Desk// Organization Folders// Famous on my Blog Mug// Winter Candy Apple Candle// Gold Coaster Set// Laptop Case//
Since I still live at home, it's pretty impossible to have my own office. Last year when I re-did my bedroom (for the thousandth time), I got rid of my desk because it wasn't of good use to me; I just used it to store things that really should have been thrown away and not kept. However this was before I started a blog. Now, it's beyond necessary to have a desk. Now, having a desk that fits my basic needs works... but seriously, who wouldn't want a Kate Spade desk?! This is at the top of my wishlist.
Keeping my desk organized is the next biggest challenge. I like to think of myself as very organized, but as my blog grows I find that I need more tools to help me stay organized. Having cute paper organizers, a pretty planner and a nice stationary kit are essentials for bloggers. When you begin to monetize your blog and attend conferences, workshops and take ecourses, you'll have tons of paper that you need to have at hand. I bought these ban.do folders at Nordstrom and they've been a life saver! I now have one for tax purposes, printable sheets from ecourses, etc. They come in such cute patterns, colors and styles too!
I hope I'm not the only one, but the only way I can get things done is with my favorite drink at hand. If I'm hungry? Forget about tackling a to-do list! Getting a blogger (or anyone who is at their desk every day) a cute set of coasters is something they'll love! To go along with the coasters, get them a cute mug - like the ones in my Etsy shop! I have two blogger oriented mugs for sale right now - the one pictured, "I'm Famous ...on my blog" and a new design, "Bloggers Gonna Blog".
Order these mugs and any other custom designed mug from my Etsy shop now to guarantee Christmas delivery AND use coupon code SOSHOLIDAY to receive 20% off your entire purchase now through 1/1/16!
Now, for anyone wondering why I added roller ball perfume on my gift guide for bloggers, there's two reasons: 1. what girl doesn't love perfume - AND one that can be easily carried around? 2. all bloggers know that for pretty blog pictures, you need pretty blog props. Taking my blog pictures is one of my favorite parts of blogging. Having things that I can use and that are practical but can double as a blog prop are the best gifts EVER!
Need some more ideas? Here's some more great gifts for bloggers:
XOXO
Bloglovin|Facebook|Pinterest|Instagram