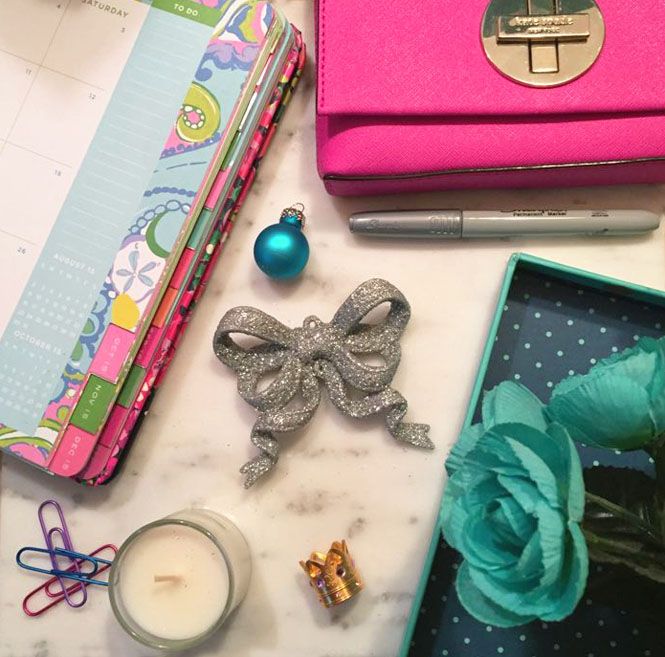 As 2015 is quickly coming to a close, so is my first year of being a blogger. It's so crazy to me to think that a year ago to the very moment I was beginning to gather my ideas and thoughts and thinking, "I really want to start a blog". It all stemmed from a few things: wanting something new in my life that was important to me, missing being super active on Tumblr, and even seeing some blogging friends (from my big Tumblr days) upgrading to blogs like these. I start looking around at other blogs and trying to work my way into the blogging world and as 2015 rolled around, I found myself brainstorming blog names and trying to make all of the big decisions that up and coming bloggers have to make.
In New York, we had a ridiculously cold and snowy winter so in the first two weeks of January that blog planning was in full swing for me, I had an endless number of snow days that I sat in front of the fire place with my laptop, fuzzy socks and hot chocolate for hours on end doing everything I could to get ready for my anticipated launch day - January 12th. Thanks to my mom's help, I had come up with my blog's name and then came all of the hard parts that took much more than I ever expected (I seriously LOL at myself looking back at how naive I was about all of this!)
Once I made my first ever banner, picked one of Blogger's free themes and made some sidebar titles, I put up my semi-customized theme that I had spent days working on, on January 11th and then on January 12th, I posted Daily Dose of Design's very first blog post! It was just an introduction post, but I was so proud to have had it up and running.
The next thing I asked myself was - where's all my views? I mean, I just posted an introduction post so why aren't random people finding my blog, reading my post and welcoming me?! It's kind of hard to believe just how naive I was...
My First Year as a Blogger
Clearly, I was
way too optimistic
and actually believed that blogging
was easy
at first. I will be the first to tell you - it isn't, but it sure is worth it! When beginning my blog I truly never realized the hard work that goes into blogging and just how much time you put into your blog once it becomes like a baby to you. After coming to this realization (pretty quickly might I add) I have seen such growth in myself and in my blog overall. There is not even a comparison from where I was in January to where I am today.
Apparently Google Analytics agrees with me too:
One of my first blogging mistakes: not installing Google Analytics from the start! That's why you're seeing a previous period of June through July. Originally I installed analytics in May, come to find that I installed it wrong by the time July rolled around #typical. This shows June-July's stats versus October-November's stats. A
1,447% increase in page views
? Yes, please!
While I still have a long way to go, it sort of amazes me how much I've accomplished on my blog in just under a year. I've been able to work with brands that I never dreamed of working with like
Vera Bradley
and have created many friendships with bloggers, like Chantal from
Painted Teacup
. At first, I didn't realize how much blogging could change my life but it really has and I'm so grateful for that!
What I've Learned
I'm going to do a much more in depth post on what I've learned because that in itself is more than I could begin to describe here! However I've learned so much both about myself and about blogging in general. When I began, I never knew that
Pinterest
would be my biggest source of traffic or that there were a
ton
of insanely helpful
Facebook
blogging groups that would become like little communities in themselves.
At first, I thought you had to instantly become a big time blogger or you'd fail miserably. I also never realized how successful you could be if you put the work into it - seems like a given - but I never saw blogging as something that worked that way. Going self-hosted, becoming consistent, becoming a better writer and learning how to gain and maintain readership are some of the biggest things I've learned and what I like to think have been some of my biggest accomplishments so far.
Social Media and Blog Stats
This is my area of most growth and improvement and something I've been working on
since I launched Daily Dose of Design
. I've been on social media for a while, so it's obvious the importance of translating a social following into blog traffic. Doing so isn't always easy, but as you grow a following it becomes somewhat easier with the right promotional tools.
Instagram:
1000% increase (started April 29, 2015)
Facebook:
1000% increase (started January 20, 2015)
Twitter:
366.6% increase (began using my account for blogging July 1, 2015)
Pinterest:
968.9% increase (began using my account for blogging March 10, 2015)
As I showed above, my blog's page view count increased 1,447.88% in the matter of 5 months. When I began in January, I averaged
maybe
50 views a day - and that was once I began joining a couple of Facebook groups. Growing your blog takes time and most importantly, patience, something I've learned over the past year to have a lot more of! Blog's don't instantly grow overnight; they take time,
a lot of time
. But the hours each day that I spend working on my blog are the best and what I love most about each day. I find myself thinking about my blog all day long - whether it be a post idea, something I have to get done or a new design element I might want to add, your blog is always going to be growing and working as long as you're putting the time and effort into it.
Toward the end of August, I began reading
at least
10 different articles and posts per day on blogging, how to grow and things to do and not do. There was one main constant:
blog more consistently and more frequently
. I knew it would be a big jump but it was also something I knew I had to do if I wanted to see my numbers go up. I hadn't really been posting consistently, but had been posting about 3 times a week. I started to plan out posts and by the end of September, I was posting nearly every day and about 4-5 times a week. Ever since then, that's what I've been doing! Granted, there have been weeks that life got in the way and I ended up only posting 3 times, but overall it's been a consistent pattern and let me tell you -
it works
.
Blogging so much more frequently has no doubt caused the huge spike(s) in my numbers and at first I thought, "isn't this going to be hard? I'm going to run out of things to say!" but I haven't! Making an editorial calendar to follow each month has helped more than anything in this too.
Now besides posting so much more frequently and consistently, I mentioned that
Pinterest
has been my main source of traffic.
Pinterest Analytics: September, 2015

Clearly, my numbers from Pinterest were very low and I wasn't seeing much engagement/traffic from Pinterest but that was simply because I wasn't using it to its full extent. I was part of one (maybe 2) group boards and wasn't focused on pinning "pinnable" images in the least. At the time, I thought that number was great. That was until about mid-October when I started seeing six digit numbers...
Pinterest Anayltics: December, 2015

Talk about a big jump!! That low dip you see is from Christmas - numbers were much lower than normal - which was obviously expected. All of these big numbers translate into traffic to my blog; it's safe to say that Pinterest is amazing!
Top Posts of 2015
Another thing that no one has told you about blogging is that the posts that do the best are
always
the ones that you least expect and vice versa. There's really no method to this madness - but it definitely is crazy! I had a couple of posts do WAY better than I ever had expected and some posts that didn't do nearly as good as I expected them to also.
Here's my top 11 posts from the year:
1.
10 Things to do Every Sunday for a Productive Week
2.
20 Places to Travel to in Your 20's
3.
How To Grow an Instagram Following
4.
8 Tips for Curling Your Hair + Nume Wands
5.
Holiday Gift Guide: Stocking Stuffers
6.
The Ultimate New York City Travel Guide
7.
Magic Cookie Bars
8.
Beauty Tips and Products that I Love and Live By
9.
My Bathroom Makeover: Before and After
10.
The Staple Pieces Everyone Should Have in Their Closet
11.
Apps that Make the Blogging Life Easier
My
10 Things to do Every Sunday for a Productive Week
post is
by far
my best performing post - the majority of that traffic coming from Pinterest! I share this post every Sunday and it always brings in a ton of views. I get a lot of views on this post not just on Sundays but every other day of the week too.
This first year of blogging has been amazing beyond words - I can't thank everyone who reads my blog enough for making it all possible. I often say it, but the best part about blogging is that it never ends and there's always something to be done. Blogging is a constant learning process and there is always something to work on and to be improved on. I am SO looking forward to all that is to come in 2016 and beyond! I have plans for some big things to happen in 2016 and with all of my AMAZING readers, I know it isn't long until I achieve my goals and more! Cheers to a happy, healthy and even more amazing 2016 : )
XOXO
Bloglovin|Facebook|Pinterest|Instagram