If there's one staple item that every woman should own, it's a good pair of shoes. Let's be honest, there really is nothing more fun than shoe shopping! There's so many different kinds of shoes to pick from for each season and even for different occasions. I'm a firm believer that adding investment pieces to your wardrobe is one of the best things you can do; the higher end bags, shoes, jewelry, etc. always last a life time and are true assets to your closet!
Some shoes are just classics and not only does having a classic shoe in your closet make it easier to get ready for the day or night but it gives you so many options and you know that you'll always have something no matter what you have planned. Here are the shoes that I firmly believe every woman should own:
*
affiliate links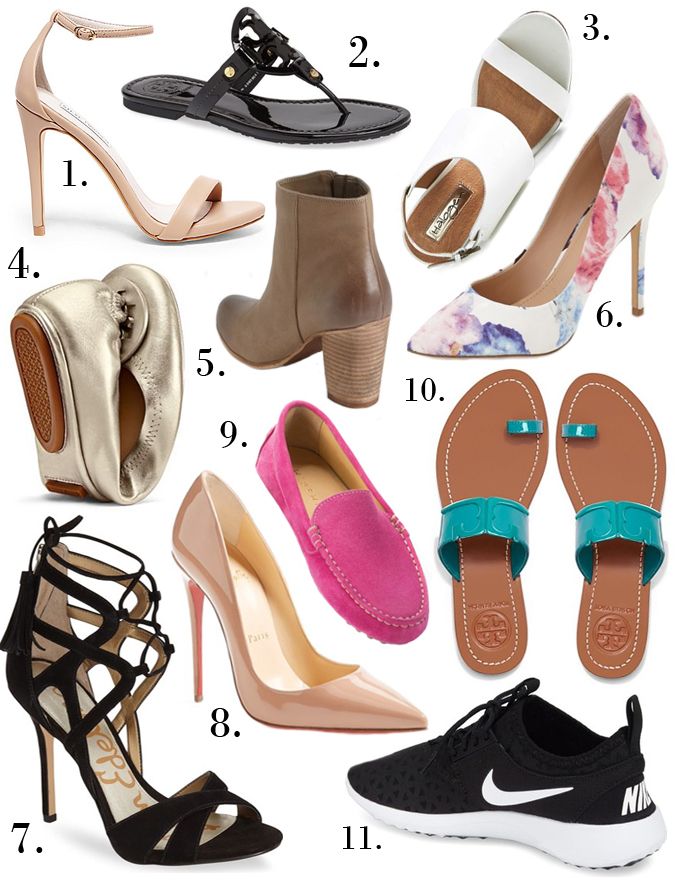 1 // 2 // 3 // 4 // 5 // 6 // 7 // 8 // 9 // 10 // 11
Ankle Strap Heels
: These are such a staple item for every closet and they've become increasingly popular, so much so that you can find them almost
anywhere
and really at a ton of different price points too.
These Steve Madden heels
have an ankle strap, a neutral color and a block heel - the best of both worlds! The ankle strap heels marked #1 are
Steve Madden too
and the color is perfect for any outfit. They can be dressed up, down and they look great on everyone.
Simple Black Sandals:
: I wear my
black Tory Burch Miller sandals
almost every. single. day. I love them so much - they're so comfortable and they look great with every outfit! These sandals are the best and they're really great for the price. I highly recommend them in EVERY color! I've had my black pair for almost four years now and they're still in great condition even after wearing them for days on end. If I had to pack for a trip and only bring one pair of shoes (as if that could ever happen..!) it would hands down be my black Tory Miller's!
White Dressy Shoes:
Having neutral colored shoes in your closet is important but having white is more than neutral - white goes with any outfit imaginable and
these white wedges
are the perfect white shoes. They're a really good price too! I got them at Nordstrom and they're so comfy and I love the way they look with jeans and with cute sun dresses for summer too.
Ballet Flats:
As if ballet flats weren't already a staple closet item, having packable flats that are adorable, comfy and easy to carry around are such a must have! I love Tory Burch flats and all of the colors they come in and they're perfect to carry around either in your bag for a long day or to travel with too. It still seems un natural to me to be folding an expensive pair of flats but it works! ; )
Year Round Booties:
Boots are of course meant for the cold, but a fun pair of booties
like these
can even be worn in the spring! They also can be dressed up or down and they're never going to go out of style in such a neutral color and shape.
Floral/Patterned Pumps:
Florals, animal print and textured prints are a must have on at least one pair of shoes in your closet. They're a great way to add something extra to a simple outfit or a pop of color and mixing patterns too - like florals and stripes, my current favorite!
Black Heels:
This is pretty self explanatory but finding a comfortable pair of black heels is a MUST have! They're simple but perfect for all outfits and since they're likely the pair you'll wear the most, finding a pair you love that are comfortable on your feet is important. I absolutely fell in love with
these Sam Edelman
pumps - they're extremely comfortable and they've quickly become my favorite pair of black pumps. Patent leather pumps
like these
are great to have too. I always spend the most on neutral colored shoes because I know they're ones I'll wear a lot so having them last a long time is so important!
Here
is a less expensive option that are great quality too!
Nude Pumps:
By far my favorite pair of shoes and one of the biggest but best investments to make! Louboutin's are no doubt expensive, but they're the best quality shoe I've ever seen. I love patent leather and mixing a nude color and patent leather is a dream come true! ; )
love these shoes.




Cute Loafers: M. Gemi is my favorite brand for cute slippers/loafers (next to UGG's of course)!
This hot pink pair
is perfect for spring and fall and that's what I love most - UGG's remind me more of late fall and winter, but a cute pair of shoes that is good for more than one season is a must have!
Flat Sandals:
While I love my Tory Miller's, colorful sandals are just as important for summer! Tory Burch has
this new collection of toe sandals
and they have beautiful colors and again, can be dressed up or down. I love these sandals and since they have the toe space, they're different from anything I have in my closet currently and they've made a great addition so far!
Cute Sneakers:
The best thing about sneakers is that nearly every pair on sale today are fashionable and honestly, pretty damn cute! Nike is my go to for sneakers and I love
these
that come in a ton of colors; the mint is my favorite, but black are perfect if you're going to just have one pair. But with sneakers this cute I don't think you'll limit yourself to one! ; ) I also love
these New Balance
sneakers they're perfect for working out!
Shoe shopping is the best shopping, so if you're in need of some new shoes - look to stock your closet with versatile, timeless pairs. If you're big on shoes, it's so important to have a ton of staple pairs for every look and every occasion.
What's your go to pair of shoes?
XOXO
Bloglovin|Facebook|Pinterest|Instagram