What's better than bright, fun colors and patterns for the summer heat?! I've been buying clothes and accessories that are nothing but bright and it feels so good because it means that summer is finally here. There are tons of ways to go bright and not overboard - whether it's in the accessories or the details, here's my favorite ways to go bright this summer:
*
affiliate links
Colorblock Tank Top // Essie 'Hide and Go Chic' // Blue RayBans // Walk On Air Roller Ball // Rebecca Minkoff Crossbody // White Wedges // Silver Bangle // Gemstone Ring // MAC 'Dddevlish' // White Denim
I looove this colorblock tank top for summer! It comes in two colors and it's light and airy so even on the hottest days its still perfect. My blue Ray Bans are my favorite pair and the pair I reach for the most because they're such a beautiful shade of blue - it's the perfect bright blue for summer and I know it doesn't really look it, but Hide and Go Chic by Essie is the exact color that the blue Ray Bans are! I love that it's a dressier look with the wedges and you can wear sandals to make it more of an every day outfit too.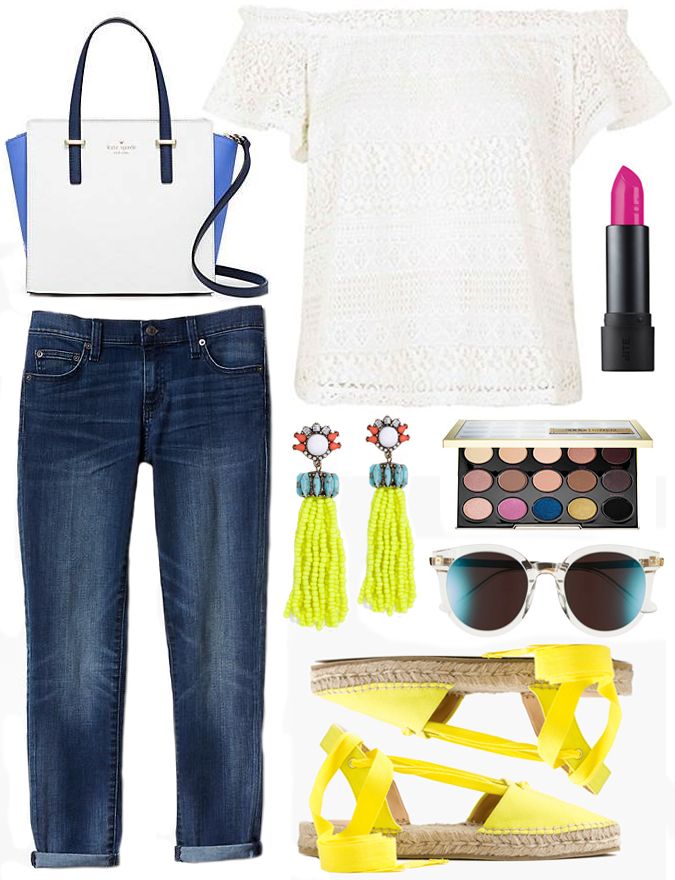 Mini Kate Spade Tote // Lace Off the Shoulder Top // Amuse Bouche 'Kimchi' Lipstick // Cropped Jeans // Tassel Earrings // Gwen Stefani Eyeshadow Palette // Sunnies // Yellow Canvas Espadrilles
This is one of my two favorite looks with yellow in it... Which even surprised me because I've never been a huge yellow fan especially for clothes, but this year I've found so many yellow things that I seriously love (yes that includes pineapples)! These shoes and these earrings are so freakin' cute! I love them together and I love that the earrings tie in the blue too - they're a Bauble Bar gem! Off the shoulder tops are a favorite of mine too this season and so are bright pink lipsticks!
Tan Crossbody Bag // YSL 'Corail A Porter' // Gold Bangle // Essie 'Lounge Lover' // Sunnies // Kate Spade 'Live Colorfully' Roller Ball // Gold Crossover Ring // Statement Earrings // Coral Jessica Simpson Pumps // Cutout Bow Dress
Let me tell you about my favorite dress...!!! Seriously, from the material to the flattering shape to the bow detail, this is THE perfect white dress for summer. I've seen a few different versions that are all slightly similar but after trying three different ones on in Nordstrom, this one is by far my favorite! It's perfect for summer and I just love coral/peach tones with a crisp, clean white! These pumps are super comfy and they're a great shoe to stock up on because the price is great and there are SO many colors and textures to choose from. Side note: these earrings are another Bauble Bar gem and they look really heavy but they're surprisingly not! Wearing white when I'm super tan and have been in the sun is the best, so finding this adorable dress was a double plus.
Navy Tank Top // Sunnies // Michael Kors Watch // Gold Cuffs // MAC Lip Gloss 'Prrr' // Kendra Scott Earrings // Tory Burch Miller Sandals // Rebecca Minkoff Tote // Green shorts
Blue and green together go SO well and these Kendra Scott earrings are the perfect mix of both! These Karen Walker sunglasses are so pretty on so many face shapes, they're a little large but that's what I love about them! One or two more expensive pairs of sunnies per season is so necessary ; ) There's a less expensive pair that are pretty similar by B.P. at Nordstrom that come in two glass shades and are only $12! This is the most perfect outfit for a casual day out and how cute is the braided detailing on this tank top?!
Kendra Scott Bangle // Diamond Oval Bracelet // Cuff Bangle // Essie 'Saltwater Happy' // Floral Dress // GiGi New York Clutch // Diamond Hoops // Sunnies // Kate Spade Heels // Stacking Ring // MAC 'Have Your Cake'
I wasn't kidding when I said bright colors for summer are everything!! My sister and I both have been going crazy over anything and everything in the periwinkle/lavender shade. This dress is absolutely beautiful - from the material to the ruffle sleeves to the gorgeous floral design - it's perfect for summer parties and weddings too. Finding accessories that match an outfit so perfectly makes me so happy; these Kate Spade pumps are sort of like the Jessica Simpson ones I talked about a few outfits ago, they come in literally every color and the heel height is so perfect! I love these shoes and how versatile they are. I haven't been a big hoop earring person in a longgg time but ever since I saw a pair like these on my sister with the inverted diamond detailing, I fell in love! They're so cute and they're not the lightest, but for heavy earrings I've had soo much luck with these earrings supports from Kendra Scott, you get a pack of 60 for $9 and I was so skeptical at first but they seriously work wonders! I have super sensitive ears and I can wear heavy earrings for hours with these!
MAC 'Luxe Naturale' // Yellow Off-the-Shoulder Blouse // Tory Burch Wristlet // Turquoise Statement Earrings // Ray-Bans // Jack Rogers Sandals // Distressed Denim Shorts
Another yellow and blue combo that I cannot get enough of! This is the ultimate and perfect summer outfit - distressed denim, a cute shirt and pretty earrings are all you need this summer ; ) My favorite place to get shorts is American Eagle because they have so many different lengths, colors, shades of denim - you name it and they have it. I love this outfit with blue Ray Bans too, but the neutral ones are a great staple piece and they look perfect with this look.
Coral Sleeveless Top // Pineapple Sandals // Criss Cross Ring // Essie 'Sandy Beach' // Kate Spade Satchel // MAC Eyeshadow Palette // Statement Earrings // White Denim Shorts
This is another every-day-summer look that's super casual but cute and has lots of color pops throughout. Everyone knows by now my obsession with pineapples... these SHOES! I cannot deal with how cute they are! You may have seen this adorable Kate Spade tote on my Instagram a few days ago - it's SO cute, neutral and perfect for summer! I found it for close to 40% off on Haute Look and it wasn't even a question when I saw how good of a deal it was.
Double Strap Sandals // Tassel Tank Top // Michael Kors Watch // MAC 'Giddy' // Distressed Denim Capris // White Saddle Bag // Link Bracelet // Sunnies
Next to pineapples, tassels are by far my favorite trend!! This periwinkle tassel top also comes in white with pink and orange tassels and I love everything about it! I just bought these sandals in three colors from Old Navy for $14 each and I cannot wait for them to come in the mail, they look so cute and I'm hoping they're comfy too.
Mint Tank Top // Lace Bralette // Kiehl's Eye Treatment // Glass Tumbler // 'Everything' Note Pad // Pineapple iPhone Case // Patterned Pom Pom Shorts
I would be lying to myself if I didn't admit that I LOVE comfy days, especially in the hot summer weather! If I'm hanging out indoors because it's raining (or because I have sun burn and can't get out and tan for the day, typical me!) or anything else, being comfy is the only way I'm happy and can actually get things done! I included this amazing eye treatment because these are also the days I like to make sure I'm giving my skin some extra TLC. This eye treatment is perfect after you've been in the sun and it's in creamy avocado so it's double the happiness! The Victoria's Secret line of lace bralettes are one of my favorite things, they're so cute and comfy and with cute racer back tanks they look so pretty from the top and back. These patterned shorts have a pom pom detail at the bottom and they come in a ton of patterns - they're SO soft and you seriously need them this summer! Who doesn't love a comfy, easy outfit day?!
Floral Top // YSL Lip Stain #17 // Wedges // Rebecca Minkoff Clutch // White Denim // Kendra Scott Bracelet #1 // Kendra Scott Bracelet #2
With a beautiful patterned and colorful top like this one, you don't need much else! Stark white denim and a cute arm party with this Rebecca Minkoff clutch" (that matches this top perfectly!) are all you need for a fun outfit like this. I love that it's dressed up with the wedges and you can throw on a cute pair of sandals with a fun crossbody for a more casual look.
There's seriously nothing better than bright colors and patterns for the warm summer days! These are all looks I live in all season long and there's always ways to go bright for all occasions : )
What's your favorite bright color for summer?
XOXO
Bloglovin|Facebook|Pinterest|Instagram