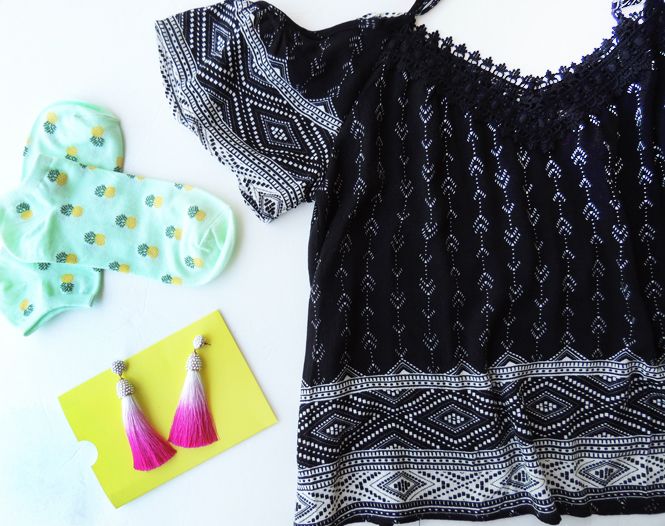 I know this sentence comes out of my mouth every single time I do this post each month, but I SERIOUSLY cannot believe another month is over! This has been an awesome month; I graduated, summer started, I started planning some fun things for my blog and for summer and the weather is heating up which means I can finally put some of the new things I'm currently craving (see what I did there? ; ) to good use!
Shopping in the summer in-store is one of those things I LOVE, it probably sounds so strange but there's nothing I love more than walking into a cold, air conditioned mall from the sweltering heat outside and shopping all day! By far one of the most satisfying things if you ask me haha! Since I've had a couple of big parties to go to this month and Mother's Day and my mom's birthday (which was this past Sunday - happy birthday, ma!), I've had a lot of shopping to do and I've seen lots of new, fun things just in time for the heat. Our pool is finally opened, the weather is finally hitting the upper 80's every day and summer is in full swing!
Here's some of my favorite things that I'm currently craving this month:
*
affiliate links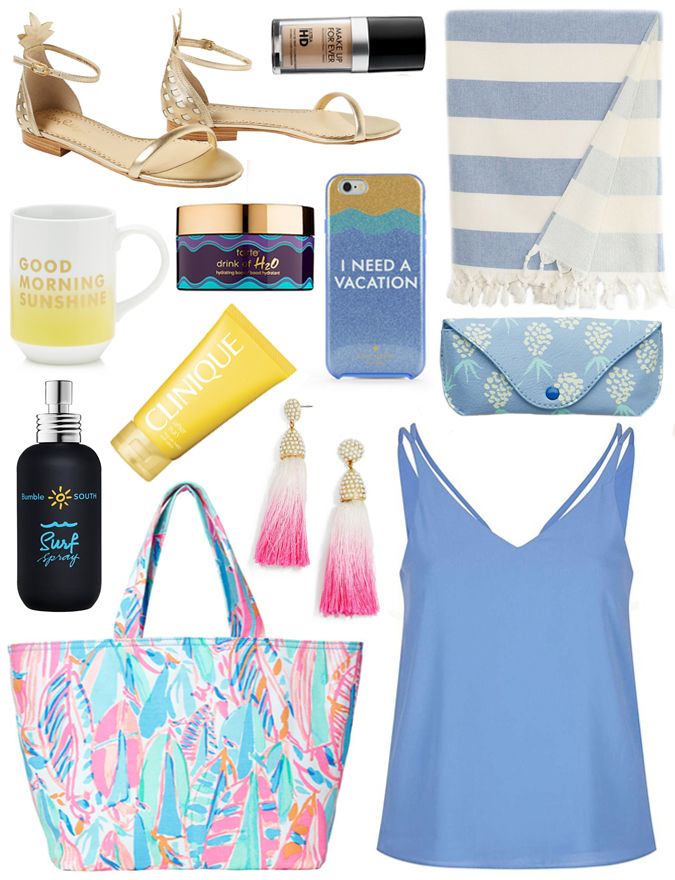 Pineapple Sandals // Make Up For Ever Foundation // Striped Beach Blanket // Good Morning Sunshine Mug // Tarte Hydrating Boost // 'I Need a Vacation' iPhone case // Bumble & Bumble Surf Spray // Clinique After Sun Skin Rescue // Pink Tassel Drop Earrings // Pineapple Sunglasses Case // Lilly Pulitzer Beach Tote // Strappy Tank Top
Pineapple Sandals
: I shared these adorable sandals in one of my favorite
bright colored outfits for summer
and I'm just so obsessed with them! The pineapple detail is subtle but so cute and these are perfect for both casual and slightly dressed up looks. They're SO worth every penny!
Make Up For Ever Foundation
: I've been trying soo many foundations over the past few months - at least 20 different samples from Sephora! I love this Make Up For Ever HD foundation for the summer months because it isn't heavy on your skin and your face in the heat can handle it perfectly. I love this stuff and it's even rivaling my favorite NARS Velvet Skin Matte at this point!
Striped Beach Blanket
: is there ever such thing as
too
many beach towels/blankets?! I love this cute striped and tasseled blanket - it's super soft and it comes in so many colors. They're great to keep on your patio for some pop of color and for near the pool to use and relax with.
Good Morning Sunshine Mug
: the ombre yellow is totally what got me with this mug! I love it - super good price too!
Tarte Hydrating Boost
: one of the things I'm most excited about this month! I just got this from Sephora and haven't tried it yet, but I'm so excited to - I'm always looking for new skin care products and when it comes to my skin, I don't mind spending more on products that I know will be good or love! I've been reading endless reviews on this and I'm excited to see if it works for me. I always give my skin (and particularly my face) some extra TLC in the summer because of all of the sun and heat. There's a few new hydrating masks/creams and moisturizers I'm in the process of trying and I'm planning on putting together a comparison post of which I like best, so stay tuned for that : ) and try this in the mean time - I think it's gonna be a good one!
'I Need a Vacation' iPhone case
: is there ever going to be a Kate Spade phone case I don't like?! Because seriously, my bank account and my designated electronics drawer in my desk are both starting to hate me! This case is sparkly and describes me to a T! I love it and of course, highly recommend these cases because even though they don't seem it, they're SO protective!
Bumble & Bumble Surf Spray
: okay I swear by this stuff! It's SO perfect for summer hair and achieving beachy waves. It smells insanely amazing and a little bit goes such a long way which is the best part. I always use this in the summer because it's so easy to use in a rush or even if I'm hanging by the pool or going to the beach and don't want to spend the time styling it, this is such a quick fix to unruly frizzy hair! If I didn't do anything especially in the summer, I can't even imagine what this head of hair of mine would look like! Beachy waves have never been so easy and so natural looking; definitely a summer must have.
Clinique After Sun Skin Rescue
: I just purchased this after hearing SO many good things about it and I'm super excited to try it. I'm always willing to try new Clinique products and since this is supposed to help reduce damage from the sun and reduce peeling from sun burns, I can only imagine how much of a life saver this will be this summer!
Pink Tassel Drop Earrings
: you may have seen these adorable earrings
on my Instagram a few weeks ago
and they are so. freaking. cute. Another Bauble Bar favorite of mine! They're a little heavy, but completely bearable and by no means are they uncomfortable thankfully. I love tassel earrings and I especially love that these are different than the ones I've seen!
Pineapple Sunglasses Case
: I mean... who could say no to pineapple anything?! I saw this case in Aerie last weekend and it wasn't even a question to buy or not - it's super soft and it fits my Ray Ban aviators perfectly which I wasn't expecting! American Eagle has a couple of really cute patterns of this case and they're super cheap too; perfect for carrying your sunnies to the beach!
Lilly Pulitzer Beach Tote
: I can never resist a new Lilly print and her beach totes are to die for! They're so roomy and such a great size for a beach bag. There's always a ton of patterns to choose from and I love that there's matching cosmetic cases! They're super durable too so they last a long time and you'll begin to realize they're like a collectors item! ; )
Strappy Tank Top
: this tank is only $30 and comes in SO many colors! It's super versatile and every single color is so pretty. They're great for layering in the cooler months too, but these are going to be a staple for summer! They fit true to size and they're the perfect solution to a boring cami or regular tank top - I love the double strap detail and the deep-v back too!
Who else is beyond excited for summer?! What are you loving this month?
In case you missed any of the previous month's Currently Craving's, here they are from January, February, March and April!
XOXO
Bloglovin|Facebook|Pinterest|Instagram