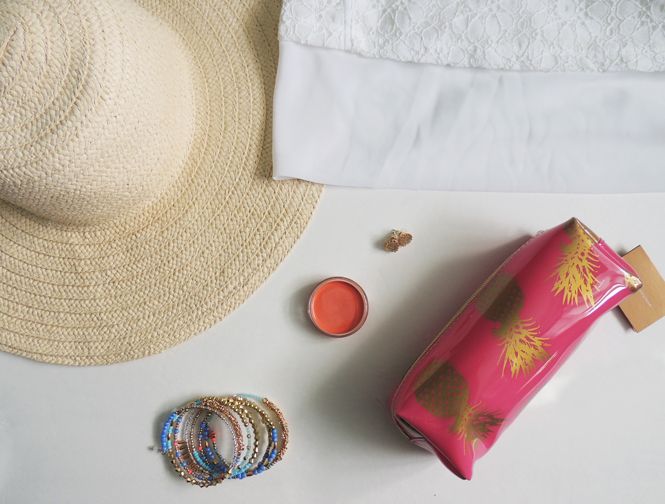 Every season, it's so exciting to see the new things that are trending and the fun new ways to accessorize and put looks together. I feel like there's an endless amount of things that could be added to this list, and since it's only May, I know there's a long way to go when it comes to new things for summer but here are some of the best trending products I've seen so far:
Patterned Shorts // Pineapple String Lights // Pineapple Makeup Pouch // Too Faced Bronzer // Tassel Earrings // Boater Hat // Block Heel Sandals // St Tropez Gradual Tan // Beach Cover Up // YSL 'Rose Denim'
Fun shorts (what I like to call "fancy shorts") are so in style just like "fancy pants" have been the past few years. I love these patterned shorts and the best part is they're under $10! They come in so many patterns and they're easier to find every day. These are so comfy and I love that they can be worn casually or dressed up! SO cute and perfect for the hot, summer weather.
Speaking of fun patterns, this beach cover up is so cute and the material is perfect for being in the sun! I love the mosaic/watercolor pattern and the sleeves that can be worn as more of a short sleeved look or adjusted to sleeveless. I've been wearing a similar JCrew tunic and figured it was time for a new one that I know I love!
It may seem sort of silly to use a self tanner in the summer, but most especially at the beginning of summer when my skin is still basically translucent, wearing summery clothes like sleeveless tops makes me realize that I just cannot be THIS pale and feel good about myself haha! St Tropez is a brand I've known, loved and trusted for a few years now - it's one of the only brands that has self tanners that don't make me orange looking or leave my skin streaky. They re-released this awesome in-shower self tanner and I LOVE the fact that it's for in the shower. I'm one of those people who hates the feeling of moisturizing cream or anything on my skin, so I was beyond excited when I found the Nivea in-shower moisturizer, and now I'm beyond excited for this in-shower tanner!
Two other beauty products that are perfect for summer are this bronzer and this YSL lip shade that came out as part of the summer gloss collection. Finding a bronzer that works with my skin tone year round isn't easy, so I especially love wearing it in the summer when I'm tan to give my face a glowing look. I've tried a few lately, and I'm so excited about Bloglovin|Facebook|Pinterest|Instagram