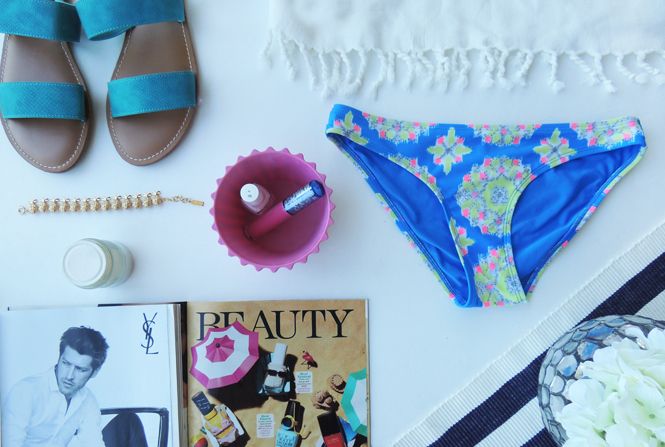 The best months for buying new things has to be the summer! I love seeing all of the fun and bright trends and there's even some great summer sales always going on; Nordstrom's Anniversary Sale in just a few short weeks! ; ) I gravitate toward all of the bright things in the summer time and of course, things like summer beauty products and fun pool floats. It's been hard to narrow down my favorites from this month, but after a lot of back and forth I definitely found my favorites. I think the best part of the start of summer is the endless pool days, baseball games and nothing but summer fun (and shopping, duh). Here are my favorites for this first summer month: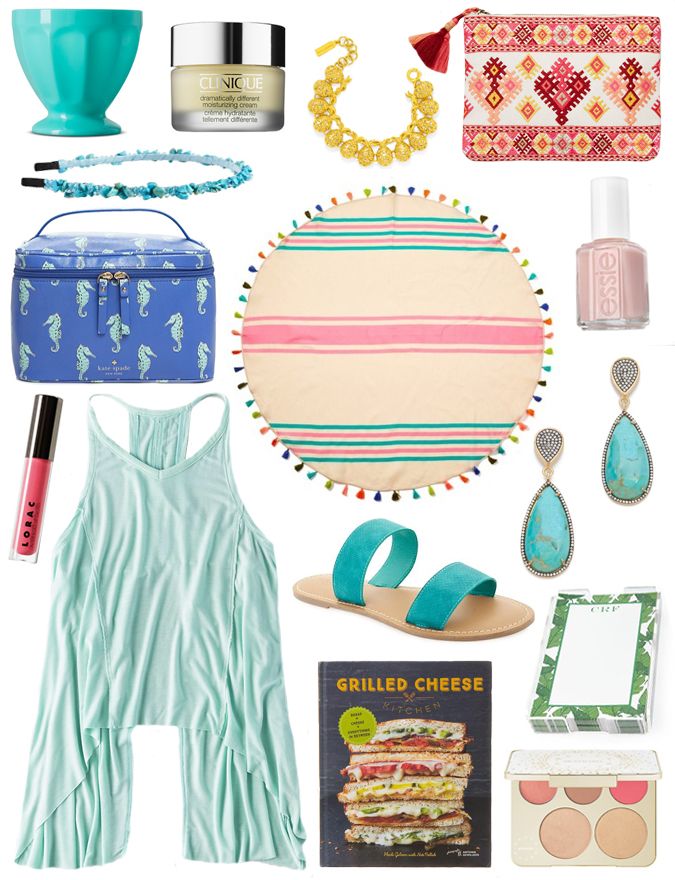 Ice Cream Bowls // Clinique Moisturizer // Pineapple Bracelet // Embroidered Clutch // Crystal Headband // Seahorse Cosmetic Cases // Pom Pom Beach Blanket // Essie 'Fiji' // Lorac Lip Gloss // Open Back Tank Top // Double Strap Sandals // Turquoise Drop Earrings // Grilled Cheese Recipe Book // Personalized Note Pad // Jaclyn Hill Face Palette
Ice Cream Bowls
: are these not the cutest bowls ever?! They come in pink also and I love them and the price too. They're perfect for summer and I think they'd even be a great double for party/entertaining utensils indoors or outdoors. Gotta love Target!
Clinique Moisturizer
: I mentioned this when I
talked about my summer beauty must haves
but it deserves to be here as well because it's by far one of the best beauty products I own/use and it's perfect for this time of year. I use it twice a day - in the morning and right before bed - and I've definitely noticed a huge difference in how my face feels and looks.
Pineapple Bracelet
: you may have seen this bracelet a LOT on my
Instagram
lately and that's solely because I am SO freakin' obsessed with it! I wear it nearly every day and it's basically claimed a permanent spot on my wrist ; ) This is the perfect addition to any arm party for the summer!
Embroidered Clutch
: using smaller bags like cross bodies and clutches is a norm for me in the summer because let's face it - it's too hot to be worrying about lugging around a huge tote bag (in most cases anyway)! I love this embroidered clutch and it's fun colors; it can easily be used during the day and as a cosmetic/beauty bag for the beach or a clutch for a night out. Double the use and double the fun ; )
Crystal Headband
: I don't usually wear headbands, but when I do, you can bet it's summer time! I don't handle heat well so I always keep my hair out of my face. I just recently found this pretty, embellished head band and I love everything about it! And random, but my favorite part is that the ends aren't hard or stiff so they don't dig into the backs of my ears; score!
Seahorse Cosmetic Cases
: with lots of travels for the summer planned, it's so important to have a good, large and sturdy cosmetic case. This happens to come with a smaller one tucked away inside and it's the perfect size to pack toiletries in that are too big to store in a carry-on (or bigger than a few ounces).
Pom Pom Beach Blanket
: I've been eyeing these fun beach blankets for so long and this one is my favorite I've found - I need this in my life! If it has tassels on it, you can count me in.
Essie 'Fiji'
: I love this color SO much. It's actually more pinky than it looks, and it's perfect for summer - I think it's really my favorite because of how tan it makes me look! If you're headed to the nail salon or need a new color to try out at home, Fiji doesn't disappoint. Anyone. Ever.
Lorac Lip Gloss
: these lippies are some of my new favorites and the shades are beyond gorgeous. I'm wearing them on repeat lately and I'm sort of obsessed with the pretty scent!
Open Back Tank Top
: one of the main things I've been "craving" this summer so far are these fun opened back tanks. Not only are they great for summer but they're super cute and there's so many ways to wear them. They're everywhere and in so many styles - I love this one from AE and it looks especially cute with a fun, lace bralette underneath!
Double Strap Sandals
: you may have seen these on my
Instagram
a few weeks ago - they are SO cute and surprisingly comfy too! The color is so gorgeous and I've never had a better pair of sandals that were under $20! I'm loving the double strap detailing lately and they're on sale now for around $16 - such a great deal!
Turquoise Drop Earrings
: fun statement earrings are the best in the summer and this turquoise pair is like no other I've seen! I love everything about them - definitely craving these in my life and may need to pick them up! They can easily be worn with a casual or dressy outfit too, so double the use.
Grilled Cheese Recipe Book
: does anyone else have a grilled cheese obsession?! This book has SO MANY fun grilled cheese recipes that I feel like I need to have 5 per day to try them all!! Haha kidding but grilled cheese is my absolute favorite food and I love trying different versions of it!
Personalized Note Pad
: banana leaves are one of my favorite patterns and I love this monogrammed note pad! I sort of am addicted to anything personalized and stationary so when something has both it's like a slice of Heaven! I can't wait to add this to my desk!
Jaclyn Hill Face Palette
: this palette has been all the rage lately and it's out of stock on Sephora's site now, but I grabbed one (and now am anxiously waiting for it to come) because I knew it would go fast, I wanted to see if it's worth the hype and I know I can return to Sephora if I happen to not like it, but after reading the reviews I have a feeling that won't be a problem! The shades are gorgeous and so perfect for summer; I love Champagne Pop so I have a feeling I'll love this one too! It's also the perfect size to be able to travel with and take with you on the go all summer long.
What are you currently craving this month?
XOXO