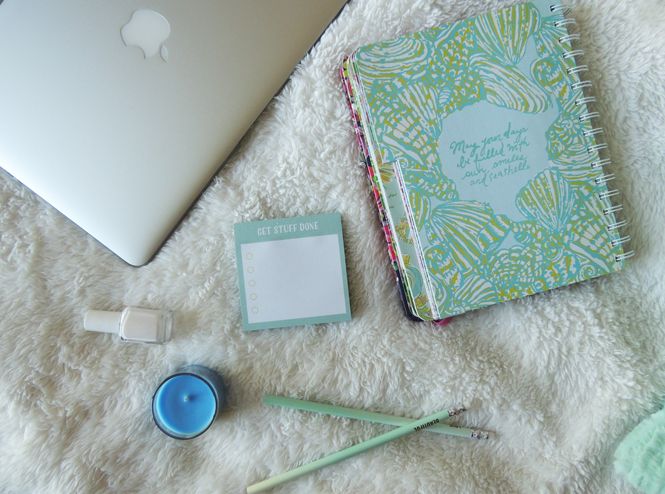 I think it's safe to say that we've all been in the position where we feel like NOTHING has gotten done in a day... It happens to me way more than I would ever like to admit and I'm not sure why I lose my motivation so much but it's always at the worst times! Whether it leads to scrolling through Instagram posts from two days ago, watching three hours worth of Bravo television or playing dozens of games worth of 1010 (my early morning/late night addiction...); realizing it's 9 PM and you've gotten nothing productive done all day is not a good feeling.
During these summer months, it's bound to happen even more with fun trips and events planned. But getting motivated to tackle a never ending to do list is guaranteed to be harder when you have to keep adding to it thanks to an unproductive day. Here's some tips I've found helpful in getting back on track after a day like that:
Put together a cohesive to-do list
I tend to have a ton of random notes in my phone with unorganized lists of things I have to remember to do and honestly, these notes just make me forget even more than I would have. Make lists upon lists - the more organized you are the better off you'll be. I think writing things down even in the age of technology is still the best way to remember things and to get things accomplished. Less stress, too!
Time yourself
Set a certain amount of time for things that you can get done - cleaning a room, organizing a drawer, writing a blog post, sending an email, whatever it may be; if you press yourself for time, you'll likely get it done ON time and in enough time to still recover from a not so great day.
Complete smaller tasks
We all have these days and instead of dwelling on the time you lost to get things done, spend the time you
do
have left in the day to accomplish smaller things. Clean up your desk or do some meal planning - you'll feel better!
Figure out what will make you productive
Instead of stressing out worrying about how much you now have to do, figure out how to get into the zone you need to be in to be super productive. Everyone works differently - for example, my sister studies best with music, while I have to be in silence. Figure out what's going to work best for yourself and set your deadlines.
While days that are unproductive can be frustrating, take the time to realize what you did do that day that was fun! I think everyone needs a "chill" day here and there, so don't add it to the stress list if it happens to you. ; ) After all, none of us are perfect and these things are bound to happen!
PIN ME!
XOXO