While some products are perfect for year round weather conditions, it's also smart and only normal to switch things out most especially for the warmer months of summer. Even the hottest of days sometimes still require makeup or moisturizing to feel clean and fresh. Super creamy or heavy products in the summer leave tons of room for disaster because with the heat and ridiculous humidity, a greasy face with heavy products and melting mascara is inevitable. I love trying new products and seeing what works best for me, and I know it's a never ending process because there's always new things to try and the ability to find something you like even more! While trying new products is fun, repeat products are the best - and I've found my favorites that not only help maintain glowing skin all summer long but also help your skin and face feeling airy, fresh and anything but droopy.
Not Your Mother's Curl Defining Cream: this product is in my hair nearly every day in the summer! I've been using it for a while and it's by far my favorite non-mousse, non-gel product ever. It smells amazing and it sort of has the texture of Frizz-Ease but it helps keep your hair untangled too. If you have curly hair like me, you need this in your life! Not Your Mother has an entire line of amazing products so you're bound to find something you like from the line. Even on the most humid days, this stuff works wonders. There's a shampoo and conditioner too that work great with the cream!
First Aid Beauty Cleanser: by FAR my favorite summer cleanser! It's made to help cleanse your face of any dirt, extra makeup or anything that may be clogging your pores and it's perfect for the summer months when you're busy, running around and lots of outdoor activities. I use this every night after I take my makeup off and it leaves my face feeling so fresh and happy! The smell is amazing and so far it's been my cleanser of choice this summer.
TRESemme Hair Maximizer: this product is a part of the reverse hair care system that Tresemme created and it's SO good. The entire line is great, but this product in particular is the best. This is a maximizer that helps give volume to your hair and my hair is the flattest in the summer! It also leaves your hair feeling really silky and smooth and it's perfect for every day use.
Nivea In-Shower Body Lotion: please tell me I'm not the only one who absolutely hates the way body cream feels?! I must have a phobia or something - because seriously once I've showered, I cannot stand the feeling of body cream! I love Nivea's products because not only do they smell amazing but they work and help keep your skin hydrated - which is a must have in the summer time - but I just can't take the feeling. But when I originally saw the commercials for this in-shower body lotion I was SO excited! I bought it recently for the first time and it's so. freakin. good. You put it all over your body while you're in the shower just as you would out of the shower and then you just rinse it off! My skin is softer with this than it even was with regular Nivea/body lotion! The absolute best part is that you aren't left with that sticky feeling that I cannot STAND! The bottle is pretty large and lasts a while too, highly recommend!
Hawaiian Tropic After Sun Lotion: if there was only one product I could choose to have all summer long, it'd be this. I don't know what I did before it, but I started using it last summer (and it's even lasted since then - still on my first bottle!) and I use it every day that I'm in the sun. It literally feels like going to the spa after a long day in the sun and I cannot get enough of it! The smell is the prettiest ever, and I got my sister hooked on it this year; we find ourselves smelling the bottle so much! It helps preserve your tan longer which is great because once I get dark, I hate to start losing it! It also has aloe in it so if you get sunburned it's just as amazing as regular aloe would be. I got burned last week (I usually only get burned once in the beginning of the season and it's usually because I forgot to reapply lotion, etc.) and I've put this on it every day and not only did it turn to tan but it kept me from peeling too. HIGHLY recommend this - nothing is better after a day in the sun!
I use both of these hair products all summer long - both on some days depending on the weather and what I'm doing!
LORAC 'Alter Ego' Lip Gloss: this color is my favorite for the summertime! I love bright pinks and I recently got a bunch of these Lorac lip glosses in a variety of pink shades. They smell so good and last a long time - they're especially great over/with a matte lip stick.
Essie 'Fiji': as one of the most timeless Essie colors you could buy, Fiji is my favorite for nearly every occasion and always my go to color but in the summer it's even better! I think this is Essie's prettiest shade and I go through it SO quickly. It's on my nails and toes almost all summer long and it makes you look SO tan! ; ) Even if I try and gravitate toward something new, this is my shade of choice.
Tarte Boosting Mist: I'm not sure why I haven't heard of this/had something like this/thought of this sooner, but this spray is absolutely a must have. I even bought an adorable travel version so I could keep it in my bag on the go! It's a part of Tarte's Rainforest of the Sea collection and it's a 4-in-1 setting spray, hydrating mist, primer and skin refreshment. It feels SO good on your face and it makes for an amazing makeup primer too. I haven't tried it as a setting spray yet, but I know it'll be just as good! It smells amazing, doesn't leave your face feeling heavy or sticky and it's great for all skin types.
J'adore Dior Perfume: this is my favorite summer perfume ever! I love the scent and how floral, fresh and clean it is. Every time I order from Sephora online and get 3 samples, I choose these so I can carry them in my bag!
Sometimes the best beauty products come in pretty little jars!
Tarte H2O Hydrating Boost: one of my two favorite summer moisturizers! I love love love this - I just began using it about two weeks ago and it's THE best. It smells amazing and it's the perfect consistency for a moisturizer, especially that you'd want to use in the summer time. My main worry with moisturizers (especially in the summer) is if it's going to leave my face shiny, greasy or feeling heavy - and this does the exact opposite. It feels like a splash of water on your face and it keeps your face soft and hydrated for as long as you wear it! I really love that it absorbs quickly too and doesn't sit on your face!
Sugar Lip Exfoliator: I've talked a little bit about this before but now that I'm using it in the summer when my lips need it most, it's become something I use and love so much. A little bit goes a really long way and although it feels a little weird (sort of like a coffee scrub would), it really works and makes your lips feel and look super smooth. I try and use it 2-3 times per week before bed depending on how badly my lips need it.
Clinique Moisturizer: the second of my favorite two summer moisturizers; my face gets dry in the summer (winter too, but summer because of the sun) and this is my go to for the days I'm feeling like my face is extra dry. I love Clinique and it's one of those brands you know you can trust, so I figured I would like this product and I really, really do! When I use this one, I use it in the morning and right before bed. It smells so good and again, doesn't leave you with a sticky or heavy feeling which is so essential for summer.
Sephora Face Mask: I love doing face masks and trying new ones but in the summer I do them more often - there's seriously nothing better than laying in your cool, air conditioned room at night, watching Big Brother After Dark (my summer obsession) and relaxing with a face mask! The rose face/eye mask is my favorite and they're SO cheap that you can easily stock up on these and do a few a week. I've tried different brands before, but I really love the Sephora Collection ones!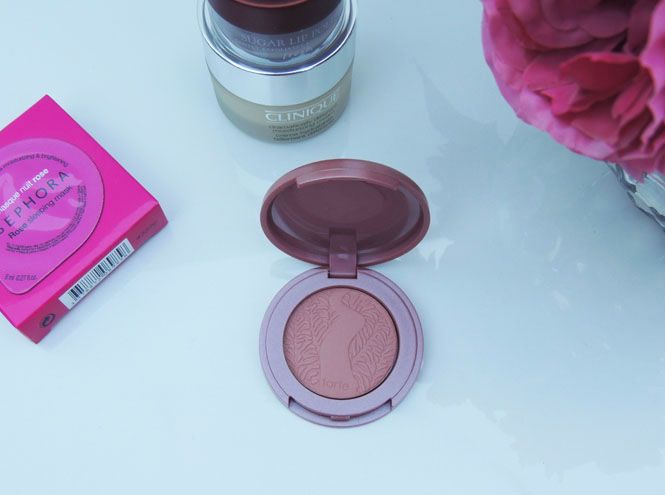 Tarte Blush: I got this in a Tarte sample pack and I loved it SO much that I bought an extra one from the start! I don't usually do that when it comes to blush or right away, but I love this one - the color is perfect for summer and it really does last a long time without having to reapply. This shade is my favorite and it's called Fearless; it's super soft and according to the packaging, it's made with Amazonian clay from the Amazon River. Highly recommend!
Seriously cannot stress enough how amazing the Hawaiian Tropic Hydrating Gel is! If I had to pick one favorite beauty product for summer from this whole list, it'd no doubt be this one!
What's your favorite beauty product(s) for the summer? I'm always looking to try new things!
XOXO
Bloglovin|Facebook|Pinterest|Instagram