Thank you Ellio's Pizza for sponsoring this post. Visit your local retailer to pick up your own Ellio's Pizza for a pizza night in!
Even on the busiest of days, making time to relax and laugh a little is so important! One of my favorite things to do to unwind is hang out with friends and family, enjoy good food and fun games both in person and on TV (we're huge sports fans around here!). I always loved playing board games with my family when I was little - and getting to have game nights with friends is STILL the best! Scrabble was always a favorite - we could play endless games without getting bored!
In the most unexpected times, Ellio's Pizza is the perfect solution for a game night snack. I always have a couple of boxes in my freezer because it's so simple to make and something everyone loves and can enjoy together!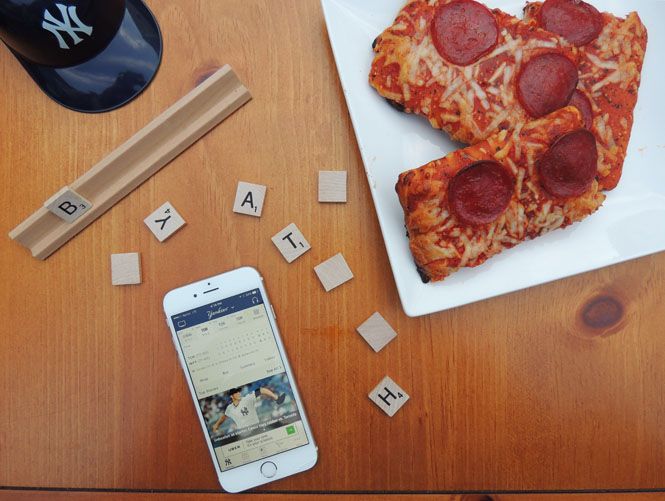 During this time of year, baseball is a huge priority in my house. We're winding down on the season and as many of you know, I'm a huge New York Yankees fan! Getting to relax after a long day with Ellio's Pizza and the Yankee game is the best feeling. Add a few games of Scrabble in and even the most stressful of days become bearable!
Ellio's only uses the freshest ingredients - 100% real cheese and no artificial flavoring - so you can feel good about every single bite! There are six different flavor choices too that you can mix and match to please everyone. My favorites are the pepperoni and the five cheese varieties. If you're unsure of where you can purchase Ellio's Pizza, they have a store locator you can check out here!
To have a fun family game night together, we always make sure we get creative with the games, have fun sport events on TV, put down our electronics, enjoy each others company and of course have the yummiest pizza in bunches! It's never easy to find time to relax and unwind these days, but making family time for a few hours at night is what's most important - to say the least!
Now, Ellio's and Hasbro are making it even easier to host your very own, spontaneous game night! They're giving everyone a chance to win some free pizza and Hasbro games, like Scrabble, Clue, Twister and more. To enter: simply pick up a specially marked Scrabble edition pizza box of Ellio's Pizza; inside each box is a unique promo code to play on Ellios.com starting this month. Through November 30, 2016, keep buying your pizzas to have a chance to win fun prizes from Ellio's and Hasbro!
The grand prize winner's bundle will include a year's supply of Ellio's frozen pizza, a Hasbro Family Game bundle and a toaster oven. Visit Ellios.com for official rules.
You can find more about Ellio's Pizza by following them on Facebook, Twitter, Tumblr and Instagram!
This is a sponsored post on behalf of Dr. Oetker USA LLC. I received compensation for this post, however all opinions stated are my own.