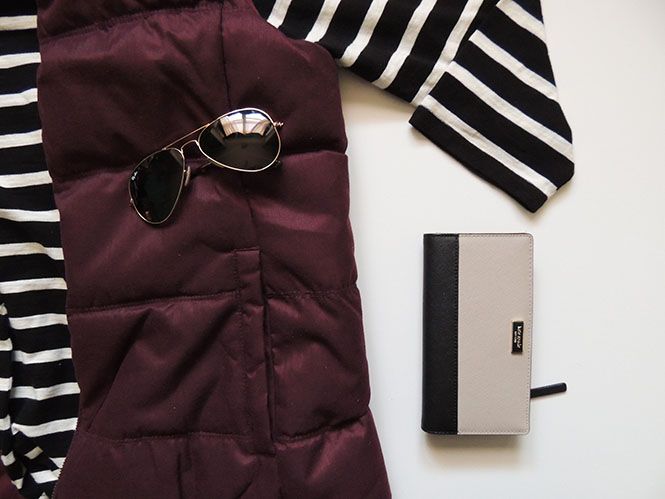 It's the time of year where things start to get SO busy, and don't cool down any time soon with the holidays coming up. I love nothing more than dressing in fall temperatures and having my scarves match the colorful leaves! I love sharing fall outfit inspiration and putting layering looks together is sort of an obsession - if I can layer, you better believe I will! Since so many busy things go on during the fall, I put together a look-book of outfit ideas for different events this fall:
A night out
*
affiliate links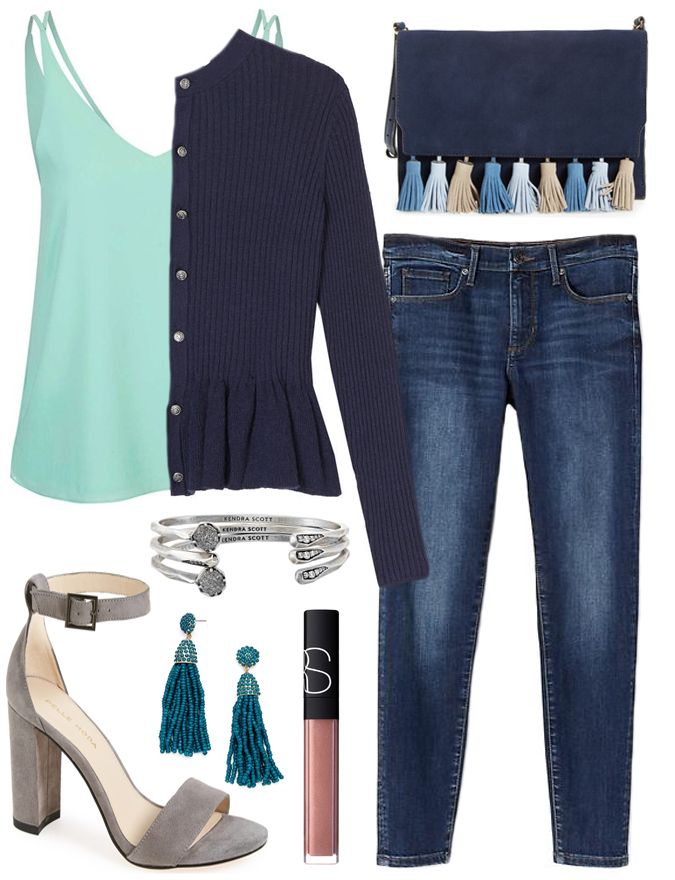 Tank Top // Peplum Sweater // Tassel Clutch // Gray Block Heels // Bracelet Set // Tassel Earrings // NARS 'Belize' // Jeans
I love everything about this - it's dressy but not too fancy, it can easily be made into a more casual look and the color palette is one of my favorites for fall. This peplum sweater is my most warn cardigan in my closet - it's so perfect year round and an awesome layering piece! I'm also in LOVE with block heels, and I haven't seen such a cute gray pair like these.
Wedding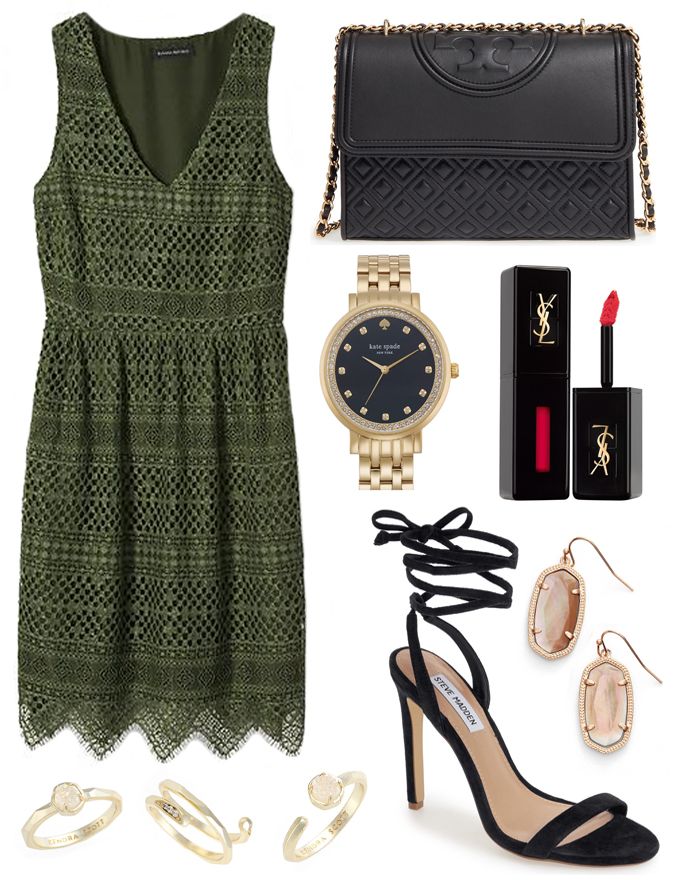 Lace Dress // Tory Burch Shoulder Bag // Kate Spade Watch // YSL 'Rouge Remix' Lip Stain // Kendra Scott Rings // Lace Up Heels // Kendra Scott Earrings
Fall weddings can be so hard (especially if you're not in the wedding) to dress for. I like wearing colors other than black for weddings (as much as I love a good LBD), but in the fall colors can be limited for dresses. The color of this lace dress is my fall go-to and it's easy to throw a cute jacket/sweater over if its cold. I love black and gold with olive green, and I'm beyond in love with this Tory Burch bag! I bought it a few weeks ago and it's even prettier in person. It's SO worth the price and the perfect size, especially for a wedding! You can even use it as a clutch to make it dressier.
Apple & Pumpkin picking
Hunter Boots // Ray Bans // Michael Kors Watch // Beaded Bracelet // Tory Burch Wristlet // Essie 'Caviar Bar' // Jeans // Plaid Shirt // Navy Vest
This is my favorite thing to do in the fall! I try and go so many times because there's nothing better than apple cider donuts and the colorful leaves - I just can never get enough. I made the mistake once of wearing a brand new pair of shoes and nearly ruined them in the dirt at an orchard, so now I'll only wear Hunter boots. They're easy to clean and they look so cute! It's no secret that I'm obsessed with vests and layering with them, and the J.Crew excursion vests are my favorite things to buy, EVER. I'm obsessed with the style, fit and colors and they last for forever. Side note: for a warmer and cheaper option, I'm LOVING Old Navy's frost free vests. They come in so many colors and when they're on sale, they're around $25!
This color combo is my favorite for fall I think - I know I say that a lot but I can NOT get enough of fall colors! P.S. has anyone tried the Essie gel couture colors? I LOVE this Caviar Bar shade, and I would love to be able to do my own gel in between mani appointments, so I'd love to hear what you think of them?!
Day of shopping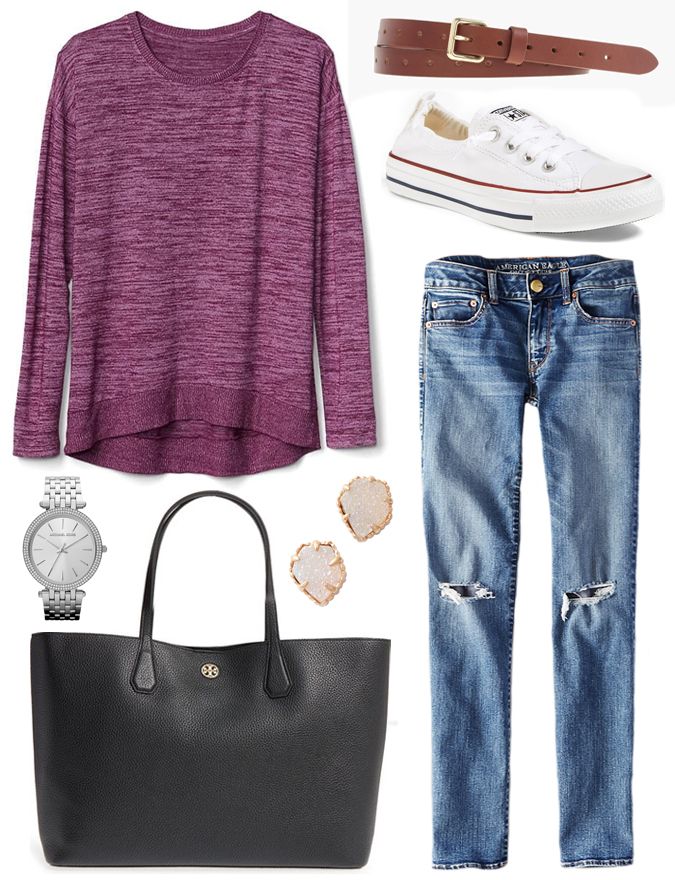 Hi-lo Knit Top // Brown Belt // Converse // Michael Kors Watch // Tory Burch Tote // Earrings // Jeans
I mean, doesn't everyone need a cute but comfy fall shopping outfit? I shop a LOT in the fall (as opposed to the rest of the year...? LOL) and I find it so hard to dress for a day in the mall this time of year - if it's cold out, it's likely really warm in the mall. My all time favorite Converse and shoes in general are these Shorelines. I wore them throughout Sicily this summer and they're comfy, practical and so cute! And if you're looking for some cute knit tops this season, go to Gap! This top comes in a ton of colors and it's light but can be layered. Love!
Concert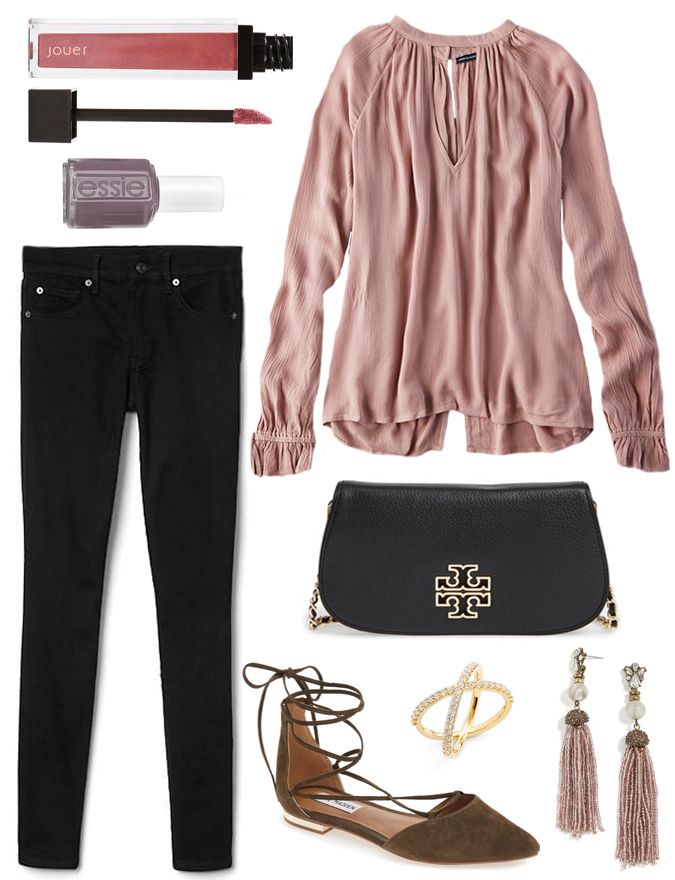 // Essie 'Merino Cool' Polish // Jouer 'Bronze Rose' Lipstick // Blush Blouse // Black Jeans // Tory Burch Crossbody // Lace-up Flats // Crossover Ring // Tassel Earrings //
It's Jingle Ball season! I LOVE concerts this time of year and this is my favorite type of outfit for a fall concert. I also love it for a night out in the city or even to a party. These lace up flats come in a few colors and they're surprisingly so comfy - I love the olive color of these. You can't go wrong with a color palette like this!
Out to dinner
Sweater // Plaid Blanket Scarf // Leopard Clutch // Mac 'Oh Lady' Lip Gloss // Gold Bracelet 1 // Gold Bracelet 2 // Booties // Teardrop Earrings // Jeans //
Plaid and leopard together is my new favorite pattern combo! I'm obsessed with it and I don't know why I haven't seen much of the combo before this season, but I'm so glad it's so in style because it's SUCH a cute look. If you're looking for blanket scarves, I HIGHLY recommend checking Purple Peridot - I get so many of mine from there; Express too! And this season, just go with a berry colored lip shade and you'll be good to go, no matter where you go. I love MAC lippies - the gloss in shade Oh Lady is my favorite!
What other looks would you add to this list? I'll be adding more looks from time to time, and I'd love to hear what you'd like to see included! Do you have a go-to look or color for fall?
XOXO