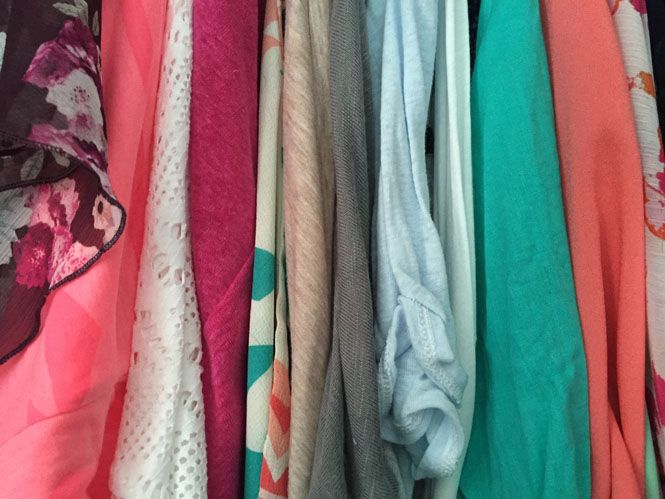 Whenever I go shopping, I try and make an effort to replace each new item with an old. Whether it's something I just haven't worn in a long time and know I won't wear again and can give it to charity, or an old piece that needs to be thrown out, it makes my closet not as cluttered and makes me feel better about buying new clothes. I also love to re-organize my closet; even if it's perfectly clean (which is rare). Seriously, I can't count the number of times I find myself moving shelves or at Home Depot buying more shelving units and organizational things!
As I get older and almost am a college graduate, I'm realizing it's becoming more and more important to have certain staple pieces in my closet. While this has always been important, the more I go out and experience new things and get to travel more, the more I realized how important this is! Having a well balanced wardrobe seriously makes getting dressed 10x easier. Whether going to school, work, a day out with friends or packing for a trip, having these basics and staple items will make a huge difference in your closet and how easy it is to pick and coordinate outfits.
P.S. make sure you check out my picks for each of these staple wardrobe pieces!
Dark denim:
I tend to lean toward lighter wash jeans or ones that are distressed/ripped for every day wear, but having a pair (or two ...or ten) of dark wash jeans is super important too. Whether you're going to a casual party or to work and want to wear jeans, it looks much nicer if you have a dark wash denim that have no rips or distress in them. It's also much easier to dress up dark denim than it is light.
Simple white t-shirt:
there is nothing more versatile or more important than having multiple white t-shirts in your closet! With a white tee, you can layer under a sweater, wear over a bright colored tank, tuck in to a skirt to dress up or wear with a bright colored scarf/necklace, this is probably the most important piece to own. I replace my white t-shirts every couple of months just so they look fresh and clean and wear them ALL the time.
Black heels/wedges:
you can never have TOO many black dressy shoes. I love wearing colorful shoes but having a nice black pair of dressy heels of any kind is so important to have! I can't begin to count the amount of times that I've been getting ready and had a last minute outfit change and have been able to go right to my favorite
black heels
and
these
for cooler days.
Striped top:
I wear stripes so much. There's so many different versions: skinny stripes, thick stripes, black stripes, navy stripes... the list goes on forever! It's a super simple piece and fun pattern that you can dress down or up and have fun matching things with. I love nothing more than pairing a striped tee with distressed denim capris or shorts on a summer day of running around! It also seems as if a striped top can compliment any other piece of clothing - which is so nice for getting dressed in a rush. My absolute favorite striped top that I own is
this striped tee
from Old Navy.
Little Black Dress:
need I say more?! There is no such thing as having too many - short sleeved, sleeveless, midi, maxi. Every girl should own a LBD - and if you don't, you need to get on that ; )
Black tank top:
similar to the basic white tee, black can change the whole mood of a look. I love my black tanks - I get most from
Old Navy
because they're all so simple and comfy. Definitely a must have!
Colorful cardigan:
another piece that makes getting dressed so simple! I love wearing a colorful cardigan with a tank top for an every day outfit both in the Fall and in the Spring. In the Spring, it's good to have a cardigan with the unpredictable weather and in the Fall you can wear a cute cardigan with a pretty scarf. Some of my favorite colored cardigans are turquoise, baby pink and a pretty mint green.
Denim jacket:
just like having a favorite pair of jeans that goes with everything, a
denim jacket
has the same effect. This is a great layering piece that can be used all year long - I love wearing a denim jacket for a cool summer night bonfire, a chilly fall day at Yankee stadium or on a breezy spring day running errands. Super versatile and matches literally everything, even jeans.
Pearl stud earrings:
some of my favorite pieces of jewelry I own are pearls. I have a nice pearl set that I wear for dressy occasions and then more affordable pairs for every day wear (in case I loose one, so typical of me) They match everything and come in lots of colors like light pink, white, off white, gray, etc. so you can mix and match with outfits! P.S.
these are only $10!!
Neutral tote:
no girl can ever have too many handbags! I'm a sucker for big, roomy totes so it's rare that you'll see me with a small cross-body or clutch. One of my favorite totes that I currently am buying in every color is
this Street Level tote
. It's only $48 and comes in so many colors! It's also super sturdy and perfect for year round use. Having a black, tan, brown or navy (or all of the above) tote will match nearly everything you own and these totes are some of my favorite things to have in my closet.
Cute, comfy sneakers:
Having a cute pair of bright colored sneakers for going running or to the gym is a must - but they also can double to be a cute shoe for an every day outfit also. I recently bought a pair of neon green/turquoise
Nikes
that I love to wear for an every day outfit with yogas.
Statement necklaces:
A bold and bright statement necklace can make an outfit whether it's a dressier look or a simple white t-shirt, pairing a pretty statement necklace brings color to any outfit and helps dress it up! I love
this Kendra Scott
necklace and it comes in so many different colors!
Silky blouse:
Ever since buying the Marlow button blouse from
Francesca's
in nearly every color, I would most definitely call a silky blouse a staple wardrobe item. I wish it was still available to link to, but they now have a
super similar one
. A silky blouse goes together so well with jeans or to be dressed up and is easy to go to when you need something on short notice.
Here are the button down blouses; I wear them with everything and they are so easy to be dressed up or down.
Are there any staple items you love to always have in your closet?
XOXO
Bloglovin|Facebook|Pinterest|Instagram