I hate to admit it, but I'm a somewhat (my mom would say more like VERY..) picky eater! I'm not sure why because I do love to try new things, but for some reason I still am very indecisive when it comes to food - especially lunch. Once I find something I love to make, I eat it for weeks straight and then get tired of it and want to try something new. I know, sounds ridiculous but I think I've solved that problem by finding a recipe that includes every single one of my favorite foods! When I was younger, I absolutely did not like avocados but for the past three or so years they've been my favorite food. If a recipe has avocado in it, I will try it in a heartbeat! To make my avocado obsession even better, they're one of the best foods for you and I can eat them guilt free!
My aunt came into town last month and she introduced me to this insanely amazing avocado melt and I was left asking myself why I never thought of something SO amazing. Ever since she showed me this warm, melted, cheesy goodness it's been my lunch every single day and I have yet to get tired of it! It's extremely simple to make too - it takes no longer than five minutes which is the best part. It's also really great because you can have it on one or two slices of bread depending on how hungry you are. It's very filling and extremely yummy with some potato chips and/or fruit salad!
I've tried this both with shredded American cheese and with provolone cheese slices and both are so good! There's tons of varieties allowing you to switch things up for this melt; different cheeses, adding mayo or even trying it on ciabatta rolls or an English muffin!
I also like making guacamole instead of avocado slices. In my guacamole I add chopped sweet onion, lime, cilantro and salt.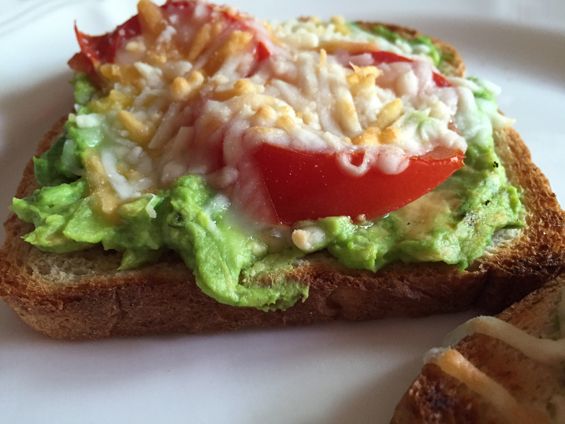 Cheesy Avocado Melt
Sliced bread
Avocado
Tomato
Cheese of choice
Instructions
Toast bread to your liking
Add avocado slices
Add tomato slices
Sprinkle or layer cheese on top
Place in toaster oven or broiler for 2 minutes (or until cheese is melted)
This is my favorite lunch by far! I'm even eating one as I write this : )
Are there any melts you love to make? I would love to hear what you think if you try this!
XOXO
Bloglovin|Facebook|Pinterest|Instagram