For both Spring and Summer, I put together some of my favorite looks for the season(s) as inspiration both for myself and for you guys. I had to do the same for Fall since warm sweaters, a cute vest and boots are my favorite things to wear!! Summer is by far my favorite season, but nothing compares to Fall clothes and the colors of Autumn. It's still been fairly warm (but beautiful) here, but I'm definitely starting to be able to feel in the air that Fall is just around the corner and it's making me so excited! I love everything about Fall - especially the clothes I've been buying for the season!
Here's my favorite looks for this season that I've put together so far:
Sweater// Louis Vuitton Tote// Blanket scarf// Tory Burch boots// Michael Kors watch// Tory Burch cuff// Jeans
This is possibly my favorite Fall look ever!! I have a serious blanket scarf obsession and these colors together are my favorite combo. I love all of the boots in the Tory Burch collection this Fall and I also would love to wear booties like these with this outfit! My LV tote was a gift that I use with nearly every outfit; it's such a great size and if you're looking to splurge a bit then this is a great choice!! At a more practical price point and something I'd be looking to buy for myself, I'm loving this and this. I'll be wearing colorful blanket scarves and cozy sweaters all season long and even during winter, it never gets old!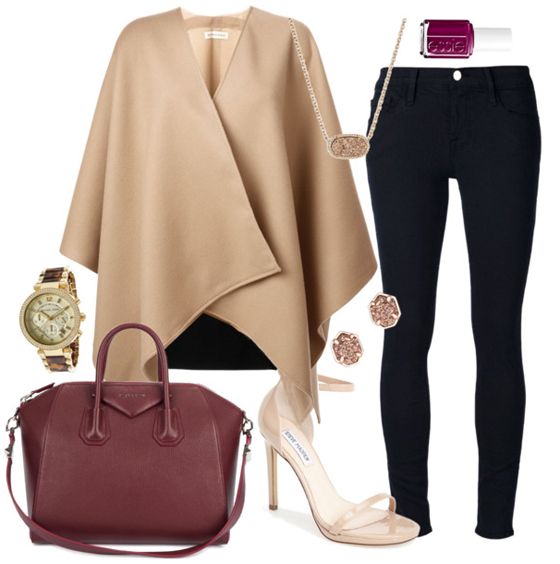 Poncho// Michael Kors watch// Burgundy tote// Kendra Scott necklace// Essie polish// Black jeans// Kendra Scott earrings// Steve Madden heels (under $30!)
My favorite items for Fall 2015 are ponchos!! They used to be so in style (I had a pink Limited Too poncho in 5th grade that everyone was jealous of) and now this season they're making a big comeback! Every store I walk into lately I'm seeing ponchos and wraps and I'm so happy about this because they're so comfy, cozy and so easy to style. There's so many in different styles and colors to pick from too - my favorite is one that I saw in the mall a few weeks ago and got for my birthday. Cowl neck tops are my favorite for the Fall also and with a long sleeved black shirt in a couple more weeks, this will be perfect! I can't even begin to describe how soft it is too! I'm also loving this, this and most especially - this!! They're also great before it gets too cold out too to throw over your outfit on a chillier night. Tan/cognac and burgundy are two colors that I can barely go a day without wearing during these cooler months and together they're even better! I have dark brown hair and green eyes too so burgundy and wine colored tones are my favorite to wear!!
Lace dress// NARS lip gloss// Magenta clutch// David Yurman bracelet (1)// David Yurman bracelet (2)// Louboutins// Diamond studs// Essie "flowerista"// Michele watch
This is an outfit that I have planned out for a wedding I'll be attending this weekend! I love this color combo and this bright magenta is a perfect color for Fall - another shade of the burgundy I love so much! I found these Jessica Simpson heels on sale at both Lord and Taylor and Macy's and bought them for this look since these magenta Louboutins aren't mine (yet)!! If you have yet to make a purchase from GiGi New York, I highly recommend it for your next bag or clutch. I bought this magenta clutch and got it monogrammed and it's one of my favorite bags to date! It's such a beautiful color and I love the personalization on it. It comes in a ton of colors and the magenta is a perfect pop of color to match the shoes.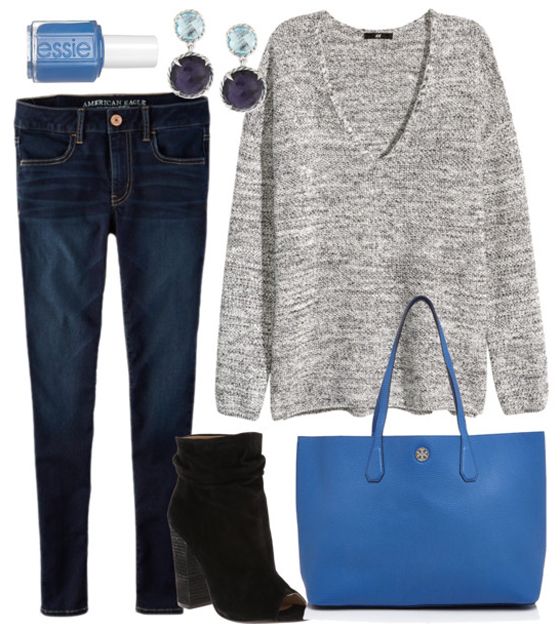 Essie "pret-a-surfer"// David Yurman earrings// Jeans// Marbled gray sweater// Black suede booties// Tory Burch tote
There is no color better for Fall and winter than gray! I wear and buy so many gray tops and sweaters that my mom usually reminds me when I'm 14 new gray tops in to a shopping trip that I don't need anymore gray. I can't help it though, there's so many shades and color combinations to pair it with and it looks great with everything! This is one of my favorite style inspiration boards I've made ever for any season - especially the booties! Wearing dressier ankle boots would look great with this too.
Vest// Striped shirt// Black jeans// Black suede booties// Kendra Scott earrings// Michele watch
Another piece that I can never have enough of are down vests for Fall! The JCrew down vest comes in somewhere around 12 gorgeous colors and they're like collectible items! ; ) This vest keeps you SO warm and it looks so great too with nearly every outfit. Old Navy also has some really pretty vests that are a bit more puffy and warm that I love too. This olive green color is another one of my favorites for this season - I've seen it so much and I really have never liked or have thought to try wearing this color but now that I've seen it in so many pieces this season, I LOVE it! Keep reading - you'll see tons more where this olive green came from!
Striped sweatshirt// Prada Tote// Jeans// Michael Kors watch// NARS lip gloss// Sperrys
I bought this striped pullover from Sperry the moment I saw it. I'm so glad I did because it's so comfy and so pretty! I loved it so much that I bought it in a pink color too. Cowl neck tops are my favorite style right now and it's not too warm which is perfect for this time of year. Here and here you can find similar gray totes that are more budget friendly. I usually purchase my jeans from American Eagle and Nordstrom, but I tried a pair of Rebecca Minkoff jeans this year and I'm in love! I've never purchased clothing from her brand but I'm so glad I tried them because they're probably the comfiest jeans I own. They're a little pricey, but definitely worth it in both comfort and quality : )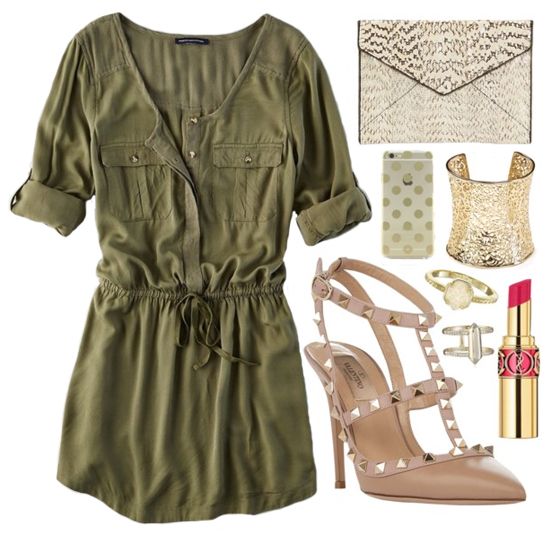 Shirt dress// Clutch// Kate Spade iPhone case// Kendra Scott cuff// Valentino heels// Kendra Scott ring (1)// Kendra Scott ring (2)// YSL #6
More olive green - I'm obsessed! This shirt dress is so flattering and very comfortable! I love dresses and love it even more when I get to wear them in the Fall! This is the outfit I'll be wearing for a party coming up next weekend and I cannot wait to wear it!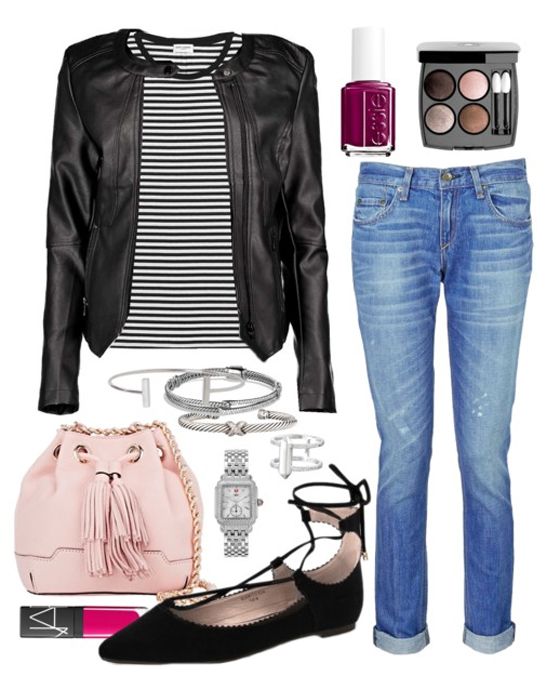 Striped tshirt// Leather jacket// Essie "In the Lobby"// Eyeshadow palette// Boyfriend jeans// Silver cuff// David Yurman bracelet (1)// David Yurman bracelet (2)// Rebecca Minkoff bucket bag// NARS lip gloss// Michele watch// Kendra Scott ring// Black wrap flats
It took me three shopping trips of seeing this leather jacket and contemplating if I should buy it until I finally did online and it's become my favorite jacket ever! I haven't gotten to wear it yet but I have a feeling I'll get to a lot in the next week or two. I also love this faux leather jacket that looks pretty similar! These Topshop flats are surprisingly comfortable and come in so many different colors. I love them because of how casual or dressy they can be! They're under $50 too!
Oversized top// Jeans// Vince peep toe booties// Gold stone bangle// Kendra Scott ring// Michele watch// Tory Burch tote// YSL lip gloss
Over-sized tops are the best for Fall especially with skinny jeans and booties!! I just bought these booties in black and nude and I've been trying them on nonstop because I want to wear them already. This outfit is great for any day in the cooler weather!
Which outfit is your favorite? Do you have any favorites for this Fall?
XOXO
Bloglovin|Facebook|Pinterest|Instagram