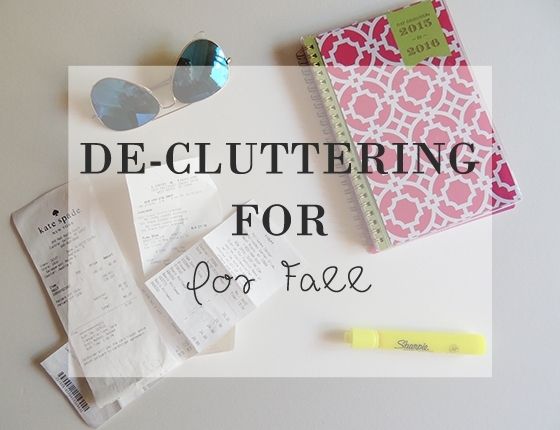 Happy September!! It may not really be considered a summer month anymore, but in most places - including New York - we still have super warm and beautiful weather until at least the last week of September. I love the warm weather and how long it lasts but I also love redecorating for seasons as many times during the year as I possibly can! Even though the weather is still warm and I'm still sitting by the pool every day, there's ways to start a Fall de-clutter and move some accent pieces around to give any room a refresh; without pulling the pumpkin and red/orange leaf decorations out of storage just yet.
A new season is the perfect excuse to either redecorate or rejuvenate a space in your home. Doing so doesn't mean that you need to paint and buy thousands of dollars worth of new furniture seasonally either - because lets get real, no one does that! Instead, there's simple things you can do such as getting new pillows, a new focal piece or even new storage solutions to help to give a room a new, fresh feel. I find that doing this also helps from making me want to make major changes as much (which is often for me). There's certain home pieces that are worth splurging on, but often times there's tons of ways to avoid spending a fortune for seasonal pieces! My favorites are pretty obvious: Home Goods, T.J. Maxx, One Kings Lane and Joss and Main are my go-to spots when I'm looking to upgrade a couple of things. Living in New York, we sadly don't have a Hobby Lobby but there's two big ones (conveniently for me, not so much for my bank account though...) RIGHT near where my grandparents and best friend live in Florida. Every time I visit, I make sure I have enough room in my suitcase to take things back from Hobby Lobby.. It's a serious obsession!
Next to Fall recipes and pumpkin spice lattes, DIY projects are the absolute funnest things to do during Fall!! I even have a Pinterest board dedicated to everything "Fall". Anywhere from a wreath to a pumpkin centerpiece and beyond - I'm in!!
I began my late summer (can't get into saying Autumn just yet) de-clutter two days ago and so far, so good! I've gotten rid of a lot of things and got a head start on o tan and rganizing my storage. I have a window seat in my bedroom where I have bins of storage items inside - also where I store most of my out-of-season items too!
In hopes of giving a space in your home a simple refresh, no de-clutter is complete without a couple of things:
Introduce new colors and accents:
different colors give a room a different vibe and this is important based on the season. For example, in the summertime fun accent pillows are great to have in a living room while during the Fall, more monotoned and deep colors will bring the Autumn feel into your home. Color can be added and swapped out in simple ways that don't involve paint and can bring a whole new look. My favorite colors for this time of the year are olive green, navy, and eggplant/wine. As for accent pieces, trying new things for different times of the year can help to make a space more bright and airy for summer or cozy and warm for winter and anywhere in between. Changing simple things such as an accent rug or different colored pillows can give a living room a different look. Similarly, changing something simple such as a duvet cover in your bedroom or new placements or a table runner in your dining room can change the look without breaking the bank!
Rearrange Furniture:
moving things around and changing a rooms layout or small furniture pieces in each room is a great and fairly simple way to help make a room feel like you just spent a fortune on new furniture! I like to either draw out the look I want to achieve with the space I have or even look to Pinterest or Instagram for some inspiration. It's amazing that something so simple could make such a difference, but it truly does and I try and move at least one piece of furniture around every few months! Change is good - especially in home decor ; )
Flip your mattress:
this is something I've
mentioned before
, but flipping your mattress will surely help to sleep better! I should have added this tip to my
top sleeping tips
because it's a really great feeling to flip it to the other side once per season. This isn't a way to de-clutter, but it is a great tip for a bedroom refresh!
Clean up:
this seems pretty obvious, but the less messy a room is, the easier it'll be to start to give a room a refresh. Doing a deep cleaning once or twice per season is a great way to keep your space from getting too cluttered and also a way to make weekly or daily cleaning to a minimum. Spending some time to clean up can really help make it easier to get rid of things and to make a room feel fresh and new!
Use the time rule:
when I'm organizing and throwing things out, I try and get rid of it if it's something I haven't used/touched or have needed in the past year. Depending on what it is, sometimes less. For things you need to keep, an under the bed or closet storage bin can be used or a filing system for papers you need to keep for long periods of time. This is a great tip for storing receipts also - I keep all of my receipts in a box and try and clean the box out whenever I de-clutter.
Buy new candles:
it's no secret that I have a serious Bath and Body Works obsession! I LIVE for buying new candles seasonally! This is a great way to help you get into the feel of any season; Fall especially! I'll be at the mall this weekend purchasing my Autumn candles and some of the scents that I'm super excited to try this season are Pumpkin Apple (my most used every season!), Sweater Weather and Pumpkin Spiced Cheesecake! I always have a candle burning year round but no scent compares to the ones Bath and Body Works comes up with for Fall!
Florals are everything:
next to candles and great smelling hand soaps, floral centerpieces are something I always have on the center of a table! Having a centerpiece full of season fitting flowers makes a room feel fresh, airy and smells beautiful! Depending on the season, there's tons of green centerpieces you can create. In the summer, bright pink flowers or a vase full of shells will make the room brighter and summery. For Autumn, deep red and orange blooms will look gorgeous! Flowers give color, scent and texture making a room have an entirely different feel to it. This alone will change the way your room feels - definitely give it a try!
DIY everything:
there's no better time of year to get on Pinterest and make some gorgeous projects for home accents and decor. I'll be sharing quite a bit of these that I take on this Fall and I cannot wait! Head to your Michael's or any craft store and you're guaranteed to find a TON of supplies to create these gorgeous projects. Not only are making decor pieces yourself fun and less expensive but they make a room look themed and give your own personal touch!
If you're rearranging a space or want to give it a new look, try and come up with an idea of what you'd like the space to look like. It'll be easier to come up with ways to get your space to your liking.
One of my shelves is newly (and finally) de-cluttered! The turquoise bin has things in it that I always take with me in a handbag and since I tend to switch bags a lot, I dump my things into this bin so that I can easily put it all in the bag I switch over to! It was full of useless things that I definitely didn't need so I cleaned it out and gave it a new purpose. Being able to dump it into the bag I'm using is super easy and time saving!
The more often you de-clutter, the happier you'll be and the better a space can and will look! I need to take my own advice because I don't de-clutter any space that I should nearly enough. I'm working on getting rid of more things more often that I don't need and I can definitely see a difference - especially in my bedroom. I'm happiest when everything has a place and when I know where everything is (OCD much?)
How often do you de-clutter? Do you have any tips that help you when you do?
XOXO
Bloglovin|Facebook|Pinterest|Instagram