For as long as I can remember, I've always loved to travel and a few years ago I was told that is called wanderlust. I've loved that word ever since I heard it - you know when you just love a word? I LOVE that word! I've been very fortunate to have been able to travel to beautiful destinations and I have no plans of stopping. Since I recently turned 21, I've had plans to go to Las Vegas when the semester ends and somewhere tropical in the middle of winter like Aruba or Grand Turk. I have this weird hobby (brace yourselves people) of opening the Maps app on my iPhone and looking for new islands/places in the middle of no where and then googling them endlessly. I do this every day - probably when I should be doing... anything else basically! I love the idea of seeing new places and thinking about how many different places there are in the world to possibly visit gives me anxiety that I'm not in one of those places as we speak. I love to travel, see new places and experience new things.
There's so many places on my bucket list of destinations; from private islands in the middle of the Pacific to big cities in Europe, I just want to go everywhere! My mom always tells me traveling while you're young is much different than traveling when you have a family which I could completely see being true. There's no better time to freely explore the world and see places at your own pace and do things on the whim. I have two vacations I'm planning; somewhere tropical (any suggestions?) for December and Las Vegas (my 21 trip!) in either April or May.
I've gotten to travel quite a bit in the past 21 years but memories and experiences from a young age seem to be pretty different from ones you make in your 20's. When I was 11, my family and I went to Italy and that was my first time over seas. I remember being so excited and loving it so much the first time I was there - seeing all of the historic cities and my dad's small town where he grew up is an amazing experience but my memories from when I went as a little girl and from when I went as an older teenager are so different... Exactly why I think it's so important to travel in your 20's! It's also kind of obvious that as you get older, you're more likely to appreciate the cultures and experiences of the places you visit. Now I may have high hopes to get to be on Big Brother, and don't get me wrong I would LOVE to be on The Amazing Race but having to race other teams around the world would give me anxiety and I would be too busy stopping every two seconds to take pictures - pretty sure my partner for the race wouldn't like that too much ; )
Here's my list of 20 places that I think you should (and that are on my list) to visit while in your 20's:
Ibiza, Spain
Ibiza is an island in the Mediterranean that is known for the nightlife and gorgeous beaches. I've never been to Spain, but it's on my list! From all of the pictures I've seen, it's a gorgeous country and has the most beautiful islands. Definitely a must!
(image source)
Reykjavik, Iceland
Because I mean, who wouldn't want to see the Northern Lights?! My mom went to Iceland when she was in her 20's with her friends and she said it was the strangest, but most beautiful place ever. Apparently it's completely dark for half of the year and then doesn't get dark for half of the year; but my mom has shown me pictures and there are the most beautiful buildings, lagoons, etc to see. I think anyone who has a travel bug would agree that seeing the Northern Lights is a priceless experience!
(image source)
Bora Bora, Tahiti
For as long as I've known what Tahiti was, it's been my absolute dream vacation. If you watch The Real Housewives of Orange County then you probably saw their crazy vacation there this past season! Now every time I think about Tahiti their trip is all I think about ha! This is such a dream trip and I will make it happen! A long flight that clearly will be well worth it!
(image source)
Phuket, Thailand
I'm not sure why but I never realized just how gorgeous Thailand is. There seems to be endless waterfalls, tons of places to go on hikes and gorgeous beaches upon beaches! My cousin spent three weeks in Thailand a few years ago and she always says that it was by far the best experience of her life. Backpacking around Thailand seems like a trip everyone should take for sure!
(image source)
Istanbul, Turkey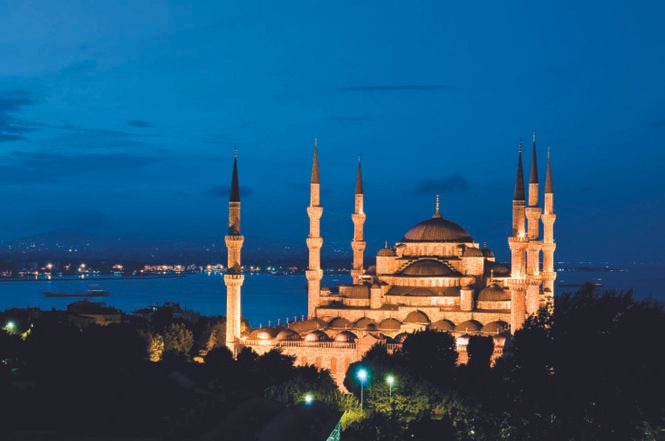 Anyone who EVER played the Madeline's European Adventures computer game (please tell me I'm not the only one who loved this game?!) can't tell me that they didn't want to go to Istanbul like Madeline did!! Seriously, I have always wanted to go to Turkey - two semesters ago I had to take an art class (stupid GenEd requirements) so I took an architectural design class and one of the places we studied a lot was Turkey and the Blue Mosque... Never have I ever seen such a beautiful piece of art. I can only imagine how mesmerizing it must be in person! With everything going on in the Middle East, it seems really scary to travel there but it's such a once in a lifetime experience that I think it's a trip well worth taking!
(image source)
New Orleans, Louisiana
I've been to NOLA once but it was only for a day, I wasn't legal and it wasn't Mardi Gras! So was I really there?! I would love to experience Mardi Gras in New Orleans and it is such an old, colorful city that anyone in their 20's should experience.
(image source)
Cape Town, South Africa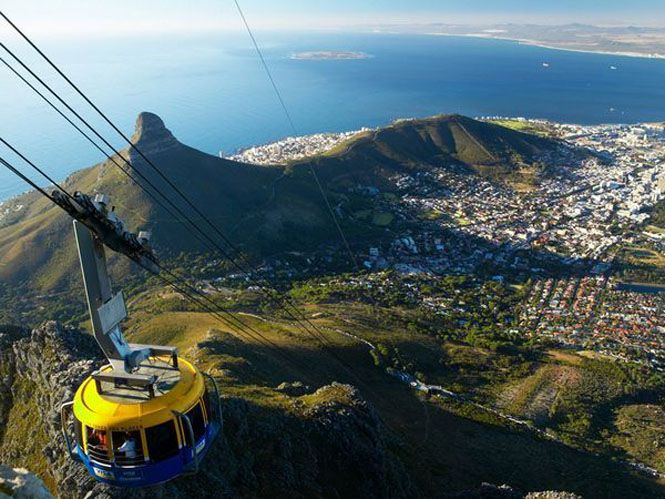 Oh how badly I want to see Cape Town! This is another country/city that I truly never realized the beauty. I'm dying to hike up Table Mountain - I can just imagine how breath taking the view must be! I would love to visit and I hope I get to go - I'm trying to plan a trip toward the end of next year, it's a must in my book : )
(image source)
Rio de Janeiro, Brazil
I've always wanted to visit Rio; especially since the start of this seasons The Amazing Race started there and it was so gorgeous! There's so many beautiful landmarks - especially the Christ the Redeemer statue. Brazil is gorgeous and I'm so envious of anyone who lives there and/or visits there!
(image source)
St. George, Grenada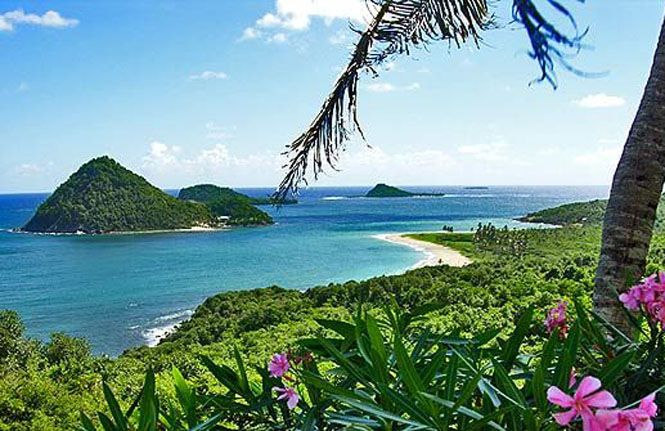 Grenada is the most southern point in the Caribbean - need I say more?! Apparently, it's an island that is only 21x12 and has nothing but beaches... Ugh take me here now! I cannot imagine how amazing it would be to deep sea fish or snorkel here. Need to go!!
(image source)
Cinque Terre, Italy
Cinque Terre is a gorgeous coastline town in Northern Italy that you NEED to see if you visit the beautiful Italia! Italy has always been like a second home to me and the first time I saw Cinque Terre I was speechless - this picture is one I took and it was my ride to Tumblr fame (just kidding, sort of). Every building is so colorful and one is prettier than the next! All of Italy is breathtaking and indescribable but Cinque Terre is somewhere you HAVE to take the time to see if you visit Italy
Scalea, Calabria, Italy
Another Italian land mark you NEED to see!! Scalea - possibly the most gorgeous Italian beach you will ever see. Scalea is in Cosenza, Calabria which is where my family is from. This beach is about 5 minutes from the house we have there. The house is the one my dad grew up in and has been in my family for a LONG time. This may have made my list because I have such a personal connection to it, but if you like clear water and blue/green toned sea glass then this beach is for you!!! I would love to take any of you on a tour of Calabria - just say the word and I'm there! Always looking for an excuse to visit : )
Santorini, Greece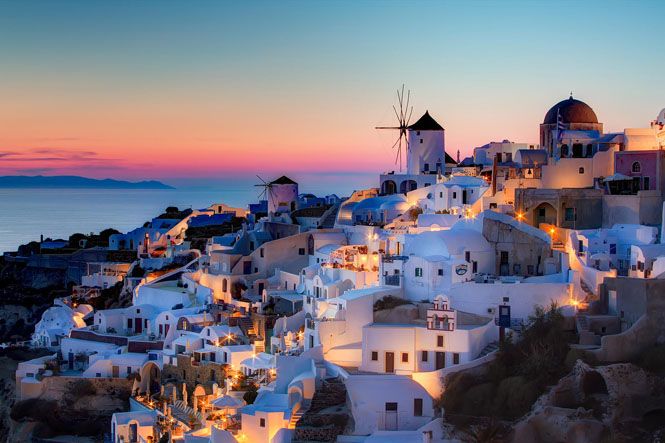 I went to Greece once but I stayed in Athens. Santorini looks like probably one of the most gorgeous cities um, ever! Can you just imagine the gorgeous Insta pics you could get here?! This is pretty high on my travel list - I need to go ASAP and so do you!
(image source)
Paris, France
Paris: cliche? Probably. Should you go anyway? Duh!!! Exploring Paris in your 20's - is there anything better?! There's so many things to do and see and amazing food to eat too! Another spot thats pretty high on my list, especially since it's a straight forward trip and place that's easy to travel to from New York. I hope to get here once I graduate!
(image source)
Auckland, New Zealand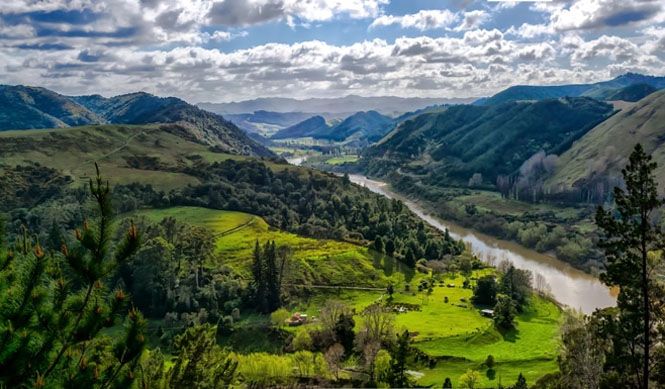 I can't even imagine the views and beaches in New Zealand - especially hiking trails! I would love to go "down under" and see this insanely beautiful country. Another long flight but well worth it I'm sure!
(image source)
La Paz, Bolivia
From reading about La Paz in the past, I know that there is an insanely cool cable car system that gives you complete 360 views of the city. An older city, but sometimes the older the city the prettier it is.
(image source)
Roadtrip the PCH, California
I love New York, but boy do I have the urge to experience some West Coast livin'! Road tripping the Pacific Coast Highway with your friends must be one of the best experiences that I NEED to try! Cali is gorgeous and I have every intention of living there one day!
(image source)
Las Vegas, Nevada
Like I mentioned, I have a Vegas trip planned for my 21st (yes that was two months ago, blame it on school) that I literally can't wait another day for! I'm so excited to experience Sin City finally being legal. We're staying at The Wynn and I've heard such great things about that resort! We're considering spending the second half of the week at Caesar's Palace just to experience a few different places; the beauty of Vegas is you don't really need too much of a plan!
(image source)
London, England
London is super cliche and touristy but it's still somewhere that everyone should experience! I went to London when I was younger and I would absolutely love to go again to be able to experience more and take in the city better now that I'm older. Sidenote: whenever I think of London, I think of Monica and Chandler telling Joey how they fell in love in London, "IN LONDON?!" Hahaha (I tend to reference most things I say to Friends if you haven't noticed)
(image source)
Kuekenhof Garden, Holland
Okay, this garden is INSANE... Another destination I didn't know existed until my mom had told me about it. After my grandma died, my grandpa got remarried to his wife who is Dutch. When they got married, they had their wedding at this garden in Holland and I didn't believe my mom and aunt when they told me about this garden (until I googled it and was proven wrong). There's miles and miles of tulips that bloom in the spring that you can drive through and it's seriously amazing how much effort goes into keeping such a massive amount of gardens SO gorgeous. I've never been to Holland, but my step-grandma always says she wants to take me there - I'm in, lets go!
(image source)
Maui, Hawaii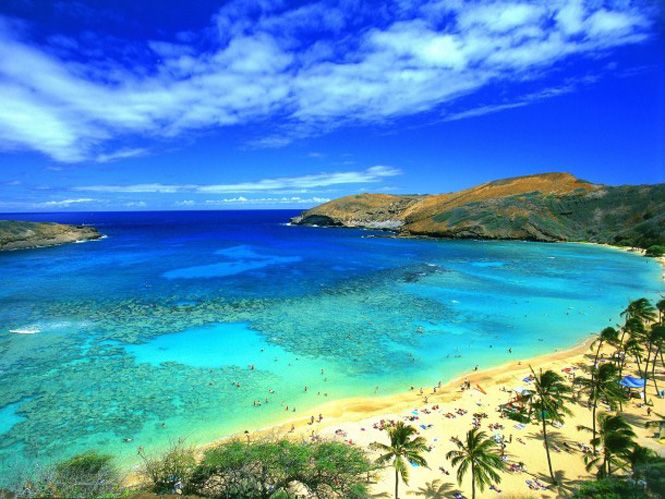 Wanting (more like needing) to visit Maui is pretty self explanatory... I LOVE Hawaii and vising Maui - the beaches, trying the foods, cliff jumping, hiking, helicopter rides - the list goes on and on forever. Hawaii has gorgeous resorts that have so many things to do, but the real fun begins once you leave the resort during the day! This is a must trip, whether its with your friends or significant other, you can never visit Hawaii too many times!
(image source)
Over the summer, I found this world map which resembles one I've been looking for for a while now. Every time I travel somewhere new, I put a pin into the map signifying that I've been there. If I do this right, most of the map will be full - that's the goal anyway!!
Do you love to travel? Where is somewhere that you want to travel to while you're in your 20's or that you saw in your 20's and loved?
XOXO
Bloglovin|Facebook|Pinterest|Instagram