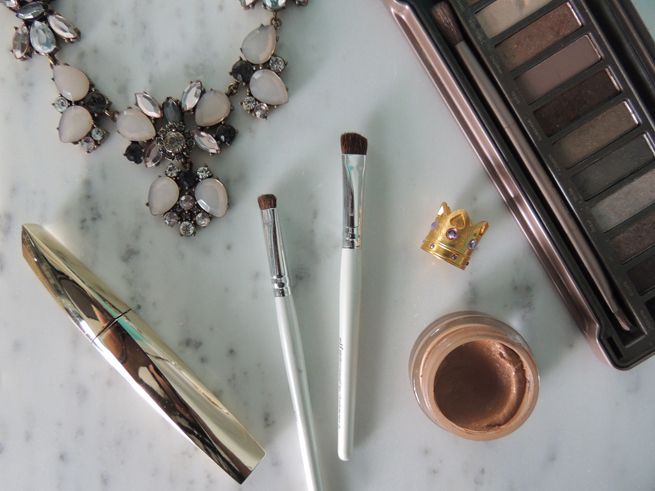 I began wearing makeup and really caring what I looked like every day when I was going into 7th grade - that's 10 years ago! Over these 10 years I've learned so many beauty and makeup tips and the way I wear makeup has changed SO much (thank god - no more glitter eye shadow) since then. I've learned that less is more and that the only way to find a look you love on yourself is by trial and error. Now, doing my makeup and finding new beauty tips, tricks and products is by far one of my favorite things to do! I love watching YouTube videos and reading blog posts by beauty gurus/bloggers and can honestly say that I've learned SO much from doing so over the years. Little story: the first time I was trying to achieve the perfect smokey eye, lets just say I looked like I got punched in the face! I then found a template from one of my favorite beauty Youtuber's and practiced it over and over and now it's one of my favorite looks on myself.
Beauty products and tips aren't going to work for everyone and that's the beauty (no pun intended) of trying different things to see what you like the best. There's nothing I love more than going to Target, Ulta or any other beauty supply store and finding new products to try!
Here's my favorite beauty products that I currently use (some are also great for these cooler months that are upon us!):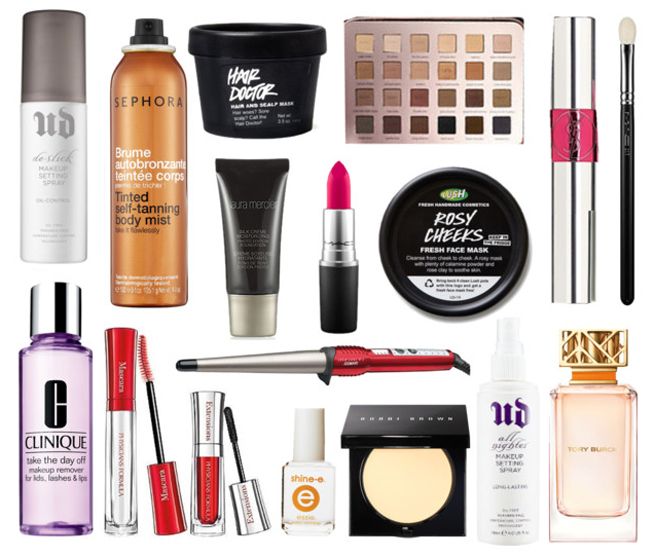 Urban Decay setting spray// Self tanner body mist// Lush Hair Doctor treatment// Eyeshadow palette// YSL lip gloss// MAC 217 brush// Laura Mercier foundation// MAC lipstick// Lush rosy cheeks// Clinique makeup remover// Fiber lash mascara// Curling wand// Essie Shine-e// Bobbi Brown pressed powder// Urban Decay setting spray (2)// Tory Burch perfume
These are some of the beauty products that I use constantly, buy right away when I notice I'm running out and recommend to everyone I know - including you guys!!
Urban Decay setting spray:
I use this nearly every morning when I put my makeup on; I don't really have oily skin, but throughout the day the temperature and my makeup can cause some oil but this setting spray has really helped to prevent that a LOT! I started using it this past summer and it's kept my makeup from running or getting gross looking all day long. It's especially great for a long day of traveling when you don't have time to touch up your makeup. Definitely recommend!!
Self tanner body mist:
I love tanning and love summer more than anything, but living in New York we endure pretty cold and snowy winters. I feel prettiest when I have a tan - even if it's just a little color. That's why I love this tanning mist and it's the best self tanner I've tried! It's the closest I've found to getting a spray tan and this is great because it's much quicker and way easier than going to get a spray tan. Plus, you can do it more often! It leaves no bad smell, no streaks on your skin and is very quick to use
Lush Hair Doctor treatment:
when I first bought this hair treatment I wasn't sure how I'd like it because I've never really used a product like this on my hair, but I love it and have bought it many times now! I try and use it once a week and I can always tell how soothing it makes my scalp feel
Eyeshadow palette:
there's no secret that I'm a bit eye shadow obsessed and can never stop buying new palettes, but along with the Naked palettes, this is by far one of my favorites! It lasts a long time and the 30 different shades are all so pretty. I also really love how it turns into a zippered case which makes it easy for travel!
YSL lip gloss:
when I was younger, I always wanted to wear lip gloss and then stopped for a while.. Now I love glosses and lipsticks again as I've gotten older and you really can't go wrong with any of the YSL colors and tints. They're a bit pricey but they last a while and they look amazing and don't leave your lips feeling sticky and gross!
MAC 217 brush:
by far my favorite makeup brush I've ever purchased! Most of my brushes are by
Elf
but this MAC 217 is really great because it's easy to use to blend eye makeup or face makeup if you're contouring. I use it for my eye makeup 99% of the time and it's my favorite especially for creating a smokey eye. The Elf brushes are all great, but for blending this is my favorite!
Laura Mercier foundation:
first of all, Laura Mercier carries my absolute favorite makeup ever! I wish there were a retail chain near me but after looking for a new foundation a few months ago and reading tons of reviews and finally going with this one, I'm so glad I did because it's my favorite! I never really have used foundation that much because I hate the feeling of it on my face but Laura Mercier's is super light and airy. It doesn't make my face oily and a little tiny drop goes a LONG way so it lasts a long time and is most definitely worth the money
MAC lipstick:
I mean, can you really go wrong with a classic colored MAC shade?! Lipsticks have become like collectible items (for real haha!) and deciding which shade I'm going to wear on any given day has become just as much fun as picking my shoes for the day.
Lush rosy cheeks:
I'm a huge sucker for a face mask - every day if I have the time! I love exfoliating my skin and trying different face masks to see which leaves my skin the softest. Once again, Lush comes in clutch with this rosy cheeks mask. The jar says that it's meant to calm your skin and nourish your cheeks and that's exactly what it does. If you're looking for a new face mask to try, give this a whirl you will not be disappointed!
Clinique makeup remover:
for taking my makeup off daily I use Garnier removal wipes but I've been using this remover more frequently lately because it seems to get my waterproof mascara off much easier. I usually prefer the wipes (especially for travel, much easier to carry around) but this remover is really great for removing every last bit of makeup at night
Fiber lash mascara:
my eyelashes are well, curling challenged to say the least. No matter how many times I curl them before AND after applying mascara, they always seem to deflate a few minutes after and it drives me crazy! Especially because my little sister has the longest, most beautiful eye lashes ever. I've tried SO many different mascaras, lash "formulas" and even wear fake lashes for special occasions, but they take (me anyway) such a long time to apply and get them on perfectly that it's too much of a hassle to wear them every day. I tried this fiber lash mascara as a last resort to new "lash extension" mascaras and I love it! Super simple and really makes my lashes seem so much longer. However to get them perfect, it takes a while to use since there is a three step process. My every day mascara is the
L'Oreal Falsies mascara
which is a simple application mascara and does the job for everyday use. Overall, I do love the fiber lash mascara though and definitely would try this!
Curling wand:
stop what you're doing and GO buy this curling wand!!! For real, don't spend hundreds of dollars on a curling wand because this $30 wand is amazing. I bought this 5 years ago (yes 5!!) and it still works perfectly and better than ever. I love this wand so much because it's so simple to achieve a tight or loose curl in no time at all. If you want bigger, looser curls you'll want a bigger barrel wand and for that I would recommend
this
wand which also is super affordable. For real, my sister and I both use this wand at least 4 times a week between the both of us and it works like no other.
Essie Shine-e:
does anyone else hate how quickly nail polish chips, even gel?! Nothing sucks more than a few days post-mani and your gel chips - drives me crazy! Or, when you have an event but no time to get a manicure before hand then this is what you need! It's a bit expensive for top coat but it really helps mask the chip or give your nails shine as if you just got them done
Bobbi Brown pressed powder:
again, I don't use that much face makeup but pressed powder is easy for small cover ups and a quick application. I love this Bobbi Brown powder that comes in so many shades that nearly any skin complexion has the perfect shade!
Urban Decay setting spray #2:
I know I already mentioned an Urban Decay setting spray, but I tried this one once I saw it to see which I liked better and honestly I love them both. The only main difference I see is that it's lighter than the regular setting spray which makes sense since this one is meant for late night wear.
Tory Burch perfume:
by far my favorite perfume ever - and how fitting by my favorite designer! The smell is fresh, girly and beautiful along with the bottle which will look great on a
perfume display
tray! ; ) I use this perfume the most and always get compliments on it when I wear it. It's always an easy answer for a gift idea for me which is probably why I've gotten it for my past two birthdays!
Beauty tips I love and live by:
Use a hot oil treatment in your hair once a month to help nourish and strengthen your hair and get rid of split ends
When it comes to makeup, less is often more
Always take your makeup off at the end of the day and wash/cleanse your face. You'll thank yourself in the morning!
Use a foundation or concealer that's a little bit lighter than your normal tone to help hide bags under your eyes
If you have dry skin (or especially in the winter) moisturize your face with a dry skin cream/moisturizer before applying makeup Give your nails a small break as often as possible with a nail strengthener, letting your nails breathe will help them grow quicker and keep them healthier
Instead of trying to cover up a blemish that will only clog your pores (that really need to be cleaned and exfoliated) try a "zit zapping" product. My favorite is made by Elf and it works extremely well
Using a tinted moisturizer instead of foundation helps give your face color and doesn't dry your skin out - perfect for the cooler months
Always use an eye primer or oil dabbing sheet before using eye shadow to prevent shadow creases throughout the day
Try to never touch your face so no oil is transferred hands to face - the main reason I never get or have gotten (thankfully) breakouts!
I'm always shopping for new products to try and reading reviews on products too. My current list of products I want to try include:
Are there any beauty tips or products you love?
XOXO
Bloglovin|Facebook|Pinterest|Instagram