Are you sitting down? Breathe deep... Kate Spade now has a huge line of insanely gorgeous home furnishings - and I want ALL of it!
Kate Spade is one of my favorite designers ever so when I logged on to shop the Friends and Family sale a few days ago I was so excited to be able to shop the new home collection! There's always been so many adorable office accessories to buy from Kate Spade but now that there's furniture, bedding, lighting and more decor this is a whole different ball game guys!!
As if buying an adorable planner with a matching candle and catch-all tray wasn't enough, now you can drown an entire room with nothing but fun, bright patterns and colors from Kate Spade! While the entire line doesn't launch until the spring (yes I did ALL of my research, I can hardly wait for it all to come out), there's already SO many insanely amazing things in the line that you can purchase.
If this line doesn't make you want to re-decorate and/or make every room in your house colorful and exciting then I don't know what will!
Here's what I'm loving from the collection so far: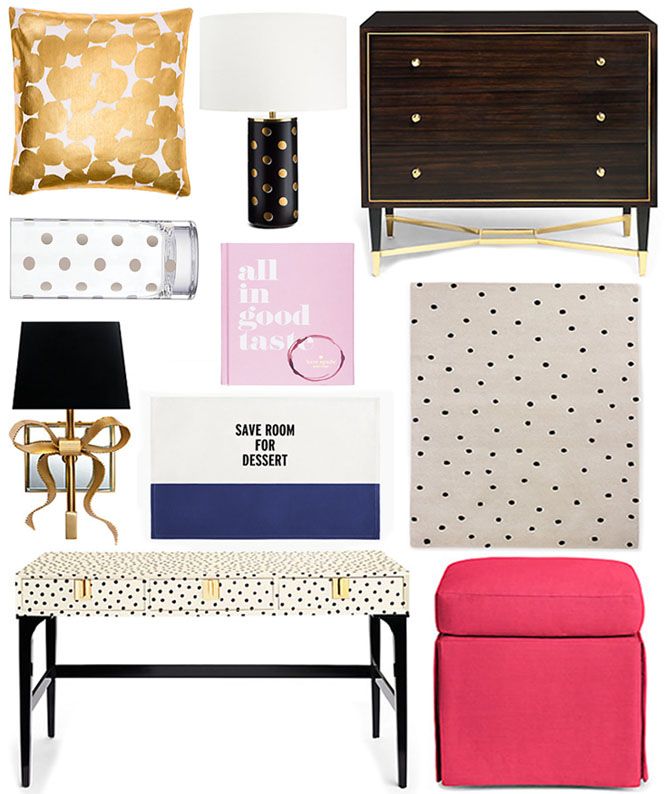 Gold accent pillow// Gold dotted table lamp// Wooden chest// Dotted vase// "All in Good Taste" coffee table book// Accent rug// Decorative bow sconces// "Save Room for Dessert" placemats// Spotted desk// Pink ottoman
This collection is pretty much what you would expect from Kate Spade and she definitely didn't fail to deliver (what else is new?) So many color combos, patterns, gold dots, pops of color and contrast colors and I just can't get enough!
Gold accent pillow:
this pillow comes in a bunch of other colors as well as the gold and I love so much! It's great for a bedroom, living room or anywhere else you can think to put a pretty accent piece.
Gold dotted table lamp:
gold and black together is possibly one of the prettiest, classiest combos I've ever seen. I can't imagine how pretty these would look on two side tables!
Wooden chest:
the gold with this wood grain is absolutely beautiful; it's making me re-think my brand new furniture! Also, it took a while to notice but does anyone see the signature Kate Spade bow on the bottom of the chest?! Seriously the most well designed piece of furniture I've ever seen!
Dotted vase:
pretty flowers during any time of year would look so pretty in this vase! I love that it's different than a typical glass vase and I love the matte/metallic dots that dress it up
"All in Good Taste" coffee table book:
I was so excited when this book became available because it's perfect to add to my never ending collection of display books! The color is so pretty and it even seems like a book that would be a good read for
anyone whose hosting a party
!
This book
by Kate Spade is another one that would be great on a coffee table - so many pops of color!
Accent rug:
I love accent rugs and the signature Kate Spade spots on this one are too cute. This is a patterned rug that you could pair with so many other patterns and would be fun and classy
Decorative bow sconces:
never have I ever realized just how much I needed a set of sconces!! I used to have a set on either side of my bed similar to
these
and these black and gold sconces are making me want them all over again! I can't get over how pretty they are - this is by far my favorite from the new collection!
"Save Room for Dessert" placemats:
all of the
sassy
Kate Spade sayings are perfect and the new dining collection pieces have SO many of these sayings! There's ones perfect for holidays, breakfast, dinner and every day display that every dining room table needs!
Spotted desk:
every blogger and girl in general needs this desk!!! If I got to sit at a desk as pretty as this one, I would never get up and be the most productive person ever! It would look so pretty with a bright colored accent chair - like a hot pink or turquoise!
Pink ottoman:
whether you need extra seating or a pop of color with a more reserved couch, a hot pink ottoman like this one will do your living room justice! I hope the extended version of the home collection has this ottoman in more color choices because it's the perfect size and shape
Now all I need is the outlet center I go to to expand the store into having a home section and the rest of this collection to come out and I'll be all set!!!
Some more swoon worthy home collection pieces:
Which of these pieces from the new Kate Spade home collection is your favorite?
XOXO
Bloglovin|Facebook|Pinterest|Instagram