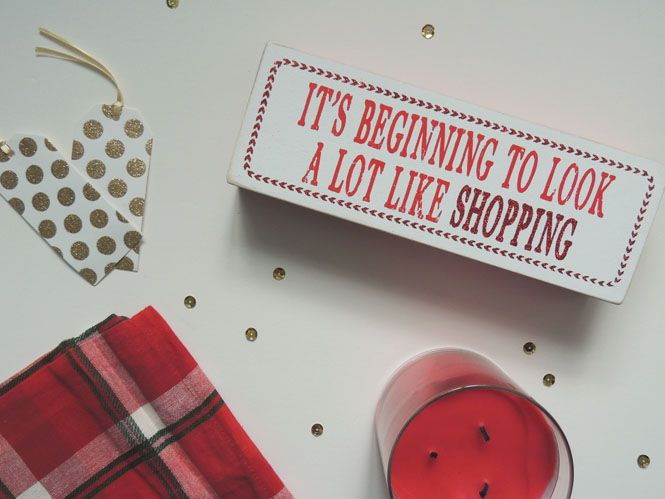 We are less than a week away from the BEST shopping day of the year! Seriously guys, I get so stupidly excited for Black Friday it's kind of crazy. I start getting ready for this mid October and I mean I go ALL out. While there are the awesome deals and crazy amounts of people, there's just something about being at the mall and shopping in the middle of the night! I love it and apparently so do millions of other people.
Since Black Friday has become such a popular and competitive sale day for most companies, you're not going to have a hard time finding great deals. It definitely is true that some stores mark up the prices of things just so they're able to give such a big discount but you are saving either way AND many stores still have yet to do this. Sales on Black Friday usually triple for any given retailer which is why it's easy for most stores to not have to up the original prices.
If I weren't organized for Black Friday, I would probably look like a crazy person running around the mall trying to remember things. I make lists, organize my coupons and know what stores have what deals. I told you guys, I do not mess around ; )
That being said, there's tons of things you can do to make sure you conquer Black Friday this year and every year to come!
The 7 best tips to master Black Friday shopping:
Have a budget
Whether there's a certain amount you want to spend total or a big item you're buying that you have a certain figure in mind, creating and ultimately
sticking to
your budget will help BIG time. Remember, just two short days after Black Friday there's a whole new set of amazing sales for Cyber Monday so you don't want to go broke before then ; ) kidding.
Make shopping lists
Knowing
what
you want to buy for
who
will make shopping 100x easier. Lines are crazy,
people
are crazy on Black Friday! Instead of guessing at what you'll get everyone on your list, write down what you want to get - including sizes, colors, etc - to make sure that you're not one of those crazy people running around like a maniac!
Organize your coupons
For the 3 or 4 weeks leading up to Black Friday, stores send out coupons in the hundreds, literally. I've been getting holiday coupons since Halloween! Whether you organize your coupons by store, deal amount or any way that works best for you, knowing what coupons you have will help tremendously. I can't tell you how many times I've left a store on any given day and then open my bag to find a coupon that I could have used seconds ago! Since most stores already have so many sales going on, some stores likely won't have an added discount but most do - for example
Express
has been sending me coupons for weeks now that I can't wait to use. Take full advantage of the coupons that you can use on top of already great sales and make sure you don't forget any of them when you head out.
Don't forget the boxes
For me, wrapping presents is one of my favorite things to do. I always set aside a space to wrap presents in and nothing is better than lighting a candle, listening to music and wrapping presents while the snow falls! Maybe that's a liiittle too dreamy but it makes for a great time! Whenever you're purchasing a gift in store, ask the cashier if they have gift boxes. Most stores will give them to you (size accordingly, too) like Old Navy, The Loft, Nordstrom, Victoria's Secret and Macy's.
Use your store cards
I know, I know most people will tell you that store credit cards are dangerous but they can actually be
very
helpful if you use them responsibly for the holidays. Like you probably have seen on
Instagram
, I just opened an
Old Navy
card. Most cards always have deals, but especially for Black Friday they are offering even more of a deal. When you open an Old Navy card, you'll be eligible to receive an extra 10% off of your already seriously reduced purchase on Black Friday. As long as you're not spending more than you'll be paying off, store cards are SO helpful this time of year and will definitely help save you more money that you can end up putting toward other things.
Be aware of the time
Some stores offer their discounts - 50% off the store, 40% off the store or even a TV at a really great price - for only a certain amount of time. Things like TV's can also be first come first serve which does get a bit crazy but its Black Friday so why not?! Ha, kidding kind of, not really. If there's multiple places you're planning on going, make sure you plan to go in order of sale times. If Target has a camera on major sale you're going to buy but the sale only will be for an hour, go there first and then head to the mall - that kind of thing!
Also, I've found in past years that it really has made sense to go from midnight to about 2:30-3 AM and then go back out to other stores around 8:30-9 AM. Yes you can call me crazy but this is big people!! My mom never likes to go shopping at night since she's exhausted from cooking for Thanksgiving, but she always comes the following morning. Doing so will likely help to prevent being mobbed by crowds since you'll be missing those in between hours of the early morning.
Don't forget to shop online
While most great online sales happen on Cyber Monday, during the day on Friday you'll likely find some great sales online, too. Whether you don't like to head out on Black Friday, forgot something on your list, or just can't shake the shopping bug (like me) then you'll likely be able to find great sales throughout the day online too. Last year I ended up buying some stocking stuffer gifts for friends online
Friday night
and I still got a great deal! Don't let the timing fool you - stores push and push to try and get as many sales as they can on Black Friday.