TGIF!! I could not be happier that the weekend is here! I also couldn't be happier that there's some crazy awesome deals and sales going on! Veteran's Day sales are going to be coming up, but my mom forwarded me an email yesterday from Neiman Marcus Last Call and they are having THE BEST sale ever. There's 20-50% off of everything on the site and they have so many brands and amazing things to choose from.
I know, I know it's a liiiittle early for holiday shopping... but when you've already started listening to Christmas music nothing is too early! I've even been able to pick up gifts to start my holiday shopping with this sale which is super exciting. I always start holiday shopping early because I have a lot of people to buy for and also because I love to buy gifts! This is the busiest time of year for most of us, so getting a head start on holiday shopping for yourself and for everyone else in your life will cross one of many stressful tasks off your list! I have a bin in my closet that I put all gifts that I buy into over these holiday months and it really helps me to be a bit more organized when gift buying. I always write myself notes on my phone when I think of something that I want to buy someone and this helps to stay organized too. Buying gifts for the holidays can be stressful in trying to get everything in time and not forgetting anything all while staying in your budget. Plus, shopping early is an excuse to shop which I love, naturally!
If it were fully up to me, I'd already have the tree up and lights on, but since it's 75 degrees today it's sort of hard to even believe that it's November!! Since I can't decorate yet, I might as well holiday shop!
My favorites from the Last Call sale: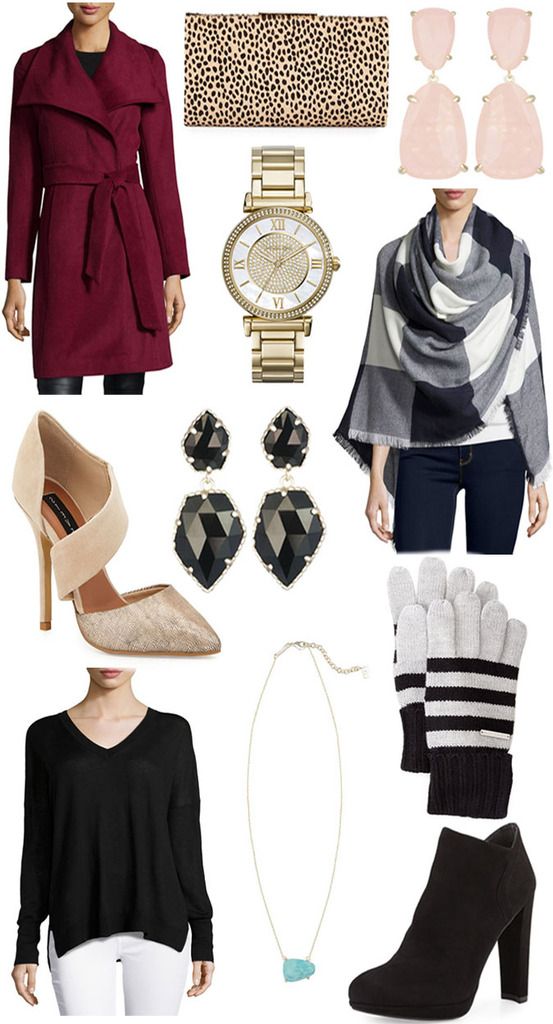 Burgundy Wool Coat// Leopard Clutch// Kendra Scott Earrings// Michael Kors Watch// Steve Madden Heels// Black Kendra Scott earrings// Black & White Plaid Wrap// Black V-neck Sweater// Kendra Scott necklace// Michael Kors gloves// Stuart Weitzman booties
Kendra Scott and Stuart Weitzman at 40-50% off?! Shut the door, I can't take it! Also how pretty is that wool coat?! It reminds me of something Olivia Pope would wear so of course I need it! Some of these are so great for gifts and stocking stuffers too like the Michael Kors gloves that are under $20! I also couldn't believe how awesome the prices are for the Michael Kors watches and the Badgley Mischka clutch too.
Here's some more things from the sale I'm eyeing:
When do you start your holiday shopping?
XOXO
Bloglovin|Facebook|Pinterest|Instagram