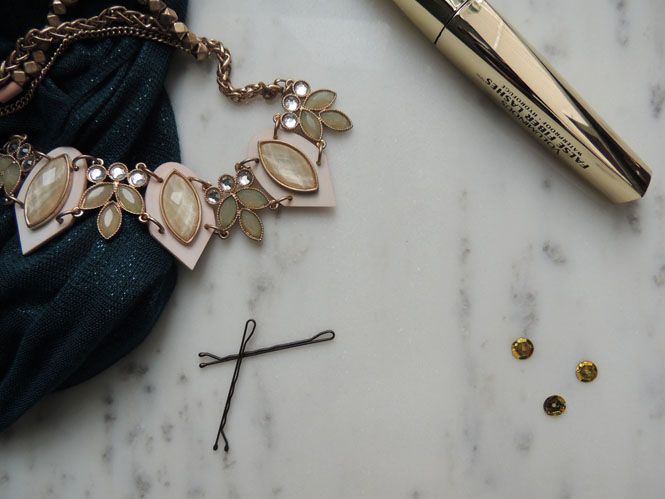 I must sound like a broken record by now, but I honestly cannot believe that Thanksgiving is a week from today!!! The holidays season is here friends!! Since I'm sure everyone is crazy thinking about Thanksgiving plans, different dishes to be made, decorating and cleaning the house for guests, etc I decided to handle the outfit situation! Whether you have a big fancy Thanksgiving with lots of family, a laid back dinner, Friendsgiving or anything else, it's still one of the funnest days to dress up and look cute for. Even if you aren't leaving the house, who doesn't want to take a few Thanksgiving selfies?!
So lets be honest for a second... does anyone really even dare to put on a pair of jeans for Thanksgiving?? Some years I'll try but once the very first platter of antipasto is served I immediately regret that decision. I love to dress up but also love to be comfortable, so comfy but cute is my inspiration for the day and for the outfits I'm about to show you guys. There's a TON of outfit ideas you could re-create from my favorite Fall outfits post too!
Okay guys Turkey Day is a WEEK from today!!! So it's time to start scouring your closet or going to pick up the last few details for your outfit because we're already so close! Sidenote: is anyone else as stoked for Black Friday as I am?! Be sure to check back early next week for what I'm eyeing for this Black Friday ; )
Thanksgiving Outfit Inspiration: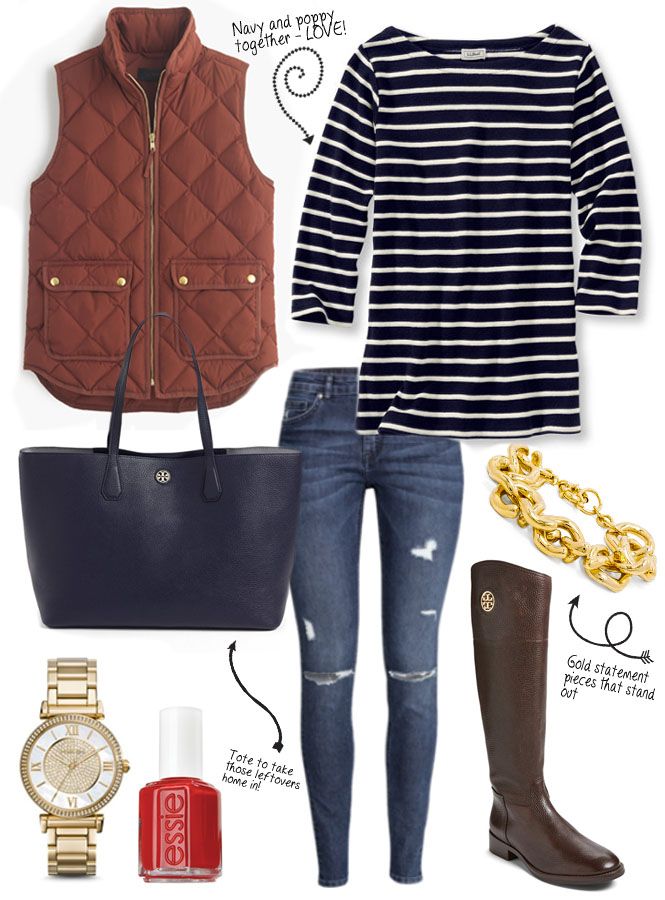 JCrew vest// Striped top// Perry tote// Jeans// Gold links bracelet// Michael Kors watch// Essie polish// Tory Burch boots
I know I said no jeans but I mean, how cute is this?! I love poppy and navy combos lately and I also would love to pair a cute pair of pearl studs with this look. The gold jewelry makes everything pop and your red nail polish will do just the trick too! This color is so pretty and perfect for Thanksgiving - I have it on now!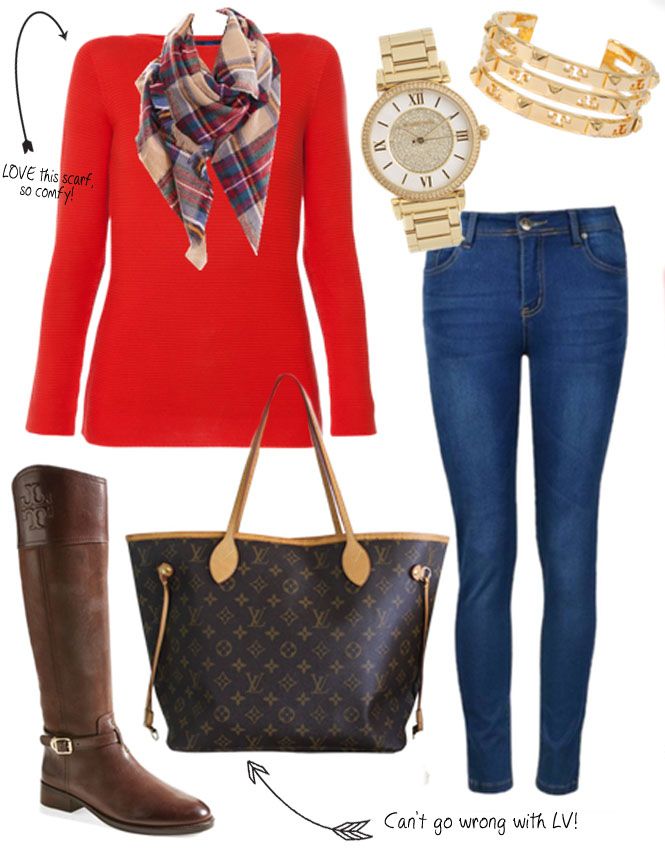 Sweater// Blanket scarf// Louis Vuitton Tote// Tory Burch boots// Michael Kors watch// Tory Burch cuff// Jeans
This is a repeat outfit from my favorite fall looks post, but it's one of my absolute favorites! There are so many ways to recreate this look and the colors are absolutely perfect for Fall. P.S. here is a similar bag to the LV one that is much more affordable and so cute! Blanket scarves are my favorite thing right now - I literally wear one every day, with every outfit. It ties outfits together and adds pattern!
Plaid flannel// Scarf// Kate Spade cross body (major sale!!)// Essie polish// Kendra Scott cuff bracelet// Kendra Scott bracelet// Statement necklace// Tory Burch flats// Jeans//
This is by far my favorite look! Flannels are so comfy so you'll be able to eat as much stuffing as possible ; ) You could even throw a cute vest like this one over it and wear some cute statement pearls like these. This statement necklace is absolutely gorgeous, I highly recommend it! The colors are neutral enough to be able to wear with a ton of outfits and it's also a classy touch to any outfit.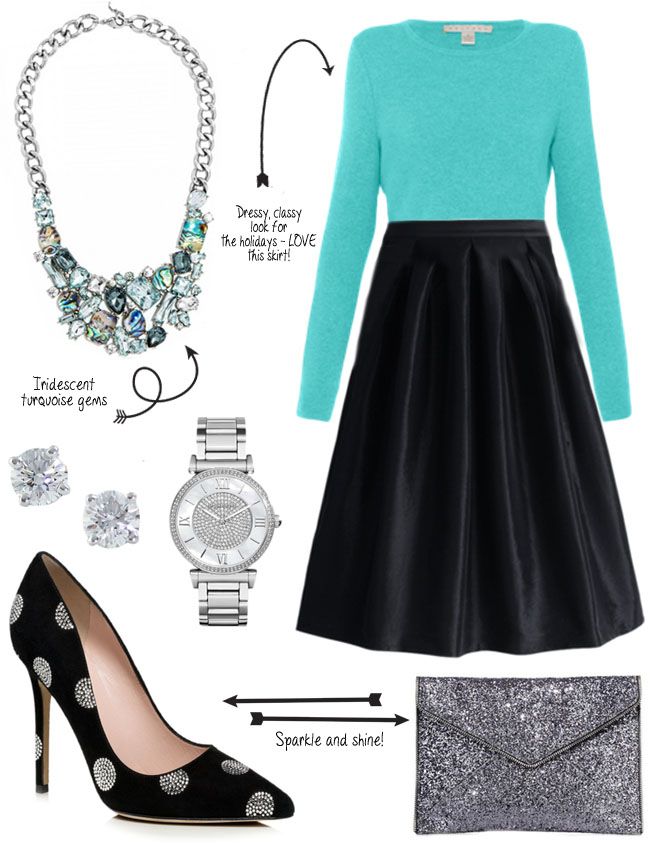 Statement necklace// Diamond studs// Michael Kors watch// Kate Spade heels// Turquoise sweater// Black accordion skirt// Sparkly clutch//
I know I said the previous outfit was my favorite, but for something more dressy THIS is my favorite! Accordion/pleated skirts are trending this season and I'm so glad they are because it's such a classy look. I bought this skirt at Chicwish and haven't had a place to wear it, but I think I may now! I love the sparkle accents on those Kate Spade heels but I also love the way these and these bow accent heels would look with this outfit. The best part about this skirt is that it isn't tight at ALL - perfect for how much food we're all going to eat in a week!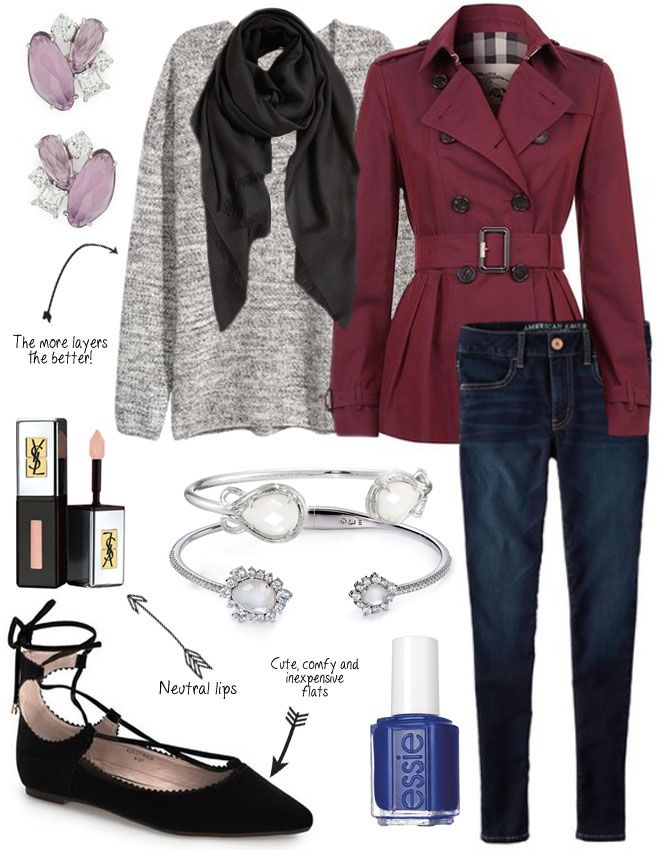 Cluster stud earrings (under $40!)// Gray sweater// Scarf// Trench coat// YSL lip gloss// Kendra Scott cuff// Pearl cuff// Jeans// Flats// Essie polish//
This is more of a comfy but still cute and well put together look. I love burgundy and navy together which is why I chose that shade of polish! I've been eyeing these cluster studs for a while and now they're on major sale so I just picked them up and couldn't be more excited! Burgundy and shades of maroon are my favorite colors for this time of year so it's no surprise that I love this for Thanksgiving.
Which is your favorite look? Do you dress up for Thanksgiving?
XOXO