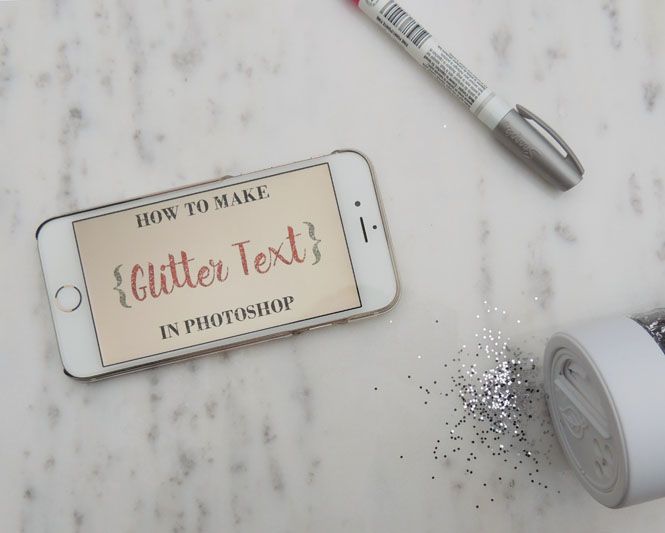 When I made my holiday gift guides this past holiday, I created a ton of fun glitter texts and I had a ton of people asking where I found the fonts and how I got glitter fonts. I was so excited, because creating glitter text is by far one of my favorite things to do! (you can check out the post I'm talking about here!) For all of my photo editing, I use Photoshop CS5 and CS6 and the same goes for creating my glitter text. It's way easier than you would probably expect too.
Obviously for this tutorial, you need to have Photoshop and you should be somewhat familiar with it. This is a fairly easy process, but knowing the basic tools will be super helpful with this. I love glitter everything and when real glitter just isn't possible, glitter in Photoshop is clearly the next best thing! ; )
The first step in creating glitter text is finding a color and texture that you like and saving it to your computer. To make it easier for you guys, I put together some of the prettiest colored glitter overlays that you can download for FREE at the bottom of this post, so make sure to check that out!
First, you'll want to download the glitter texture(s). Open a new document and make a text box with whatever you want to write.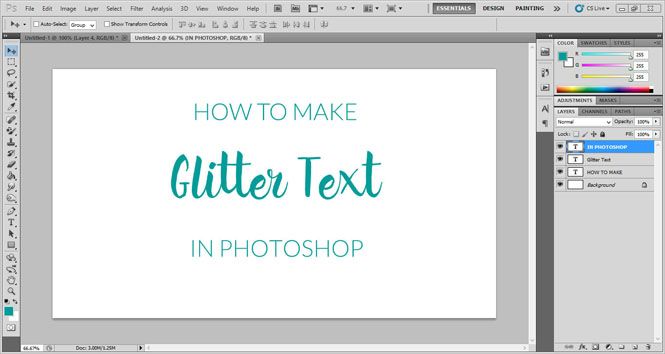 Next, open up your glitter pattern(s) file.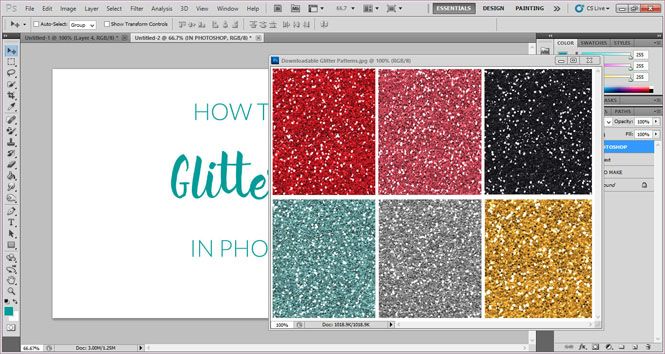 Use the rectangular marquee tool (the highlighted tool in this picture, it's the second from the top in most Photoshop programs), select the color glitter that you want to use. I chose the pink for this step; it'll show a revolving line around your selected area.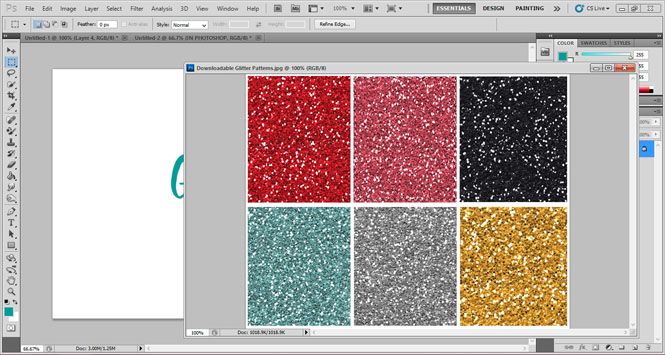 Once you have the pattern you want to use selected, click Edit - Define Pattern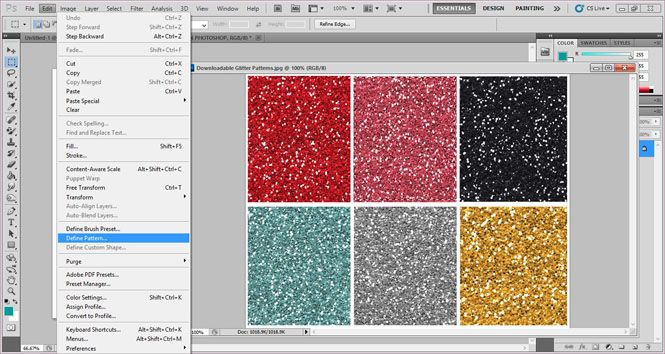 Once you click to define the pattern, this pop up box will appear and you can name your pattern. You can name these any way you want to; I usually name my patterns descriptively.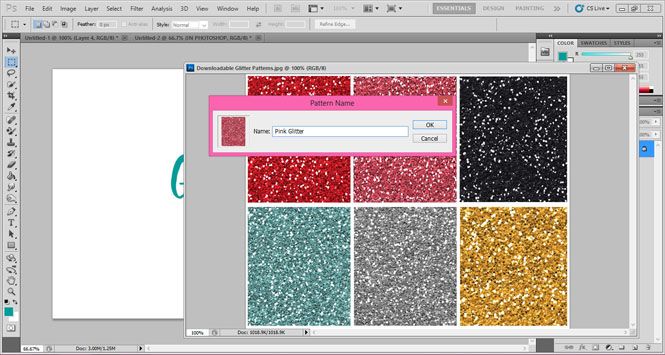 Click on Layer - Layer Style - Pattern Overlay and another pop up box will appear where you can choose a preset pattern for your chosen text. This is the step you would start at if you were trying to add a pattern to text that you already had saved/defined as a pattern.
All of your preset patterns will appear in the popup box. I like to define my patterns whenever I find a new one that I know I'll want to use so that it's there and ready to go for me! You know, in all that free time I don't have ; ) Select which ever pattern you'd like. Once you select it, you can see (behind the popup box) that the change was made on the selected text. Speaking of which, when doing this, it's important to make sure that you are working on the layer that you want changed. That layer must be selected for it to change!
Under the pattern selection section, there's a meter where you can change the scale. This allows you to zoom in or out on the pattern you chose; for glitter patterns, zoomed out more tends to work best so that you can tell what it is and so that more glitter grains (if that's the right word?) show. 100% tends to be best - sometimes somewhere around 85% works too if the glitter "grains" are bigger.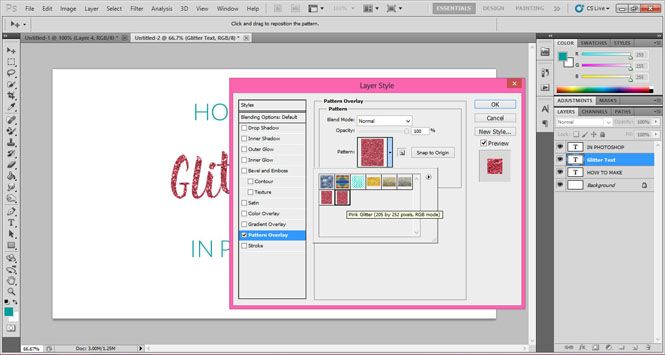 Once you've made your selections, press ok and your changes will be saved! BOOM! You now have beautiful, glittery text!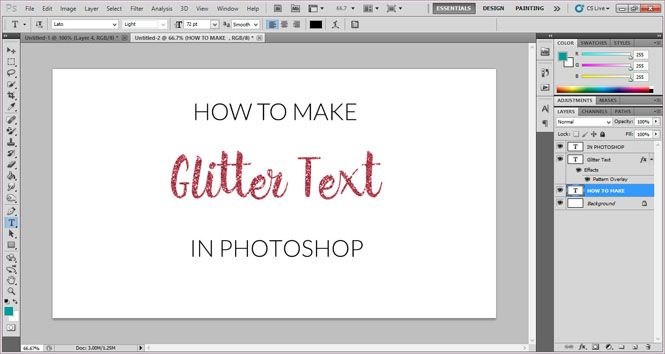 Once you do one layer, you can just as easily do more! I usually opt to do one or two lines of text in glitter and the rest in a corresponding color, but depending on the project, a ton of glitter in a ton of colors can be really fun! For the sake of this tutorial, I did the other two lines of text in a different colored glitter: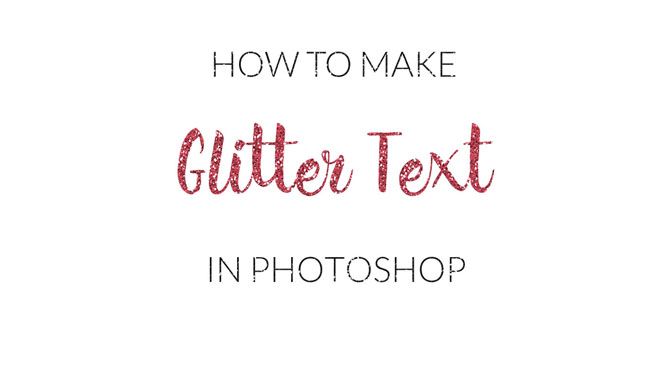 But it's kind of hard to see the glitter in such a thin font... Thicker fonts and ones that are more block-ish (that wasn't a word before I made it one) definitely work best here. You can change your font after applying the glitter/pattern overlays though, like this:
Click HERE to download 6 free glitter patterns!
All of the downloadable textures are totally free for personal use! I do have original, large and high quality images of each glitter texture and would be happy to sell them to anyone who wants them for any type of commercial use! Please email me (adriana_nudo@yahoo.com) and I will gladly send along the originals. These took a while to make, but have been really helpful for me so if you are a designer or just want them for your blog, business, etc. I'm happy to share at a reasonable (promise!) price.
Aren't these so cool?! I absolutely love the way glitter text looks and it's so simple to do too. There are a ton of different ways to use glitter text too; I hope this tutorial helps anyone with Photoshop! I'm sure there are other ways to make glitter text if you don't have Photoshop, but this is what I use and how I've found the best way to make it!
XOXO