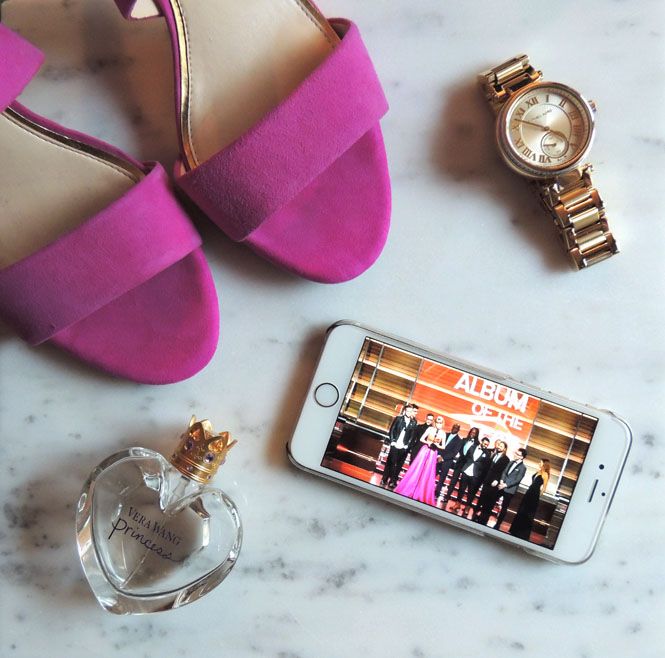 I'm a complete award show JUNKIE and I'm sure I'm not the only one! I get so excited for these award shows and it's so crazy to me when someone else doesn't completely fan girl over them (like my mom who could care less!) but they're just so much fun to watch. From the countdown to the red carpet to the red carpet to the show, I'm obsessed. Side note: did anyone see the AT&T award season commercial last night during the show?! (If not, you can watch it here) That girl is my spirit animal haha!!! I died every time it came on. Anyway, I love to critique the show from the fashion down to the performances as if I'm Giuliana Rancic so here are my top moments of the 2016 Grammy's:
The countdown to the red carpet started at 4PM and you better believe I was watching from the start! So many people looked so beautiful and completely knocked it out of the park but with the beautiful dresses of course come the ugly... Here are my top fashion picks:
Taylor Swift
source
I loved the majority of the fashion on the red carpet but can we talk about - the real winner all around - Taylor Swift?! On the countdown to the red carpet they were wondering if Tay would go with classic, edgy or sexy and I think her two piece color block dress was some of all three of those categories! Not many people could have pulled that off and I think it was absolutely gorgeous on her! P.S. I found a similar color block dress today! Shop it here!
Ryan & Genevieve Tedder
source
If you know me, you know the love I have for R. Ted! OneRepublic is my FAVORITE band of all time and Ryan is my favorite singer/songwriter/producer of ALL time too; I love his all the time All Saints style and Genevieve's jumpsuit was so beautiful too!
Chrissy Teigen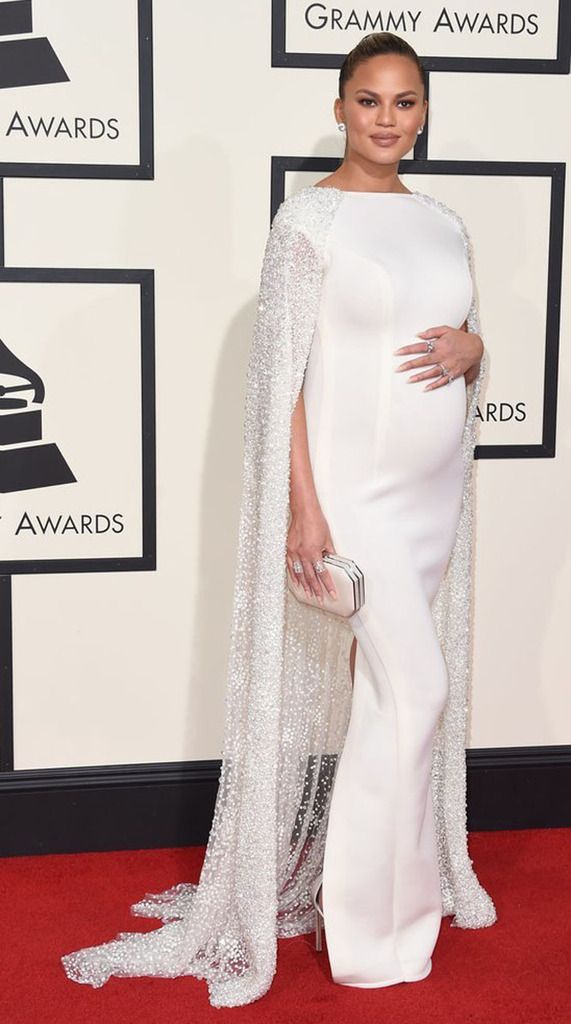 source
Possibly the cutest baby bump ever! I knew Chrissy would look adorable - she and John always look absolutely perfect on red carpets and I love to dress she picked for last night. She could pull any color and style off, but this white cape dress with the cutest tummy ever was pure perfection.
Carrie Underwood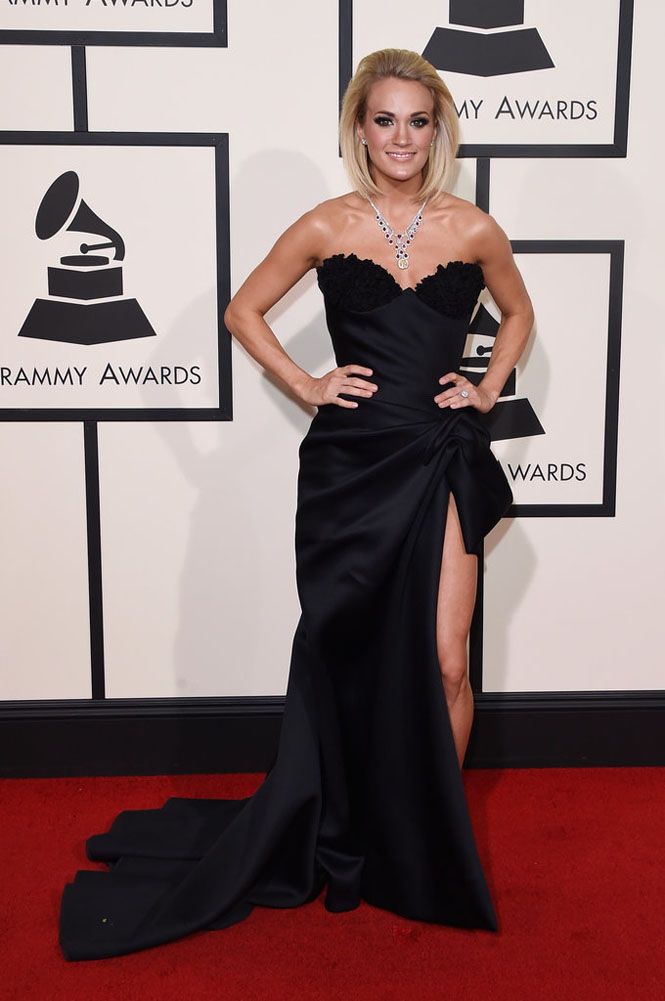 source
I'm pretty sure Carrie Underwood couldn't look bad in anything! She was the first look we saw and first to be interviewed last night and she stood out big time. Also, wasn't her duet with Sam Hunt insane?! Their voices together are like the sound of angels!
Ellie Goulding
source
This was Ellie Goulding's red carpet look but she changed into another gorgeous dress for/after her performance too. The back of this dress was insanely cool and had a ton of chains, beading and was a scoop back which was perfect since the front is super plain! I loved it but I loved her black lace dress that she wore for her performance even more. On the E Red Carpet, they were talking about how good her hair looks with the messy part and I couldn't agree more!
Tori Kelly
source
This was by far the classiest look of the night! This green is SO Tori Kelly's color and the simple jewelry and curls are beautiful. She also changed for her duet with James Bay (which gave me chills and made me cry!) and she looked absolutely stunning!
My favorite part of the entire night was the Album of the Year Award - that's the only one I was truly picking a favorite for because I love Tay and I love Ryan and they both deserved that Grammy! And can we talk about Taylor's acceptance speech?! I could watch it over and over again (and I have) with how classy she was about the entire Kanye situation! She's such a class act and that's why I love her so, so much.
I loved the majority of performances too - there were so many duets and they were ALL so, so perfect. I never imagined how amazing some of them would sound together like Carrie Underwood and Sam Hunt and Tori Kelly and James Bay. The 2016 Grammy's was by far the best I've seen possibly ever! Out of all of the award shows, the Grammy's are my favorite but an award show is an award show! : )
What did you think of the Grammy's last night?
XOXO
Bloglovin|Facebook|Pinterest|Instagram