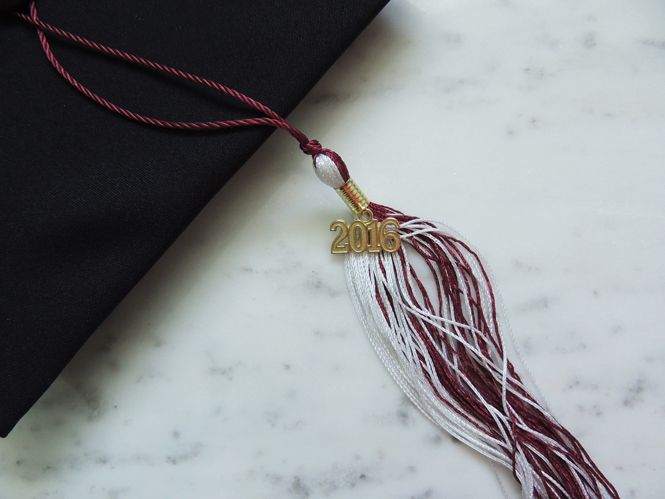 This past Saturday, I officially graduated from college! I'm so happy that it's done - a huge weight was seriously lifted off of my shoulders by Saturday afternoon and it felt so good to be done and to know that I never have to take another final or write another essay again! I graduated with a Bachelor of Science degree and majored in Business Management with a concentration in Marketing. Now that school's over (!!!), I'm so excited to enjoy the summer and move on to bigger and more exciting things.
And let's be honest here, I'm beyond glad to be DONE with that B.S.! (hopefully you get that joke... by far my favorite grad cap I've seen! ; ) Here are some of the things you should do post graduating, lessons to learn and even a fun gift guide of things to get the grads in your life:
5 Things to Do After You Graduate:
1. Take some time to relax and celebrate
It's been a long long long time coming, so once you realize you're
actually done
, it's really nice to enjoy some you-time and do the things you like to do. The last few days have been so relaxing and so nice knowing I'm school free and after over 12 years of non stop school - not to mention an insanely long and stressful four in undergrad - I'm so happy to be able to focus on the things I love doing and enjoy the warm, beautiful spring weather!
2. Start a savings account
If you haven't already, it's so important to have a savings account for yourself! I've had one for a while, but adding more to it more often is so important in the long run. I give you full permission to splurge on something you've been dying for - you deserve it! ; ) Student loans are also going to start coming into play soon enough so getting yourself situated when it comes to your money and your savings is super important.
3. Get rid of files you don't need
Both digitally and physically, nothing feels better than de-cluttering and getting rid of useless junk. You've been waiting for this moment - so rip up and throw out all of those handouts, assignments and notebooks full of notes you took! Seriously - it's such an amazing feeling! Cleaning out your computer is another way to de-clutter and get rid of all of the files you just don't need. I have endless folders of essays, study guides, etc. that are taking up so much space on my laptop and I can finally say I no longer need ANY of it! Delete delete delete.
4. Make some extra money
Now is the best time in your life to make some extra money to save, spend or do whatever you'd like with. Especially if you're still living at home - you likely have minimal amounts of bills and can focus on gaining some extra cash. It seems like a given, but there's clearly more ways to make money than your job. If you're a blogger like me, you know there's tons of ways to monetize and make something you love into something you love
and
can benefit from.
5. Travel!!
Anyone who knows me knows that I'm HUGE on traveling - I think it's the best real life experience you could ever give yourself and it's so important and honestly, this is the best time in your life to travel and explore. Spend weeks or even months exploring the world and figure the rest out later. There is no better experience than exploring new places, so take advantage of this time. P.S. if you're looking for some fun places to experience, check out
these 20 places to travel to in your 20's
!
Over the past four years in college, I've learned a ton academically but more so about what's really important and real life experience skills, etc. Taking risks and always being opened to learning are to things in particular that I've taken with me and always will. Spend some time doing things out of your comfort zone - trust me, it'll be worth it!
Whether you have a friend or family member graduating from college, gift giving can be difficult. It's usually easier to give money and trust me college grads will LOVE this ; ) but giving fun or practical gifts is a great way to say congratulations too. Here are some of the things I've come across that I think any college grad would love to receive!
Kate Spade Laptop Case // Two Tone Michele Watch // Passport Holder // Bose Bluetooth Speaker // Gold Frame // Monogram Business Card Holder // Initial Journal // Graduation Cap Alex & Ani // Compass Alex & Ani // Coco Chanel Perfume // Wine Glass Set // Kate Spade Watercolor Laptop Case
If you're graduating/graduated also, congratulations!! We made it : )
XOXO
Bloglovin|Facebook|Pinterest|Instagram