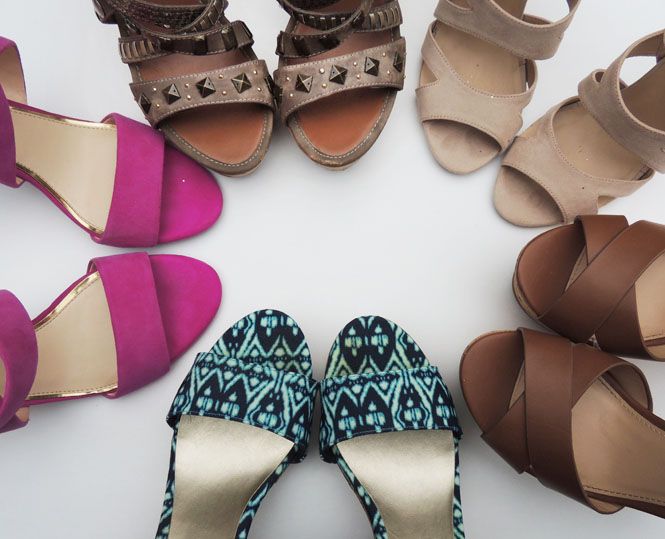 If I had to name one thing that I love to buy the most, it would no doubt be shoes. I'm a shoe addict and cute shoes are the one thing I can never say no to! Comfy and casual are the best, but nothing really can beat fun pumps or wedges in the spring and summer. In New York, it's difficult to wear cute shoes in the winter because of the snow (trust me... almost died trying to trudge through snow at a wedding in December!) so getting as much use out of my cute shoes when I can it is!
This season I've been finding more cute shoes than I can possibly keep up with and I have a serious new found love for Sam Edelman this season. Wait until you see - seriously, to die for!
Here are my favorite spring heels and wedges this season:
*affiliate links
1 // 2 // 3 // 4 // 5 // 6 // 7 // 8 // 9 // 10 // 11 // 12 // 13
I really don't think I could pick just one favorite from this selection even if I had to! These colorful Kate Spade wedges have been on my mind for a while and I absolutely love the mix of color and the wrap around ties. And of course, these electric blue Sam Edelman pumps - I think everyone deserves these in their closet!
I just bought these black wedges on major sale - they're marked down to $55 right now (from over $100)! Fun colored shoes are fun, but having neutral pairs is smart too for a busier outfit. Even better than black, nude heels and wedges in the spring and summer are the best! I love these nude sandals (#10) and these simple tan wedges that are on sale for under $50!
Bows, pineapples and tassels are my current obsessions... so when I found these Kate Spade bow embellished pumps I got so excited. They have a couple of colors and they're a little pricey but I mean, that bow! For a less expensive version, I LOVE these cute bow pumps from Target. They come in red and black so not super summery colors, but they're absolutely adorable and definitely put a fun mix up on bow embellishments.
Some more of my favorites for the season:
Do you have a favorite pair of heels or wedges for this season?
XOXO
Bloglovin|Facebook|Pinterest|Instagram