There's nothing better than finding the perfect polish shade in the fall and winter months! Something about the deep and rich tones make me so excited to get my nails done. Different shades of berry are by far my favorite, but this year especially I've been opened to trying more than the typical (it's clear how basic my nails usually are from that picture.. ;) I usually gravitate toward Essie polishes, but I do love other brands too. My salon just started carrying other brands (besides the typical Essie, OPI, etc.) so I've been trying a ton of shades lately. From berries to neutrals to accent nail shades, here are my favorites for this season:
*
affiliate links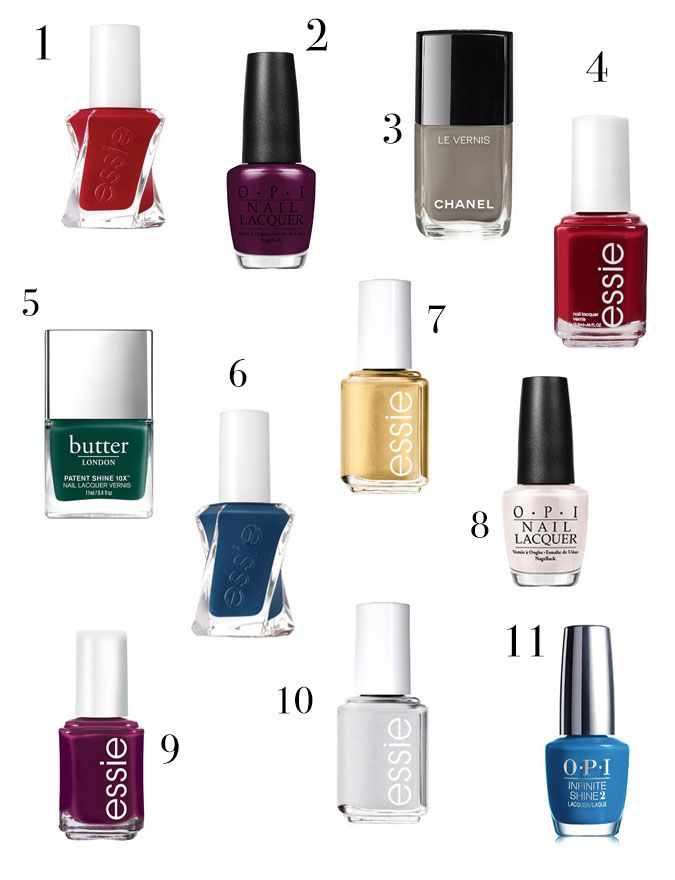 1. Essie 'Bubbles Only' // 2. OPI 'Rich and Brazilian' // 3. Chanel 'Garconne' // 4. Essie 'Maki Me Happy' // 5. Butter 'Across the Pond' // 6. Essie 'Surrounded by Studs' // 7. Essie 'Getting Groovy' // 8. OPI Breakfast at Tiffany's 'Matte Pearl' // 9. Essie 'Bahama Mama' // 10. Essie 'Go with the Flowy' // 11. OPI 'Wild Blue Yonder'
By far my favorite of these shades is Bahama Mama because it's been around for SO long and the color is perfect for fall and winter. It's a berry color; after two coats its dark but it still gives pops of color. I've done one coat before to make it look lighter and with a top coat you really can't tell!
I also really love the idea of a silver accent nail, especially with a dark shade like Bahama Mama.
#1 and #6 are two of Essie's gel couture collection. I mentioned a few weeks ago I wanted to try these and I'm happy to say I did and I LOVE them!! They're worth the money, and really look so great on your nails. It doesn't last as long as a gel mani from the salon does, but it does the job.
What's your go-to shade for this season?
XOXO