Happy November!! October literally flew by in about 2 seconds, but in all honesty I'm okay with it because I love this time of year. November and December are my favorite months (aside from summer, duh) and I'm obsessed with dressing for cooler weather and there's always so many fun colors and accessories this time of year. This is one of my favorite posts to put together each month because I love sharing products I love and I think it also makes for a really fun monthly look book! From leopard print to pretty fall shades to cold weather must haves, I have you covered ; )
*
affiliate links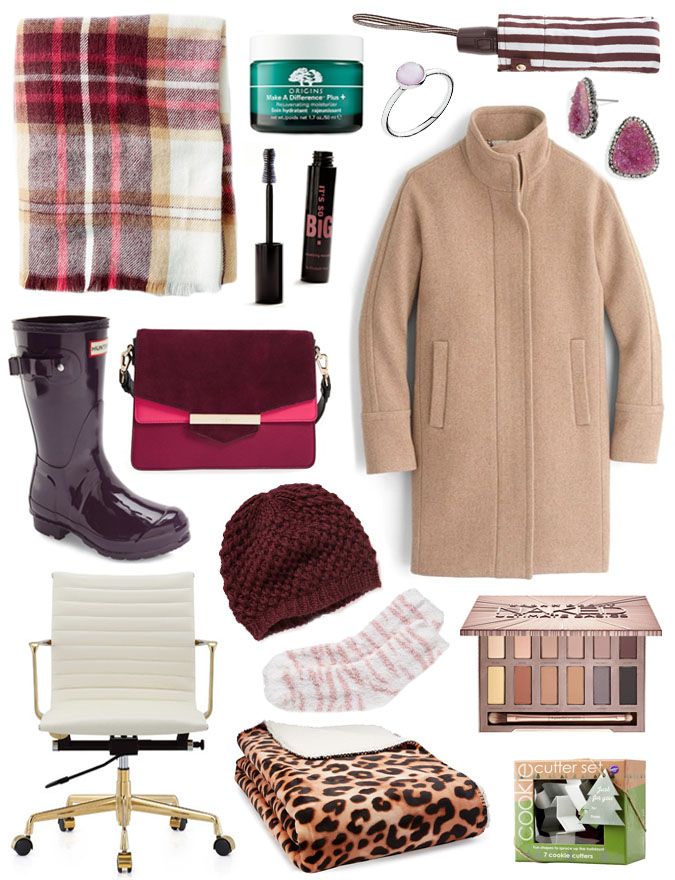 Plaid Blanket Scarf // Origins Moisturizer // Gemstone Ring // Mini Packable Umbrella // Elizabeth Mott Mascara // Coat // Druzy Earrings // Hunter Boots // Kate Spade Shoulder Bag // Gold & White Chair // Burgundy Beanie // Fuzzy Socks // Leopard Blanket // Naked Ultimate Basics Palette // Cookie Cutter Set
Plaid Blanket Scarf
: I love plaid and I LOVE blankets, so plaid blanket scarves are sort of my thing. ; ) I have a not-so-mini collection going in my closet and have no intentions on stopping! They're addicting to buy and style and I am just SO in love with the colors of this one! It matches so many colors and it's perfect for this season.
Origins Moisturizer
: by now it's no secret that I looove trying new skincare products - moisturizers specifically - and my skin is already getting so dry from this cold weather! I've been moisturizing more than ever and I've heard a lot of good things about this Origins moisturizer so it's next up on my list!
Gemstone Ring
: stacking rings are my thing and there's really no better quality/beauty when it comes to stackables than Pandora rings! I love their gemstone rings because they're thin and can be stacked but also equally as pretty if you want to wear it alone.
Mini Packable Umbrella
: I talked about
this umbrella last week
; I got it in my October POPSUGAR box and it's already been put to great use in the past couple of rainy days we had in NY. It's small enough to fit easily in your bag, and big enough to cover your hair AND boots in the rain. Obsessed - and it's Henri Bendel which only makes it cuter!
Elizabeth Mott Mascara
: Elizabeth Mott sent over this mascara for me to try and it couldn't of been at a better time; I have a few favorite mascaras, but I always try new ones and I almost always hate the new ones I try. You've likely heard me talk before about my lash length probs... This mascara is one of
the only
formulas that has 1. given my lashes volume that *lasts* and 2. made my lashes seem fuller. A lot of mascaras promise to do this, but out of all of the ones I've tried there's been a solid 3 that have actually worked for me. I'm so excited about this one - it's a perfect stocking stuffer too if you're an early shopper! ;)
Cocoon Coat
: #neverhaveiever loved a coat as much as I LOVE this one!! Maybe I have, but this one is pretty high up on my list. I've been contemplating getting it for weeks, and now it's 30% OFF!! And I want it in tan and blue, ha! It's super flattering (I may have tried it on in the store a couple dozen times) and SO soft. If you need a new coat, give this one a try.
Druzy Earrings
: am I the only one with a legitimate druzy obsession?? I think it's such a pretty stone and I'm completely in love with these tear drop studs. I bought a similar pair in Francesca's over the summer and ever since then, tear drops are some of the only earrings I've worn. I love them because they make a statement without the weight - something my sensitive ears hate!
Hunter Boots
: these are the short version, and I'm dying to try out a short pair and see how they look! I think it's a nice change from the original/tall boots, and really could anyone resist this purple for fall?
Kate Spade Shoulder Bag
: these COLORS!!! I need, need, need this bag in my life. It's one of those summer-winter perfect bags and I clearly haven't met a shade of pink I didn't like. It looks like it's a perfect size and I mean, we all deserve to treat ourselves right??
Gold & White Chair
: in last months
currently craving
episode, I shared a desk that I LOVE and want for my new/soon to be office space... Now this month it's the chair I'm obsessing over! I love the gold and white together and it has such good reviews; I haven't come across another I love as much so I think it's a go!
Burgundy Beanie
: these beanies are like, $8! It's super cozy, comes in a ton of colors and it's such a great price. I stock up on these every year and they look really cute on your head too!
Fuzzy Socks
: there's no such thing as too many fuzzy socks. I always get mine at Old Navy and I pick up a few pairs each time I go; they're so cozy and I wear them all fall/winter long! How cute is this pink zebra pair?!
Leopard Blanket
: if I buy one more blanket, I think my mom will send me to shoppers anonymous. I have a serious blanket obsession and I always am buying new ones! If I'm in the store and it's super soft, there's a 0% chance that I leave without buying it! I love this leopard print AND it's sherpa... I really need it. Sorry, mom.
Naked Ultimate Basics Palette
: these colors are TOO pretty! I just bought this palette but haven't played around with it yet - I also purchased the Kylie Cosmetics Burgundy Palette which I talked a little about on
Instagram last week
. So far, I'm loving it! I heard mixed reviews about it but I loved the colors so I wanted to try it and I have nothing but good things to say about it thus far. I mention that here because I've mixed a few of that palette's colors with this palette for a few looks (which I'll be sharing soon!) and they go really nicely together. If you're a lover of the Naked palettes, this one is a must have in your collection!
Cookie Cutter Set
: I bought these at Target this past weekend and I kid you not - I almost screamed in the store. I went on Saturday (day before Halloween) and there was a ton of Halloween stuff still out, but there were small glimpses of what's to come for the holidays and I was like a little kid in a candy store. The size of these cookie cutters are going to make for cookies that can be decorated really easily and it's around $8 for this entire set! I also picked up
this fun Christmas spatula
and a few extra cookie cutters, like
this adorable bow cutter
.
What did you/are you loving from October? November is going to be a super busy shopping month - I can't even believe how quickly the holidays are getting here but I'm so excited!
XOXO